Dome done: Watch deflation time lapse videos from inside and out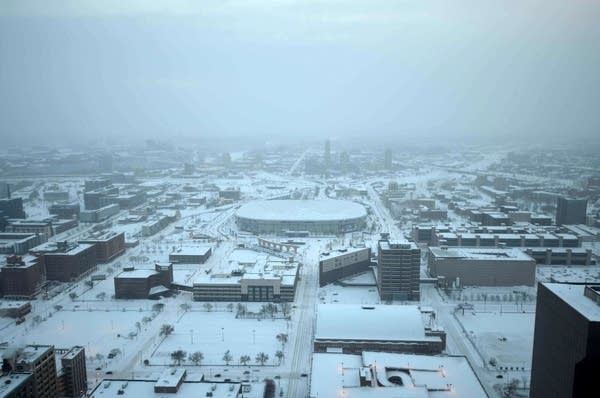 The Metrodome's iconic roof settled into the stadium bowl this morning for the last time.
Officials turned off the fans and opened the vents in the building about 7:15 this morning. The air that has been holding up the roof for most of the last three decades rushed out and that was that. It took about 35 minutes. The time-lapse video above is provided by EarthCam, which is running three cameras on the site for the Vikings. The one below is the view from outside.
The deflation went without incident, according to Bill McCarthy, one of the Minnesota Sports Facilities Authority board members. Officials said there was a little worry about the snow falling this morning, but Steve Maki, the Metrodome's head of operations said the snow helped deflate the building and the deflation actually started a little ahead of time.
Maki said that long time staff from the MSFA and Mortenson went to the controls of the fans that hold up the building this morning, and one by one took turns shutting them off. "It wasn't three-two-one, but still symbolic of taking down the building," Maki said.
MPR News is Member Supported
What does that mean? The news, analysis and community conversation found here is funded by donations from individuals. Make a gift of any amount today to support this resource for everyone.
The roof started to sag within minutes and dipped out of sight shortly after 7:30 a.m. "There were no rips or tears as the roof came down," Maki said. Crews from the demolition contractor immediately began cutting the fabric panels out of the cable net that anchored the roof to the stadium bowl. About 9 a.m., crews shut the power off to the building, and the Metrodome went dark for the very last time.
"Cut the power, take the fabric off, take the cable net down, start smashing it. Smash the loading dock starting Monday. The critical path of the job runs through the loading dock and then through the Metrodome," said Dave Mansell, superintendent of the job for Mortenson Construction.
If all goes as planned, the 31-year-old stadium, host of two World Series, two Final Fours and Super Bowl, will be nothing but memories and dust by early April.
Here's one more view: