Irrigation boosts potatoes, but Park Rapids pays more for water
A growing awareness about Minnesota's groundwater challenges is about to hit the residents of Park Rapids in the wallet.
Fees for city water are going up roughly 25 percent to help pay for a $2.5 million treatment plant. The new plant is needed because the city's old water supply has become too contaminated with nitrates from fertilizer applied by farmers in the area.
• Part of Beneath the Surface, a special Ground Level report
• The layer cake beneath Park Rapids.
Grow the Future of Public Media
MPR News is supported by Members. Gifts from individuals power everything you find here. Make a gift of any amount today to become a Member!
"We should be billing these people that are putting the irrigators in."
• The science of water, fertilizer and the perfect potato.
Dick Rutherford, who owns a business and two homes in town, is angry that city residents are paying for pollution caused by agriculture.
"We know where it's coming from," he said. "It's the farmers that are putting this stuff in the ground. I don't feel we should be paying for the whole thing, I don't think we should be paying for any of it. We should be billing these people that are putting the irrigators in."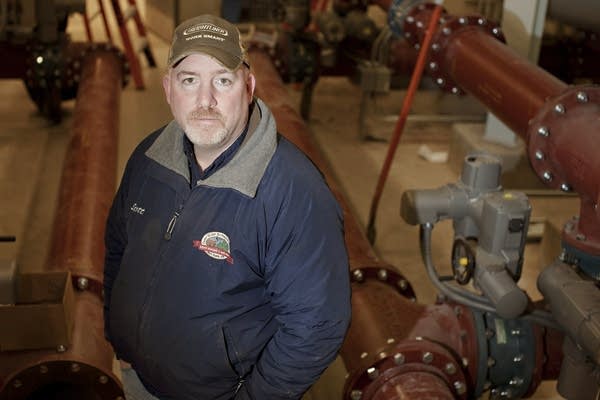 Irrigation is essential for growing crops in parts of Minnesota. But in the north central part of the state near this city of 3,700 residents, irrigated farm fields contribute to groundwater pollution and threaten a unique fishery.
That's why what is known as the Straight River watershed, which includes Park Rapids, is one of three groundwater management areas the state Department of Natural Resources will focus on over the next year. As pressure builds on the groundwater available, the state's goal is to bring farmers, businesses, residents and officials together to figure out how to deal with it, possibly even to restrict use in some cases.
Although the effects of irrigation were first talked about years ago because the Straight River, a valued trout stream, was getting damaged, the biggest single impact recently has been the need for the new water treatment plant Park Rapids will bring on line next month.
The city never needed to treat its water before, said public works superintendent Scott Burlingame. It simply pumped clean plentiful water from a shallow aquifer.
"Water rates were cheap, everybody was happy with that. So things have changed."
"Water rates were cheap, everybody was happy with that," Burlingame said. "So things have changed."
What changed is the level of nitrates in the water. Nitrates come mostly from the nitrogen fertilizer farmers use on irrigated potato and corn crops grown on top of the shallow aquifer.
Nitrate levels in existing city wells, which tap the aquifer about 70 feet below the surface, approach or exceed the safe drinking water standard. Click to view full aquifer map
That forced the city to drill a well into a deeper aquifer, about 120 feet down. That aquifer is at least somewhat protected from nitrate contamination by a layer of clay above it. Hydrologists hope to map the aquifer in the next few years to better understand how water moves and interacts with the shallow, polluted aquifer.
"There's a lot of water in that well and good quality water," Burlingame said. The new treatment plant will remove iron and manganese from the water. Those naturally occurring metals are not a health risk but can stain sinks, showers or clothing.
"We have no benefit to putting on more water than the crop needs."
Based on national water use averages, a typical family of four would see its annual water bill rise about $130 as a result.
IRRIGATION BOOM
Over the past 25 years, farmers in the Park Rapids area sank dozens of irrigation wells because water and lots of fertilizer turned poor, sandy land into highly productive farmland for potatoes and corn.
DNR groundwater specialist Michele Walker said abundant groundwater only 70 feet below the surface made it easy for farmers to expand.
"Back in 1988 we had about 100 permits," Walker said. "Now we have about 275." The state requires a permit from the DNR for any well pumping more than 10,000 gallons a day or a million gallons per year.
Nearly eight billion gallons of water are pumped from wells in the Straight River watershed each year, 90 percent of it for crop irrigation.
The sandy soils drain quickly. That's good for potatoes because wet soil can cause disease.
"The problem is that these soils are very sandy, and if you happen to put your nitrogen out and we get a gully washer, it's going to go somewhere," Walker said.
Walker said in the Straight River watershed, it's likely the nitrogen fertilizer moves down through the soil to the aquifer that in some places is only 40 feet down.
Minnesota Department of Agriculture test wells show nitrate levels two to three times the safe drinking water level. Those wells are tested at the top of the aquifer, closest to the surface where nitrates are most concentrated. But in 2012, the department tested 72 private wells in Hubbard County, wells that typically tap the aquifer farther down, and still found 10 above the safe level.
Elevated nitrates in drinking water are a problem because they can cause blue baby syndrome in infants under 6 months who are bottle fed.
Long-term health effects for older children and healthy adults exposed to elevated levels of nitrate in their drinking water are not yet known or agreed upon in the scientific community. But the National Cancer Institute suggests a link between elevated levels of nitrate in drinking water and an increased risk of non-Hodgkin's lymphoma.
Even before the creation of the DNR's groundwater management area, the state Department of Agriculture has been working with farmers in the Park Rapids area to reduce water and fertilizer use.
Fifty farmers in the area took part in a monitoring and education program last year, said Luke Stuewe, who coordinates the program for the department.
"Sixty-five percent of the growers involved in the program found they could make adjustments to their rate and the majority of those were reductions in rate," Stuewe said. "So they found they could do something differently and ultimately have a lower amount of nitrogen going down on the field."
But nitrates are a leaky nutrient, Stuewe said. That means it moves easily through the soil with water.
"I think even under the absolute best conditions some loss will occur," he said. "It's a necessary nutrient that we need. It's a challenging one though."
One of the biggest players facing that challenge is the R.D. Offutt Company, which grows up to 9,000 acres of potatoes a year in the Park Rapids area.
Those potatoes are turned into french fries at a plant just outside Park Rapids.
The company has made a number of changes in potato production in the past couple of years to reduce its impact on groundwater, said Nick David, lead agronomist for Offutt.
"We have no benefit to putting on more water than the crop needs," he said. "There's no economic benefit to putting on more nitrogen or fungicides or herbicides on a potato crop than it needs."
David says the company uses a slow release fertilizer that reduces leakage to the groundwater. It stopped heavy fertilizer applications at planting time and instead makes several small applications throughout the growing season, sometimes putting nitrogen in the irrigation water.
In some fields, it plants potato varieties that need less nitrogen.
"We like to utilize those in areas that are sensitive, so a good example would be areas around communities, where we have wellheads. So we've been able to cut our nitrogen use by almost half on some of those fields."
Despite those changes, nitrate levels in wells continue to rise. It could take years for changes on the land to improve water quality 70 feet below.
TROUT STREAM AFFECTED
Groundwater quality isn't the only concern in the Straight River Watershed.
Covered with a thick layer of ice and snow now, the Straight River is a favorite trout stream when the weather warms. Trout depend on cold water, and the cold water comes from underground aquifers in this area.
"It's an excellent fishery," said DNR area fisheries supervisor Doug Kingsley. "The quality and size structure of the fish is remarkably unique."
Kingsley said the brown trout that thrive in the Straight River are threatened by rising water temperatures, something that has been happening slowly but steadily for the past 10 years.
Warmer water can't hold as much oxygen so the Straight River is on the Minnesota Pollution Control Agency's new list of impaired waters for low dissolved oxygen.
It's not clear why the stream is warming, but Kingsley said pumping from irrigation wells can affect water levels.
Over the years the DNR has required careful monitoring of some wells near the river. But the agency has never rejected a well permit application in the watershed.
Wisconsin provides ample examples of what can happen to trout streams in sandy irrigated farmland, Kingsley said.
"They've had instances where one of the popular trout streams in the Stevens Point, Wis., area actually stopped flowing because of a lack of groundwater. Hopefully we learn from those and take a close look at what's going on here."
If groundwater pumping is causing the stream to warm, the DNR might limit how much some farmers can pump near the river. That hasn't happened yet.
But its one of issues to be studied as part of the groundwater management process.
Another issue likely to be raised is the cost of water used for irrigation.
Most Minnesota farmers pay $140 a year for each irrigation well they have, said DNR hydrologist Darrin Hoverson.
"It costs many times more to turn the pivot on for one rotation than it's going to cost for water for the whole season," he said. "There will be discussion about rates. Understanding how we can best determine allowable water uses that are sustainable (is our goal), and cost may be a component of those discussions."
Gallery
6 of 6
1 of 6
2 of 6