Maggie Thompson weaves together her Indian identity in 'Where I Fit'
All My Relations Arts in Minneapolis is presenting a solo show of works by Maggie Thompson, a young woman who already displays a mature and nuanced artistic voice.
A textile artist by training, the 24 year-old Thompson was born and raised in Minneapolis and is a member of the Fond du Lac Ojibwe. She graduated in 2013 with a BFA from the acclaimed Rhode Island School of Design, and now uses different types of weaving, screen printing and knitting to explore contemporary issues surrounding native heritage.
In "Family Portrait," Thompson deals with the highly problematic matter of "blood quantum," a method by which tribes, and the federal government, determine "how Indian" a person is, and what benefits they can access.
"My dad is mostly Native American and my mom is Irish and German," Thompson said in her artist statement. "Even though I am mostly 'white' I still identify myself as being Native American, but why? In this piece I am exploring and questioning ideas and systems of 'authenticity.'"
MPR News is Member Supported
What does that mean? The news, analysis and community conversation found here is funded by donations from individuals. Make a gift of any amount today to support this resource for everyone.
For curator Dyani White Hawk Polk, the piece is an elegant success.
"She's taken this subject that's head-spinning and complex and broken it down into this image that's clean, beautiful and visually striking," Whitehawk-Polk said. "The composition is fantastic; it has a real balance to it. The colors are wonderful, and that it's bound by these golden threads that add cohesion to the whole piece."
Thompson also uses her skills with textiles to examine cultural appropriation and stereotyping. Her piece "Pocahotness" is a reaction to headdresses and feathers showing up on fashion runways.
"This dress is inspired by the jingle dress and exotic dance wear," Thompson wrote. "The dress becomes culturally seductive touching on ideas of cultural prostitution."
In addition, the "jingles" are made from beer bottle caps -- a reference to the oft-made assumption that American Indians are all alcoholics.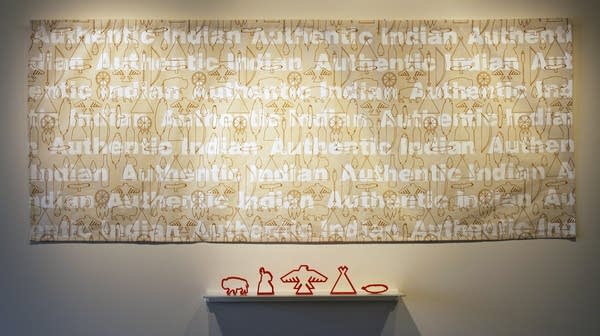 For her exhibition Thompson made "Authentic Indian Cookie Cutters" using a 3D printer. She then screen printed the 'cookie cutter' images onto a sheet of cloth over the words "Authentic Indian." The images -- buffalo, eagle, tipi, feather -- have all become mainstream stereotypes of an "authentic Indian" but in fact are only specific to Plains Indians.
Other works in the exhibition focus on Thompson's relationship with her father, who was recently diagnosed with pancreatic cancer.
White Hawk Polk said she's immensely excited to see where Thompson's artistic career takes her.
"The native arts world is a fairly intimate community; there's always new people to meet," explained White Hawk Polk. "At the same time it's a very expansive community. But the likelihood of meeting artists from the local area that are already so well developed is very unlikely. So meeting this young woman who I had never heard of and whose images I had never seen, but whose practice is already this developed – it was a really pleasant surprise."
Thompson's show "Where I Fit" runs through the end of May. The artist will give a talk at the gallery at 6 p.m. tonight.