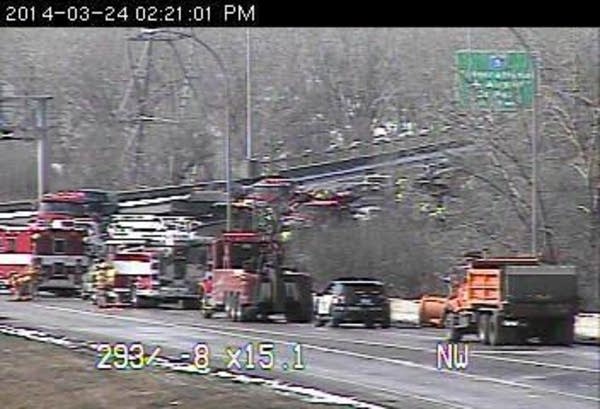 The westbound lanes of the Mendota Bridge were closed for nearly two hours Monday afternoon following a multi-vehicle crash.
Minnesota State Patrol Lt. Eric Roeske says 61 vehicles were involved. One person was hospitalized with minor injuries.
• More: Video: Crashes on the Mendota Bridge
The incident began when drivers of two vehicles lost control and crashed on the slippery road, according to Roeske.
"Right behind them was a semi that jacknifed as it tried to avoid those vehicles," Roeske said. "The semi, when it jackknifed, it also crashed into those vehicles."
Roeske said it's a reminder of how dangerous driving in the snow can be.
"The initial crash was, as you see, quite severe," Roeske said. "There obviously could have been more serious injuries at that time. But the followup crashes were mainly fender benders"
MPR News reporter Tim Nelson contributed to this report.