Study: Vehicle pollution greater in minority neighborhoods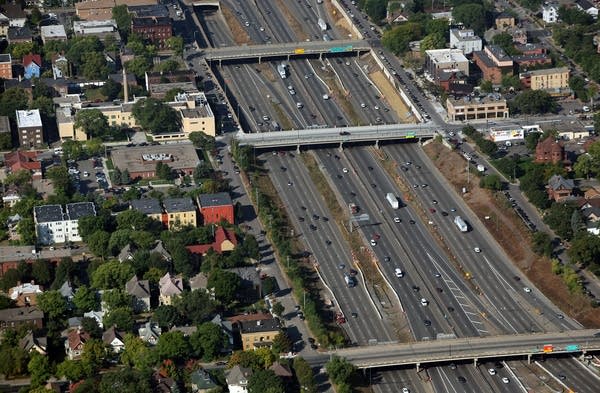 People of color tend to live in neighborhoods that have higher levels of nitrogen dioxide from vehicles, power plants and other sources than white people, according to new research by the University of Minnesota.
The nationwide study found that on average, minority populations are exposed to nitrogen dioxide levels that are 38 percent higher than levels of the gas found in predominantly white neighborhoods. Breathing the pollutant contributes to heart disease and asthma.
U of M researchers estimate 7,000 heart disease deaths could be prevented each year among people of color, if they breathed the same lower nitrogen dioxide levels that white residents breathe.
Using U.S. Census data, the researchers compared where people live with newly published satellite and land-use information that estimate nitrogen dioxide concentrations around the country.
Julian Marshall, the lead author of the study, said he was shocked to find such a large disparity in the amount of exposure to the gas among whites and nonwhites. In most areas, lower-income people of color were more exposed to nitrogen dioxide than higher-income whites.
"As you get to higher income the exposures go down, but there's still a gap between whites and non-whites," said Marshall, a civil engineering professor.
Before you keep reading ...
MPR News is made by Members. Gifts from individuals fuel the programs that you and your neighbors rely on. Donate today to power news, analysis, and community conversations for all.
That means income didn't matter as much as race in explaining the differences in exposure to nitrogen dioxide.
The study identified 15 states that had the largest exposure gaps between whites and nonwhites. Minnesota ranked 15th.
"Even in a relatively clean air city and a clean air state, we still have these relatively large disparities," Marshall said. "That's an important finding. That's not something I expected."
Although the study was not designed to explain why there are such significant racial gaps in exposure to nitrogen dioxide, its findings do not surprise Minnesota Commissioner of Health Ed Ehlinger.
He said people of color tend to be more exposed to many environmental pollutants.
"In this case they live closer to highways, they live closer to places where transportation is much denser, and oftentimes live closer to places where they have pollution being generated from garbage burners or power plants," Ehlinger said.
Studies show that vehicle emissions are highest in the immediate vicinity of a busy freeway, major roadway or downtown area.
Nitrogen dioxide levels disperse after leaving the roadway, but it takes about a quarter of a mile before the levels drop enough to blend in to the background with other pollutants, said Cassie McMahon, an air quality specialist for the Minnesota Pollution Control Agency.
"We know that very close to those areas are where those concentrations are going to be highest," McMahon said. "If you happen to live near a roadway, you're likely going to be exposed to higher concentrations of nitrogen dioxide."
In 2013 the MPCA started monitoring nitrogen dioxide at the intersection of Interstate 94 and Interstate 35W in downtown Minneapolis to obtain a clearer picture of how the pollutant might be affecting people who live near the roadways.
McMahon said so far levels of the gas have not exceeded U.S. EPA standards, but she said nitrogen dioxide readings are higher at the freeway monitoring station than they are at three other community monitoring stations, two of which are near a refinery complex.
At the direction of state lawmakers, the Health Department is also studying air quality. A report to the Legislature is due later this year.
Ehlinger said he thinks the U of M report will help make the case that Minnesota should do more to reduce vehicle emissions, by investing more in transit.
"You know if we have cars that are creating pollution, is it fair that that pollution is really disproportionately affecting populations of color? And I think as a state we say, 'no that's not fair,'" he said. "And really we need to do something about it."