Appetites: Cheap eats in the Twin Cities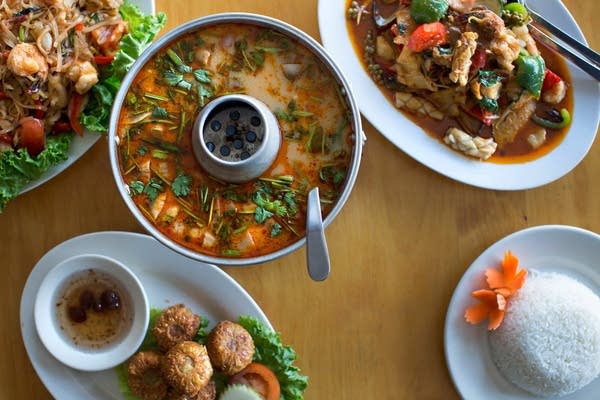 Like many of us, you're probably trying to eke out the most from your food budget — and have a fun night out every now and then, too.
Rachel Hutton, editor-in-chief of Minnesota Monthly magazine, spoke with MPR News' Tom Crann about her creative ideas for inexpensive restaurant eats in the Twin Cities. Click the audio above to hear their conversation, and read Hutton's thoughts below.
Craving something with a kick?
If you're looking for big flavor and small prices, you might start with a few of my favorite local Asian restaurants. For Thai cuisine, Bangkok Thai on University Avenue in St. Paul or its sister restaurant, Krungthep Thai on Nicollet Avenue in Minneapolis make excellent curries for about $10 apiece. Keep in mind that their spices tend to run a little hotter than most other local Thai restaurants. Once I found myself having to suck on an ice cube between bites because it was so good I couldn't stop eating it, but so hot that I hardly could.
Grow the Future of Public Media
MPR News is supported by Members. Gifts from individuals power everything you find here. Make a gift of any amount today to become a Member!
A newer place I like in the downtown Minneapolis skyway called Ipotli. They do combination plates where you can choose from a buffet of curry, chana masala, vegetable korma, chicken tikka masala with rice and flatbread.
Mexican and Hmong
A great Mexican spot near the airport called Las Teresitas distinguishes itself with a full bar of house-made salsas; it always contains at least a half-dozen varieties that each feature a different chile, from fresh jalapenos to roasted serranos.
Hmong Village in St. Paul houses dozens of food vendors selling Hmong sausage, stuffed chicken wings, spicy papaya salad, among other unique dishes.
Feeding a crowd
The ultimate combination platter at Fasika Ethiopian restaurant in St. Paul is a great option for feeding a large group. You're served an enormous round of spongy injera flatbread topped with various stews made with meat, lentils, or vegetables.
Or go to Holy Land, the Middle Eastern delis in Minneapolis, and order the Chef's Choice Combo, a huge spread of hummus, stuffed grape leaves, kebabs, rice, pita bread, and more. Once I picked it up for takeout and could barely carry it all by myself.
Trendy, and cheap
You can find good value at more upscale restaurants as long as you know when to go and what to order. Bar La Grassa, in the North Loop, offers half-portion pastas that are still quite generously sized, and several cost less than $10. Masa, D'Amico's knife-and-fork Mexican restaurant downtown Minneapolis, is swank enough for a business lunch but runs specials in the $12 range.
In Uptown, look for late-night happy hours to make a meal out of, say, Barbette's mussels and pommes frites or Chino Latino's French Toast of the Dead topped with bananas and rum caramel. The deals don't start until 10 p.m., but they're worth staying up past your bedtime!
Map: Cheap eats tour
Gallery
5 of 5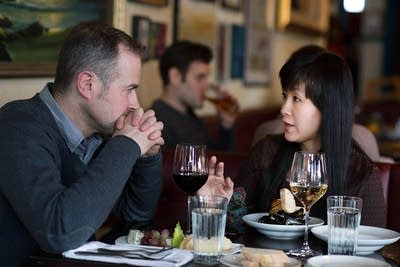 1 of 5
2 of 5