MIA exhibition explores Finnish innovation in design
What if we selected our furniture the same way we shopped for food?
The Minneapolis Institute of Arts' new exhibition on Finnish design presents some of the latest ideas from a culture that has a growing appreciation for home furnishings that are both local and sustainable.
"Finland: Designed Environments" looks at the explosion in Finnish design in the last 15 years, which draws from its strong modernist roots and adds a new layer of environmental awareness.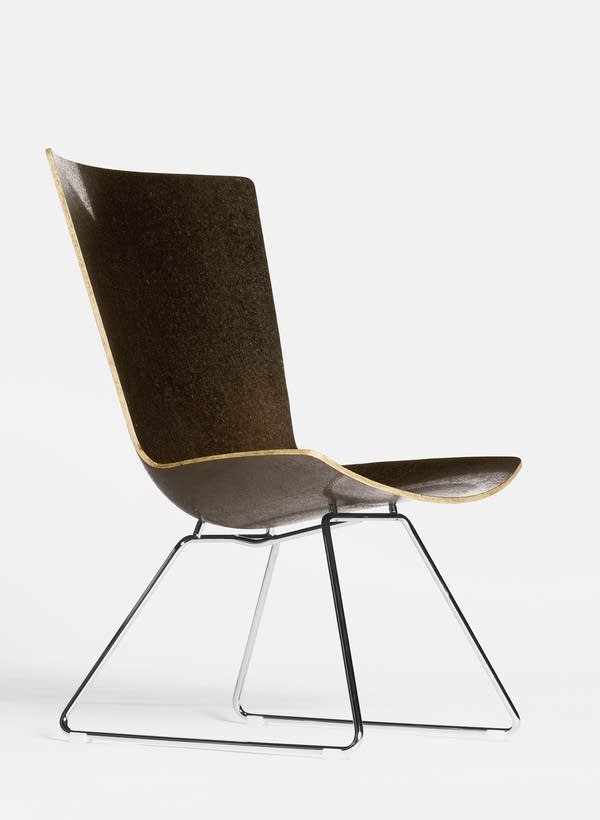 "Classic modernism of Finland has had a constant appeal because of its versatility and its elegant lines," says curator Jennifer Komar-Olivarez." I think that more people are appreciating this classic modernism,  and so that's why these designs appeal – they fit into that aesthetic. They really aren't meant to be in style for a short season; the Finns don't really think that way."
MPR News is Member Supported
What does that mean? The news, analysis and community conversation found here is funded by donations from individuals. Make a gift of any amount today to support this resource for everyone.
In the 1930s, Komar-Olivarez says, customers were supposed to buy pieces of classic modern furniture, live with them, and hand them down as heirlooms. She says that while there's been a resurgence in elegant and natural forms, now designers are playing with notions of permanence and impermanence.
Many of the designs featured are made of compostable or recycled materials, and can easily be disassembled once they've outlived their use. Cardboard kids furniture replaces the need for plastic while chairs made from orange crates can be burned in the fireplace instead of tossed in a landfill.
[image]
The exhibition features not just chairs, tables and architecture but also bikes, clothing, electronics, and design ideas for better living.
Korean-born Finnish design student Seungho Lee created the "Beef Finland" project, using strategic design to look at the effects of the beef and dairy industries on health and the environment. He used graphic design to tell the story while offering steps to change national cultural systems.
There's also a ceramic installation of oversized Chanterelle mushrooms, a prized Finnish delicacy.
"It's like morels here, only there's much more of them," explained Komar-Olivarez. "People hide their favorite spots and so you need to know somebody and go with them. This is a culture that forages, and Finland supports 'Everyman's Right' – you can forage on public land. It's a sustainable food source for them."
Komar-Olivarez says she hopes visitors to the "Finland: Designed Environments" exhibition will be inspired to look for more sustainable -- and local sources -- for all their purchases, edible or otherwise.