Rural broadband service shows scattered improvements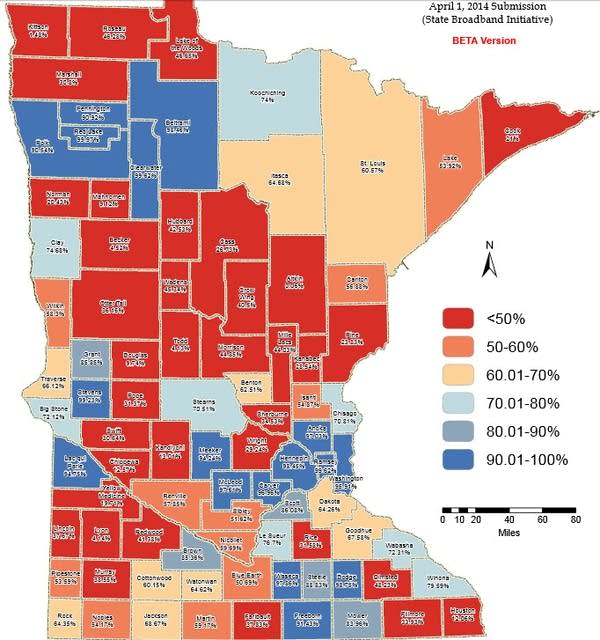 More parts of rural Minnesota are picking up the pace when it comes to high-speed Internet access.
There's still a double-digit rural-urban gap in broadband access, but the list of counties in which a fifth or fewer of households have good access is down to 11, according to a new set of semi-annual numbers from Connect Minnesota.
Last fall, service was that poor in 23 counties.
Plenty of rural Minnesotans still can't get good access. This map shows in red the counties where fewer than half of households have access at speeds the state says everyone should have. (See the map in greater detail here.)
Grow the Future of Public Media
MPR News is supported by Members. Gifts from individuals power everything you find here. Make a gift of any amount today to become a Member!
But there have been gains. The improvements -- increasingly seen as a ticket to stay abreast of demands in job-hunting, health care, education, business transactions and more -- are scattered around the state and the causes for them vary.
In the far northeast, Cook County is finally showing up on broadband speed maps. Residents there were recipients of millions of federal stimulus dollars that allowed the small local electrical cooperative, Arrowhead Electric, several years ago to start stringing fiber to every household in the rocky, forested county.
Residents have no cable access and DSL service via phone lines was slower than the state goal, so last fall nobody had the desired speeds -- 10 megabits per second for downloads and 6 megabits for second for uploads.
Now, 21 percent of households have fiber cable, giving them real-world broadband service.
(Those are the speeds codified in state law as the goal for everyone in 2015. You don't need it for email or surfing the web; you do want it for extensive file-sharing and video conferencing, for example).
In the opposite corner of the state, Rock County residents saw their numbers improve even more dramatically and for a different reason.
Last fall fewer than 20 percent of households got fast service. Today nearly 65 percent do. The reason? Service improvements in Luverne, the county seat, by cable TV provider Mediacom, according to William Hoffman, state program manager for Connect Minnesota. That's the organization charged by the state with tracking broadband availability.
Mediacom is a big provider in a number of states and sometimes is accused of moving too slowly to improve rural service.
Hoffman said the rural gains are coming both from federal stimulus projects getting online and from "other providers ratcheting up speed availability."
In all, 57 percent of rural Minnesota households have broadband access as defined by the state. That's up from 48 percent a year ago, Hoffman said. For the state as a whole, the figure is 75 percent.
"When you include mobile, it's obviously a clear indication of the expansion of LTE and higher speed service moving out from the metro core," Hoffman said.
AT&T, Verizon and others have been extending mobile networks that can provide broadband speeds. Most people don't consider mobile access in the same category as terrestrial access because there are data limits and price issues even if the speeds are high.
But if you do add that kind of service, then 82 percent of Minnesota households have broadband access as the state defines it. By the same measure, 63 percent of rural households do.