Federal health law helped Minnesota's uninsured rate drop 41 percent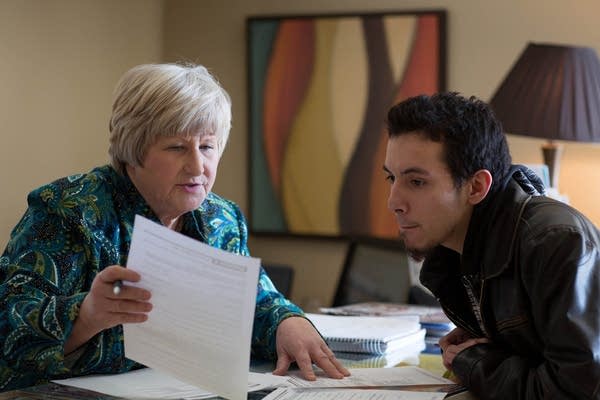 The number of uninsured Minnesotans has fallen by nearly 41 percent since September, largely due to the federal Affordable Care Act, University of Minnesota researchers said Wednesday.
About 180,000 Minnesotans gained health insurance as a result of the law, mainly through enrollments in government-sponsored coverage such as Medical Assistance and MinnesotaCare, according to the university's State Health Access Data Assistance Center. The sign-ups dropped the rate of uninsured Minnesotans from 8.2 percent to 4.9 percent.
The study findings also suggest employers didn't dump their health plans and force workers to buy their own.
Most Minnesotans get their insurance through work. The study found the number of people in employer-sponsored plans declined by only about 6,000, a decline of two tenths of 1 percent.
Grow the Future of Public Media
MPR News is Member supported public media. Show your support today, donate, and ensure access to local news and in-depth conversations for everyone.
Coverage also increased in the private health insurance market. The number of people buying their own plan jumped about 12 percent.
The university crunched the numbers at the request of MNsure, the state health insurance marketplace created through the Affordable Care Act, also known as Obamacare.
"This is a pretty historic change in insurance coverage in Minnesota," said Julie Sonier, the report's lead researcher.
"The uninsurance rate has been stable for, or slightly increasing for a long time," she said. "We have never seen anything like the change that we have seen between last fall and May first of this year."
Minnesota had the most ambitious implementation of the Affordable Care Act among the states and took advantage of the law's Medicaid eligibility expansion.
Before that, about two-thirds of uninsured Minnesotans qualified for public health programs but hadn't signed up.
National studies show states that expanded their Medicaid programs saw more people gain coverage than those who did not expand Medicaid.
In Minnesota, the outreach and assistance from so-called "navigators" made possible through ACA funding and the legal requirement for most people to find coverage likely helped boost enrollment in Medicaid and MinnesotaCare.
Minnesota also was the only state to implement a "basic health plan."
Congress offered this option to help people who earn too much to qualify for Medicaid, but not enough to afford the out of pocket costs of a commercial health plan, even with the benefit of federal subsidies.
MinnesotaCare was adapted to serve as the state's basic health plan, and likely made insurance coverage affordable to more people than would have been the case otherwise.
Over the past 11 years, the rate of uninsured reached a high of 9 percent in 2009 and 2011. The lowest rate was 6.1 percent in 2001.
Even as officials on Wednesday applauded the drop in uninsured since September, they wanted to know more about the 4.9 percent of Minnesota's population that still lacks health coverage.
"That's something we need more research in -- who are we still missing?" state Human Services Commissioner Lucinda Jesson said. "That's going to be an important thing to find out the future because we need to continue to target our outreach effort."
The report did meet with some skepticism Wednesday.
State Rep. Joe Hoppe, R-Chaska, questioned the report's findings that tied a big drop in uninsured Minnesotans to the federal health care law.
Officials, he said, weren't initially asking people who were signing up for MNsure if they'd previously had coverage.
"We don't know who came in or out during the time, whether they came from group coverage or uninsured, we are still pretty confident that overall shift that we calculated, the 180,000, is in the right ball park," said Sonier, a former Minnesota state health economist.
The U expects to release further analysis late this fall or in early winter. Here's Wednesday's full report, requested by MNsure and funded by the Robert Wood Johnson Foundation:
MPR News editor Bill Catlin contributed to this report.