Flood damage tally for Minnesota so far: $32 million and rising
Flood damage from last month's storms affected nearly half of Minnesota's 87 counties and initial estimates indicate $32 million in damages to public roads, bridges and other structures, state emergency managers said Tuesday.
As the waters recede, managers are assessing the damage to roads, bridges and other infrastructure that could qualify for state or federal disaster assistance.
• More: Cities, counties deal with expensive flood recovery
Such assessments are becoming almost routine, as disaster has been declared in every county over the past 10 years, said Kris Eide, Minnesota's director of homeland security and emergency management.
MPR News is Member Supported
What does that mean? The news, analysis and community conversation found here is funded by donations from individuals. Make a gift of any amount today to support this resource for everyone.
"We are a pretty doggone flood prone state," she said.
Initial estimates show that the state will be eligible for federal funds to rebuild and Eide expects to file a federal disaster request next week.
"That's with only 21 counties turning in paperwork," she said. "So that is not even places like Roseau County, Lake of the Woods County. Those that are still in the flood fight."
Eide said in the Twin Cities metro area, Carver County has already reported $9.2 million in damage to roads and a wastewater treatment plant.
The state has $3 million in a flood relief account to help match federal disaster aid. But Gov. Mark Dayton said he may have to call a special legislative session to ensure the fund does not dry up. However, Dayton said it's too early to determine if one is necessary.
"It looks as though we will need more than $3 million," Dayton said. "The question is whether that is available from other sources, is there something available in the short-term that could carry us over to the regular session. We'll just have to see when we total up the damage and see what the state and local shares will be for the various federal matches."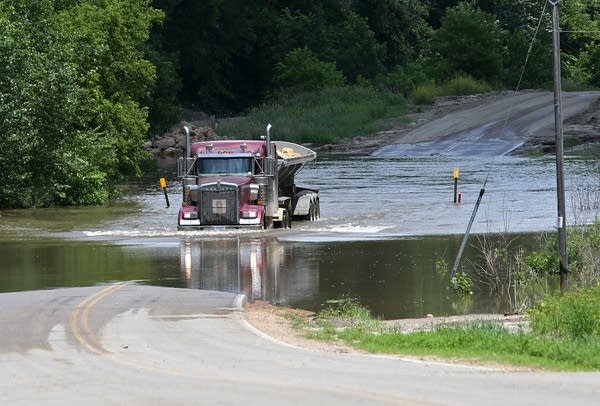 The state estimates only involve damage to public infrastructure. It does not include damage to homes, cropland and other private businesses.
Rock County Administrator Kyle Oldre hopes a presidential disaster declaration is issued soon for the storm damaged areas. He said even if his county qualifies for aid, it will take a while for the federal money to reach the area.
"I'm guessing best case we're looking at a month and more realistically probably a couple months before we start seeing money back," he said.
Oldre said the heavy rain caused about $4.4 million in damage to the county, including damage to a short line railroad in the city of Luverne.
"It's roads and washouts, culvert washouts, some bridge abutments," he said. "The railroad base has been washed. The city had some damage to parks, baseball fields. Those types of infrastructure and public-owned assets what were reviewed today by FEMA."
About two dozen roads in the county are still closed because of storm damage.
In Scott County, residents are also wondering when roads there will be fixed. Emergency Management Director Chris Weldon said only one of four roads going into Blakeley Township is open for residents to use.
"Roads are always going to be a concern," Weldon said. "The long-term plan for roads and maybe a timetable for when they may be repaired. It's too early for us to know that yet."
The Minnesota Department of Transportation already is working on some road repairs.
Minnesota Transportation Commissioner Charlie Zelle said some projects, such as Highway 19 near Henderson, could take until Labor Day to be repaired. Others could be done in a week.
"Some roads are really under repair right now and we see waters receding so we think we're actually in better shape than we were even days ago," Zelle said.
MPR News reporters Mark Steil and Peter Cox contributed to this report.