$50M pipe might not restore White Bear Lake levels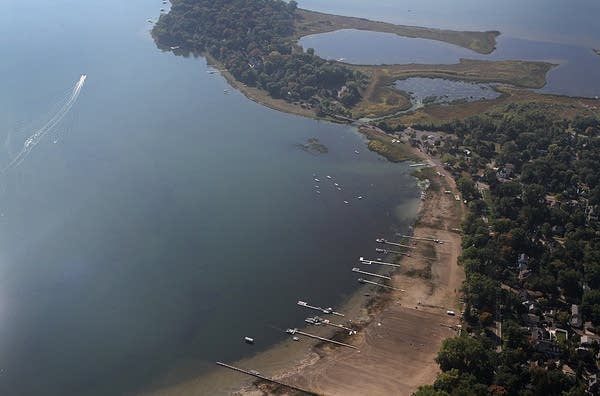 Piping Mississippi River water into White Bear Lake would cost about $50 million upfront, but it's not certain the move would restore the lake's water levels, according to a new report from the Metropolitan Council.
White Bear Lake is down several feet, and property owners on the lake have sued the Department of Natural Resources, saying the agency failed to manage the situation. Research by the U.S. Geological Survey showed a link between increased groundwater pumping in the growing northeast metro suburbs and lake levels, but weather patterns have also contributed to the problem.
Perhaps of greater concern than the lake, though, is ensuring that growing nearby suburbs will have enough water to meet expected needs. The Legislature asked the Met Council to study some possible solutions both to White Bear Lake's low water and to concerns about unsustainable groundwater pumping in the region. In a draft report today, the council outlined three solutions and preliminary cost estimates:
Grow the Future of Public Media
MPR News is supported by Members. Gifts from individuals power everything you find here. Make a gift of any amount today to become a Member!
Use 2 billion gallons a year of Mississippi River water to augment White Bear Lake using St. Paul's water system. Besides capital costs of $50 million, this would cost about $300,000 annually to maintain. The study says it's unlikely the augmentation would help address larger concerns about groundwater supplies, and it also says it's uncertain the water being pumped into the lake would restore previous levels or prevent the lake from dropping further.

Build a new water treatment system for northeast suburbs using the Mississippi River as the source. The study gave two different cost estimates for this option, designed to relieve some of the demand on the area's municipal wells. The less expensive solution would cost about $230 million and serve the communities of Vadnais Heights, White Bear Lake, White Bear Township, Mahtomedi and Shoreview. Serving another seven cities -- Centerville, Hugo, Lino Lakes, Circle Pines, Columbus, Forest Lake and Lexington -- would cost $610 million.

Have the northeast suburbs switch from groundwater to surface water supplied by St. Paul's system. Three estimates were provided for this option: $5.2 million to expand St. Paul's service only to North St. Paul, $155 million to expand service to North St. Paul, Vadnais Heights, White Bear Lake, White Bear Township, Mahtomedi and Shoreview and $632 million to serve all 13 communities in the study area.
The consultants have not completed their work, and one of the major tasks left is to estimate how much groundwater would be saved in each scenario. More details are due in October, but the Met Council's manager of water supply planning, Ali Elhassan, said he was surprised at the steep costs of connecting all of the 13 suburbs to either St. Paul's system or a new treatment plant.
"If we want to connect communities beyond those (first) six cities, it's going to take a huge infrastructure development and update," he said.
But Elhassan said it's important to note that those cities account for about 62 percent of water use among the 13 communities.
Besides studying White Bear Lake augmentation and switching cities from groundwater to surface water, the Legislature has also asked the Metropolitan Council to look at other groundwater solutions, including stormwater reuse, groundwater recharge and conservation among bigger industrial users.
"'There is no one silver bullet that can solve the problem. It might take more than one approach," he said.
State Rep. Jean Wagenius, whose committee has led groundwater management efforts, agreed that the problem is complex, and she said the preliminary findings didn't provide enough details yet for lawmakers to make any decisions.
"I think we need a lot more good information," she said.
And on the White Bear Lake augmentation question, Elhassan said the Met Council study probably won't be able to answer what water levels the project would achieve. He said the U.S. Geological Survey is still studying groundwater-to-surface water relationships in the region and won't have results until 2016.
Meanwhile, the cities of Centerville, Circle Pines, Hugo, Lexington and Lino Lakes are working on their own study looking at the feasibility of a joint water utility. The results of that study are expected this fall.