Football head injuries: How much can helmets help?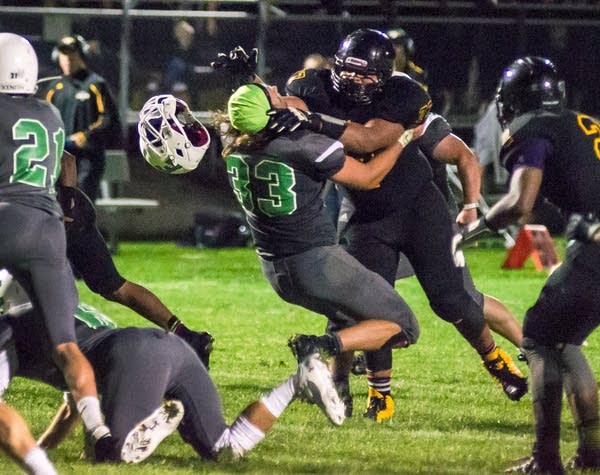 Heightened scrutiny of head injuries among high school football players has led to disagreement among experts over how to determine which helmets - if any - do the most to prevent or reduce the risk of concussions, MPR News-KARE 11 research shows.
Related KARE 11 reports
• High school football helmets tested for concussion risk
• Find football helmet ratings for Twin Cities' schools
All of more than 100 Minnesota schools surveyed by the news organizations in a joint reporting project use only helmets approved by the national organization established to oversee athletic equipment. But some of those helmets do not meet a different - and more controversial standard - developed by researchers at the Virginia Tech Wake Forest University School of Biomedical Engineering and Sciences in Blacksburg, Va.
Part of the debate over football helmets is how much of a role they actually play in preventing or reducing the risk of concussions. Some medical professionals say that, while helmets are important, they can't prevent a player's brain from moving and stopping quickly within the skull, which can lead to concussions.
The Minnesota Department of Health estimates high school football players suffered more than 1,300 concussions last year. Most eventually returned to play without incident, but the number is evidence of increased focus by schools, doctors, lawmakers and parents on football head injuries.
Much of that concern has centered on how the game is played, how practices are handled and how injuries are dealt with, but helmets have remained a significant part of the debate.
After much testing -- measuring impacts in games and subjecting helmets to drop test impact simulations - researchers at Virginia Tech established a five-star rating system in 2011 and recommended that football programs purchase helmets that achieve the highest ratings. Earlier this year, Virginia Tech published its 2014 findings and test results for 23 football helmets on the market, including models widely used by professional, college and high school players across the country.
"We'll take each helmet, test each helmet 120 times at different heights, different directions," said Stefan Duma, professor and department head of the School of Biomedical Engineering and Sciences. "(We) sum all that information into one star value that gives you an idea of what helmet lowers acceleration and that lowers risk."
Helmets that absorb impact the best were given five stars; those that absorbed less impact could be rated with one or no stars in the Virginia Tech system. The study suggests that four- and five-star helmets are more likely to reduce the linear forces that lead to concussion than one and two star helmets, thereby decreasing the concussion risk.
"We'll take each helmet, test each helmet 120 times at different heights, different directions."
The system is controversial and some top concussion experts question the university's findings. Too much is unknown about concussions and the forces that cause them, they say. In addition, Virginia Tech tested only adult large helmets and limited the study to just 23 models for 2014.
But some have found value in the system.
Stillwater Area High School, for example, buys only two models of helmets for the varsity team, both made by Riddell and chosen specifically because they were rated with five stars by Virginia Tech.
"There's not a lot of information out there about what the best helmet is but what information is out there we have used to make our decisions," said Stillwater head football coach Beau LaBore. "I think the most important thing is that we have coaching and teaching staffs that teach and coach the game properly."
Woodbury High School in the South Washington County School district also indicated it is now choosing higher rated helmets based on the star rating system.
"No one is going to make that perfect helmet that is going to eliminate concussions."
In fact, most schools surveyed have only four- and five-star helmets. But at least 15 districts in the seven-county metro area list lower rated helmets in their inventories, many purchased before the Virginia Tech study was first published.
It is unclear whether those two-star rated helmets listed on school district inventory lists are actually being used.
Some districts that list the model say they have only a few in their inventory. And almost all say the two-star model is being phased out. Even though it's on the shelf, players opt for newer helmets and the two-star helmets don't get used anyway. Other districts said that the scientific data is conflicting and that helmet fit is most important.
This is where the disagreement over ratings and how much concussion prevention they can possibly provide enters.
All the helmets tested by Virginia Tech, even the one- or two-star helmets, pass muster with the National Operating Committee for Sports Athletic Equipment (NOCSAE) for their ability to prevent skull fractures. If a helmet doesn't have approval from that body, which sets standards for all kinds of sports equipment, then no Minnesota high school uses it.
"We're not judging but we are raising many questions."
But getting a five-star rating from Virginia Tech researchers doesn't mean a helmet reduces a player's concussion risk, said Kevin Merkle, associate director of the Minnesota State High School League, the governing body for high school sports in the state.
"The concussion takes place inside the skull and that's the challenge," Merkle said. "That's why no one is going to make that perfect helmet that is going to eliminate concussions."
Other researchers have weighed in. A Florida State University study found that a helmet not recommended by Virginia Tech was best in its tests at preventing concussions. A University of Wisconsin study found no difference among helmets in reducing concussion risk.
Even helmet companies like Schutt, that advertise their five-star rated helmets, question the Virginia Tech research.
"Virginia Tech's eagerness to become the 'standard' for football helmets has led them to questionable claims and declarations, which is creating a false sense of security in the marketplace," said Glenn Beckmann of Schutt Sports in an email to MPR News and KARE 11. Schutt is one of the country's largest helmet companies.
"We're not judging but we are raising many questions," said Beckmann.
Duma of Virginia Tech says not all football helmets are created equal.
"All we are doing is determining which helmets reduce head acceleration. Is lower acceleration a bad thing? No," said Duma.
While helmets are an important safety tool in football, more important are things like playing the game differently and making sure injured players are pulled from games and not returned until they're completely healed, said Dr. Michael Stuart, an orthopedic surgeon at Mayo Clinic, who is leading new football research at Mayo.
"When I think about concussion, it's not just about the equipment, although that's very important," Stuart said. "Make sure that your child is learning the rules of the game, make sure that their behavior on the field is safe and that they're using proper blocking and tackling techniques, that they strengthen their neck muscles and use the entire approach for safety."
Editor's note: This version of the story clarifies that the National Operating Committee for Sports Athletic Equipment sets standards for the ability of helmets to prevent skull fractures. Most testing is done by manufacturers.
Your support matters.
You make MPR News possible. Individual donations are behind the clarity in coverage from our reporters across the state, stories that connect us, and conversations that provide perspectives. Help ensure MPR remains a resource that brings Minnesotans together.