For homeless runners, road traveled makes all the difference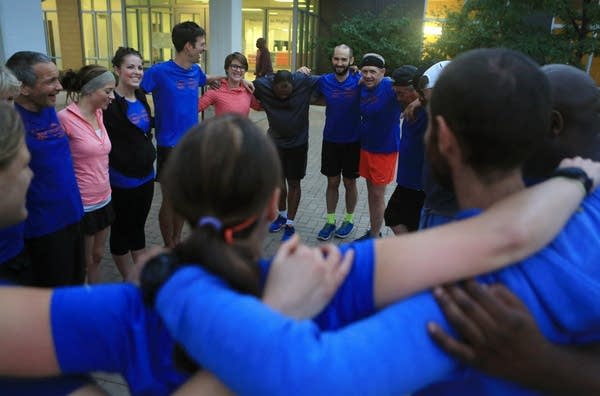 This isn't the kind of "life on the street" story you expect to hear about a bunch of homeless guys.
This is a story about a running club called Mile in My Shoes that aims to reach residents at Higher Ground, a Minneapolis homeless shelter. They're trying to get homeless men on their feet and literally on the road to a better life.
The club started in June with a simple plan — get what might be some of the most unlikely runners in Minnesota to lace up and hit the pavement.
Twice a week, about a dozen men get up at dawn and head out to get in some miles. They're joined by about a dozen other runners who come along to get some exercise and keep them company. They don't break any speed records and don't run many miles. Their last workout was just over two.
MPR News is Member Supported
What does that mean? The news, analysis and community conversation found here is funded by donations from individuals. Make a gift of any amount today to support this resource for everyone.
There's also no pretending that winning races and running alone will get someone a home or a job. But it's a place to start, says Mishka Vertin, who launched the effort with her boyfriend, Mike Jurasits, and leads the runs.
"If anybody needs an opportunity to be able to have a stress reliever, to be able to have a better outlook in the morning, to have a community of people supporting them, around them being positive, that would be someone who finds themselves waking up in a homeless shelter," Vertin says.
The pair live nearby in the North Loop. They're long time runners and recent transplants from New York City. Clubs there and in Philadelphia have led the effort to bring the benefits of the most basic exercise to homeless people.
Jurasits is a musician by day. Vertin is a social worker in St. Paul. They're doing this in their spare time and trying to figure out how to turn it into an actual non-profit.
For now it's an unofficial affiliate of Catholic Charities.
Vertin also works at Mill City Running, a Minneapolis running shop. They sell Mile in My Shoes T-Shirts, and every sale provides a shirt to the guys at Higher Ground. Shoe representatives, she adds, have donated shoes "so that everyone on the team can have them."
Manny Taitingfong put on a pair of those shoes in June. He's been living at the Higher Ground shelter for about a year, and says he can already feel the difference from three months of running. He says he started at 255 pounds and has lost 35.
The real difference, though, can't be measured in pounds or miles.
"Especially, for the clients here, it's a good part of normalcy and everyday life," says Amanda Harmon, a case manager at Higher Ground who joins the runs.
"Being with everyday people, it's really good for mental health," she added. "Being positive, feeling good about life — a reason to get up."
Connect with Mile in My Shoes at mn.mileinmyshoes@gmail.com or on Twitter at @mileinmyshoesmn.
Gallery
8 of 8
1 of 8
2 of 8