Two pregnant gorillas astonish Como Zoo officials
For the first time in its history, Como Zoo reports not one, but two of its gorillas are pregnant. The St. Paul zoo expects the births over the next four months will raise its total gorilla population to nine.
That both females became pregnant at about the same time astonished zookeepers. Still, it turns out, a gorilla pregnancy isn't all that different from a human pregnancy.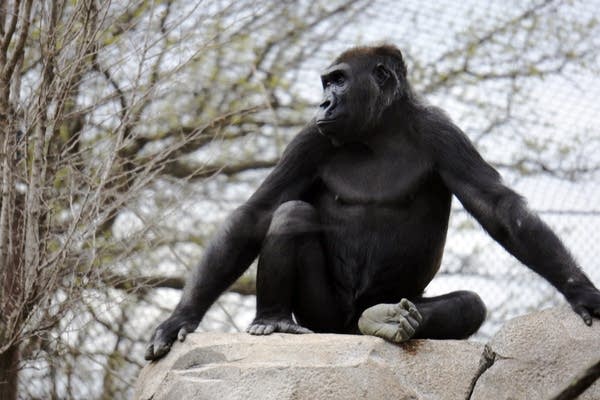 Before they got pregnant, gorillas Dara and Alice stopped taking human birth control pills. Then, both were kept in the same enclosure with Schroeder, a 28-year-old male gorilla. Nature took its course, and the zoo confirmed the pregnancies with human pregnancy tests — three tests each, to be exact.
And the similarities don't end there, says zookeeper Tami Murphy.
"I just had a baby four months ago. And watching Alice trying to get around her exhibit is really reminiscent of how I was feeling at month nine," she said. "As a zookeeper, to be able to have two baby gorillas here, within the same year, is absolutely amazing."
Como Zoo opened its $11 million Gorilla Forest exhibit a little over a year ago. Schroeder was moved into the new enclosure, along with six new gorillas, three females and three males.
MPR News is Reader Funded
Before you keep reading, take a moment to donate to MPR News. Your financial support ensures that factual and trusted news and context remain accessible to all.
Working with the national Association of Zoos and Aquariums, they determined Schroeder had the best genetic makeup to expand the gene pool among captive gorillas.
As far as zoo officials know, the two pregnancies are firsts for all the gorillas involved. That means the new moms might need some help, says zookeeper Allison Jungheim. So the zoo brought in a 26-year-old female named Nne, as the maternal guide, the matriarch of the group.
"She is the highest female on the dominance hierarchy. She kind of was brought in to show the younger girls how to do it. She's had a baby in the past, so she is an experienced mother," Jungheim said.
Alice, 12, is expected to give birth between Oct. 18 and Dec. 2. Eleven-year-old Dara is expecting between Dec. 18 and Feb. 1. But zoo spokesman Matt Reinartz said the public might have to wait a few weeks to see the newborns.
"They won't be on display right away. What will happen is that the mothers and the babies will have time to get to know each other, to bond. It's extremely important those first few days, first few hours, that the mother and the baby bond. So they'll will be off exhibit for probably a month or so," he said. The expecting family group will continue to live in a separate area next to three young bachelor males.
Gorillas in the wild are critically endangered, as logging and mining have hurt their east African habitat. They're often poached and some have died from Ebola. Zoos across the country say they put gorillas on exhibit to promote their conservation.
Frequent zoo goers, like Linda Flannery, of Inver Grove Heights, will definitely be out to see the new babies in St. Paul.
"I think its great. It's great to see that," she said. "That's just really neat and for kids to see that, that motherly instinct in the animals. That's a neat thing."
As for the gender of the new babies? The zoo won't know until they're born.