Ex-offenders hope new law offers a new start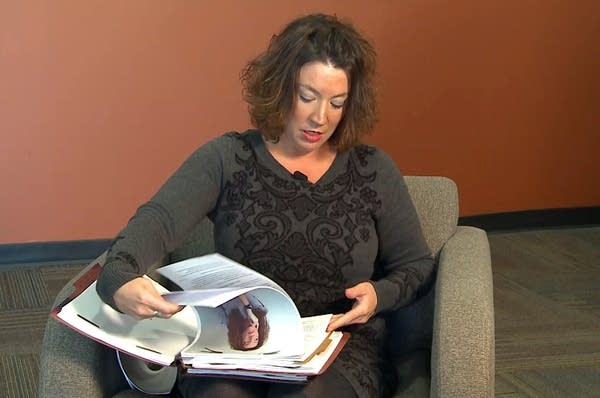 Sherry Niesen of Otsego wants a clean slate for 2015.
She's determined, she says, to finally shake the consequences of one relatively brief moment in her past that resulted in a criminal record and a barrier to landing a good job.
"It has been horrific for me," Niesen said. "I feel like I've been crucified for one moment in my life that doesn't define who I am."
Soon she may get the relief she wants. Minnesota's new criminal-record expungement law takes effect Jan. 1. The law will allow Niesen, 37, and other offenders with relatively minor rap sheets to petition a judge to have their criminal records sealed. The new law would apply to people convicted of misdemeanors, gross misdemeanors and some nonviolent felonies.
Grow the Future of Public Media
MPR News is Member supported public media. Show your support today, donate, and ensure access to local news and in-depth conversations for everyone.
Law enforcement agencies, prosecutors and judges could still get a person's full criminal record, but records available to prospective employers and other members of the public would not reflect the expunged crimes.
In 2010, Niesen pleaded guilty to fifth-degree misdemeanor assault, a charge stemming from an incident during a bitter divorce. The police report says Niesen hit a police officer called to her ex-husband's home while she was trying to retrieve photos of her children, although Niesen denies striking the officer. The misdemeanor charge is the lowest-level assault charge possible under Minnesota law. Niesen's criminal record is otherwise clean.
But Niesen, who is a registered nurse with a degree in social work and mother of two young children, says her criminal record has kept her from landing good professional-level jobs in nursing or social work.
Niesen flipped through hundreds of job applications she has filled out over the last four years. She keeps the applications in a folder along with dozens of letters of recommendation praising her work ethic and compassionate nature. Still, Niesen said, when employers do a background check, they find the 2010 assault on her record, and the job prospect disappears.
According to the Council on Crime and Justice, one in four Minnesotans has a criminal record. While it's unclear how many will qualify for expungement under the new law, advocates say it will help many people get job interviews, employment and even housing.
"Having a criminal conviction means, you know, that you made a mistake in the past," said Joshua Esmay, an attorney with the Council on Crime and Justice and co-chair of the Second Chance Coalition. "That's really an event within a lifespan, right? It's not something that in every case is indicative of some inherent trait of criminality."
Under current law, Minnesota judges have the authority to seal court records only if someone qualifies for expungement. Under the new law, Minnesota judges will have a much further reach and the authority to seal records that reside with local law enforcement agencies and the Minnesota Bureau of Criminal Apprehension.
Questions answered
The new law will require a person with a criminal record who is seeking the expungement to petition the court for relief. How should you prepare?
How will the law work for people convicted of misdemeanors and petty misdemeanors?
How will the law work for people convicted of gross misdemeanors?
What about felony convictions?
While the new expungement law protects employers and landlords from potential liability based on expunged criminal records, some concerns remain.
How does the expungement law work alongside the Ban the Box law that went into effect in 2014?
Employers naturally want to know whether any past issues might affect a candidate's employment in the future, says Minneapolis attorney Marnie DeWall.
DeWall predicts employers will look to online and social media sources more than they already do for information on job candidates.
"Given that employers are likely going to feel that this new law further restricts the amount of information that they are able to discover on a potential applicant, I think it's likely that employers will expand this practice of looking for information beyond what they can get from a typical background check," DeWall said.
What issues may arise from searching for job applicant information using other sources?
However, DeWall said that in order for someone to have a record expunged, he or she must go through a rigorous court process. Not everyone will qualify.
What should employers know about the court expungement process?
According to a recent national poll by the Society for Human Resource Management, 87 percent of employers do criminal background checks on prospective employees. The background check has been a barrier for Katie Tourand of Burnsville, 29, who spoke alongside Gov. Mark Dayton earlier this year when he signed the expungement bill into law.
Ten years ago, Tourand was addicted to drugs and dropped out of high school. Her record from that period includes charges of possession of meth and aiding and abetting check forgery. But Tourand cleaned up, went back to school and earned a marketing degree from the Carlson School of Management at the University of Minnesota.
Armed with her degree and a new outlook on life, Tourand applied for jobs. Three good offers were rescinded after employers ran a background check, she said. Tourand recently landed a job in her field, but she said people who have reformed their lives and remained crime-free should not have to carry the scar with them forever.
She said she hopes that, one day, employers will see that having overcome a criminal record "can make you an even stronger worker and a better, more valuable person in their company."