Latest shooting puts St. Paul police tactics under scrutiny
Updated at 6:16 p.m.| Posted at 5:31 p.m.
The fatal shooting Wednesday of a young African-American man by St. Paul police is bringing attention to the department's use of deadly force.
In the past six years, St. Paul officers have fatally shot more suspects than any other department across the state, an MPR News analysis of state law enforcement data shows. Of the at least 61 fatal shootings in Minnesota since 2008, 11 involved St. Paul police.
At least eight of the 11 men killed by St. Paul police since 2008 were people of color.
Grow the Future of Public Media
MPR News is supported by Members. Gifts from individuals power everything you find here. Make a gift of any amount today to become a Member!
Alarmed by the spate of shootings, civil rights leaders in St. Paul are calling for outside investigators to examine all officer-involved fatalities in the city.
The deadly confrontations point to a larger problem between police and communities of color, said Jeff Martin, president of the St. Paul branch of the NAACP.
"We have a public that's not trusting of the police department," Martin said. "And we seem to have a police department that's not trusting of the public. So when those interactions happen, it seems to be a recipe for disaster."
On Thursday, Mayor Chris Coleman called for an audit of the Police Civilian Internal Affairs Review Commission, which reviews police actions.
Coleman and Police Chief Tom Smith met with Martin and other African-American leaders to discuss the commission in response to complaints that it is not independent.
"We need to know what, if anything, is broken before we can identify what needs to be fixed and how we might proceed," the mayor said.
Martin has said the review commission, composed of five community members and two police officers appointed by the mayor, is biased in favor of clearing officers or any wrongdoing.
In most of the officer-involved shooting cases in St. Paul, police said the suspects were armed with guns or knives when officers opened fire. But in a few cases, the suspects were accused of throwing rocks or using their vehicles as weapons.
Martin wonders whether officers could have resolved those confrontations without taking a person's life. He couldn't help but notice than in one recent incident, police exercised restraint while confronting a man who seemed intent on dying.
Earlier this month, St. Paul police responded to a reports that Robert Scott Wood was attempting "suicide by cop." When the officers arrived, he said, "Just shoot me and get this over with," according to a criminal complaint.
Martin notes that police said Wood, who is white, shot an officer in the face with an air rifle. But the incident eventually ended peacefully when officers coaxed him into coming out of the house and surrendering.
"I hate to say this, but I had to pay particular attention to his race," Martin said of Wood. "So how was that that officer not at a point where he was not ready to use deadly force, and how was this person able to walk away from this incident?"
On Wednesday, St. Paul police say they shot and killed Marcus Golden after he drove his vehicle at the officers who responded to reports that a man was threatening a woman in the 200 block of University Ave. E.
The explanation is reminiscent of an altercation in 2012, when St. Paul police shot Victor Gaddy while trying to box in his car and arrest him on suspicion of selling drugs. Gaddy was not armed, but officers said they feared for their lives when Gaddy, an alleged gang member, used his car to ram into their squad cars. A grand jury found that the officers were justified in their action.
Officials with the Ramsey County Attorney's office could not recall any instance in which a grand jury decided to hold officers responsible when considering an officer-involved shooting that resulted in the death of a suspect.
Gaddy's sister said Thursday that she never believed the police officers' accounts, in part because her brother's car was returned to the family virtually unscathed.
The woman, who spoke on the condition of anonymity, said her brother wasn't perfect — but "he didn't deserve to die that day." She also is skeptical that the police investigation into the death of Marcus Golden will be fair and transparent.
Police Chief Tom Smith and Mayor Chris Coleman declined requests to be interviewed.
But former Police Chief William Finney said the number of police-involved shootings in St. Paul alone shouldn't serve as an indictment on the department. Finney, who is African-American, said officers have a duty to protect the public and themselves, whether a suspect is waving a gun or threatening to drive into them with a car.
"I don't think generally St. Paul police officers are regarded as heavy-handed or brutal. I don't hear that from the community," Finney said. "It's just always a shock in this part of the country when a police officer has to use a firearm for deadly force. So we need to look at the totality of the circumstances, and investigate thoroughly, and lay that before the proper judicial review."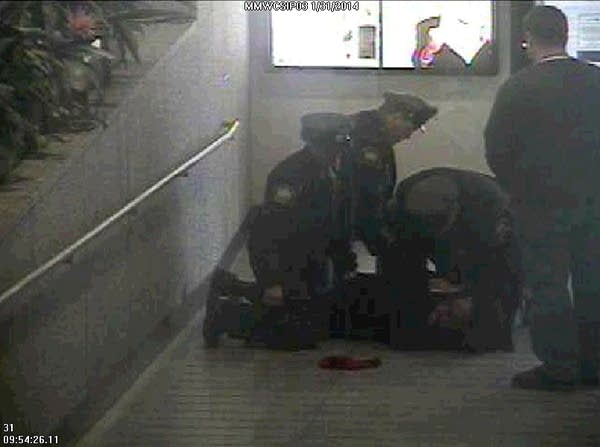 But a high-profile incident in the St. Paul skyway is testing the relationship between police and communities of color. The arrest and use of a Taser on Chris Lollie, an unarmed African-American man, drew national attention after a cellphone video he posted on YouTube went viral. Many were outraged when a police civilian review board exonerated the officers involved in Lollie's arrest.
The Lollie case is renewing calls for greater transparency of how police-civilian review boards investigate complaints of officer misconduct, said Yusef Mgeni, a longtime St. Paul resident and civil rights activist. It's also refueled questions of what it's like to be an African-American man in St. Paul, he said.
"I was pulled over by a police officer in front of my home, asked what I was doing in the neighborhood, whose car I was driving, and told that I seemed nervous," Mgeni said. "My response was that there's a white man with a crew cut whose nose is three inches from my window, who has a gun on his hip. I'm supposed to be nervous."
Mgeni said for better or worse, the concern in St. Paul about officer-involved shootings stems as much from what has occurred nationally as what has occurred locally. That's why African-American leaders met today with Mayor Coleman and Chief Smith calling for reforms that they say would better ensure police accountability.
Timeline: Shootings by St. Paul police since 2008 (Source: BCA)