Documents: FBI, IRS probing Community Action of Minneapolis
The FBI and the Internal Revenue Service are investigating Community Action of Minneapolis, a publicly funded social services group shut down last fall after a scathing state audit.
The federal probes were revealed in documents filed by court-appointed receiver Michael Knight, who's charged with going through Community Action's books to recover public funds. It's the first indication that the investigation into Community Action of Minneapolis, its former CEO Bill Davis and its board of directors is much broader than initially disclosed.
"There are ongoing investigations by the FBI, the IRS and the DOC [Minnesota Department of Commerce] that are draining time and resources from what's left of CAM [Community Action of Minneapolis]," Knight wrote.
The documents also show Knight met privately with an FBI investigator and sent information to the law enforcement agency. A billing by the Minneapolis-based law firm, Winthrop & Weinstine, also noted the firm was "reviewing e-mails regarding FBI warrant." Knight hired the firm to represent him as he conducted the review of Community Action of Minneapolis.
The scope of the investigation isn't clear at this time. A spokesman for U.S. Attorney for Minnesota Andrew Luger declined comment.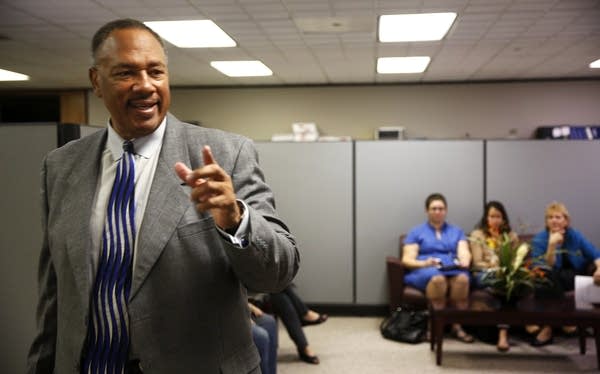 Davis told MPR News that he wasn't aware of any investigation and maintained that he did nothing wrong and stands by past statements that he'll be vindicated of any wrongdoing. He said he has not met with federal investigators, state officials or with Knight. "This is the first I've heard of it," he said.
The state of Minnesota shut down Community Action of Minneapolis in September after an investigation found that Davis spent hundreds of thousands of dollars in taxpayer money on trips, golf and other perks. The Minnesota Department of Human Services and the Minnesota Department of Commerce pulled their contracts with the group after a DHS audit found Community Action overcharged state and federal grant programs for more than $600,000 of administrative costs.
The DHS audit said Davis used the group's money on trips to the Bahamas and Palm Beach, spa treatments, and a $36,000 car loan. It tallied $226,679 in "unallowable" expenses.
The receiver's report shows the problems may go deeper. Knight noted that former employees and board members have raised other allegations that "are deemed worth of additional investigation."
They include:
• Paying the personal credit card bills of friends of senior management
• Close friends of senior management being paid as contractors without substantiating their work
• Senior management using CAM funds to pay for the medical bills and personal expenses of friends who were non-CAM employees
• Excessive gift-giving to board members
• Senior management using CAM staff to perform work for outside interests and/or businesses of senior managers
• Diversion of CAM money in the form of "wages" to family members and close friends of senior management who performed no/minimal work or services for the money received
In the court papers, Knight noted the items are "allegations." He also said he did not conduct an exhaustive probe into every aspect of CAM's operations because it would come at the expense of taxpayer funds and other creditors. Knight did not return a call to MPR News seeking comment.
Community Action of Minneapolis had provided energy assistance and career counseling to low-income people since 1994. Davis has been a fixture in state Democratic politics. Several prominent DFL politicians or their proxies sat on Community Action's board.
Much of the board resigned after the DHS audit went public. State agencies rescinded their grants and found other organizations to provide home weatherization and energy assistance to low-income residents of Minneapolis.
According to the receiver's report, Davis is planning to seek "deferred compensation" and possibly vacation pay he believes he's owed. "The receiver does not expect to recommend payment of said claim," the report added.
Document