St. Cloud school leaders respond to Somali student protest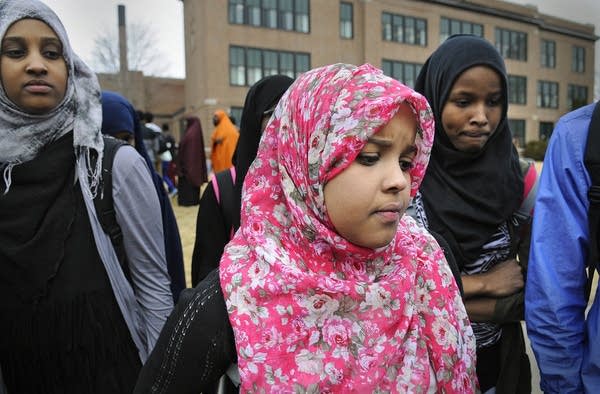 Updated: 6:25 p.m. | Posted: 12:54 p.m.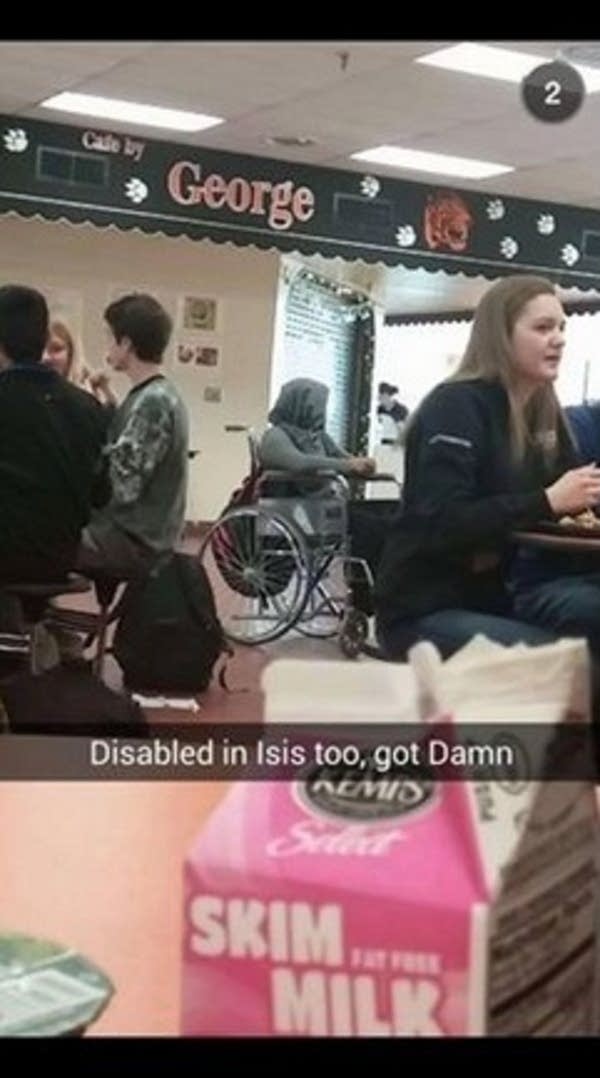 School officials in St. Cloud said Thursday they are responding to the concerns of St. Cloud Technical High School students who walked out of classes Wednesday to protest discrimination against Somali students.
District officials said staff have been meeting in small groups with students and parents. The school's principal, Adam Holm, also addressed the student body Thursday.
Grow the Future of Public Media
MPR News is supported by Members. Gifts from individuals power everything you find here. Make a gift of any amount today to become a Member!
The walkout Wednesday followed a posting on Snapchat that showed a Somali student in a wheelchair. A caption on the photo suggested she belonged to ISIS, the terror group based in Iraq and Syria.
"Yesterday, during lunch, I had someone take a picture of me, and write a comment saying 'Disabled ISIS' on it," said Hodo Nour, the student in the photo. She broke her leg last month, and had been using a wheelchair to get around school. Nour stood outside Tech High School as she spoke in a video later posted to YouTube.
"It was not asked for," she went on. "Nobody asked to take a picture of me. It's very rude. And when the guy was confronted, he played it off like he didn't do anything at all."
Other video footage of the protest showed students complaining of repeated insults based on their faith and race, telling school officials that they didn't feel they were being protected or heard when they complained of their treatment by fellow students.
Tami DeLand, a district spokesperson, said that the protest prompted school officials to put Tech High School in "containment" briefly on Wednesday. She said it involved enhanced security, but that classes continued during the containment.
She also said that school officials are addressing students' concerns. DeLand said that the district has a strong policy for dealing with bullying among students, and that the policy might apply in this case.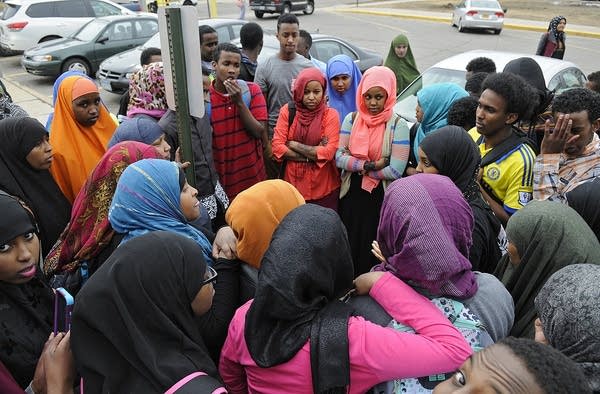 "It's very clear-cut that the administration takes this seriously," DeLand said. "There is a systematic way, a procedure to go through, to do this, and that's how this will be handled and it's how all incidents like this will be handled."
Abdul Kulane, a Somali community leader and one-time St. Cloud City Council candidate, said district officials didn't have an immediate plan of action when he met with them Thursday, but that he hoped they would have a better response by next week.
"We want the students to be welcome in the school district ... and we want this to happen to all the students, regardless of where they are from, their religion, regardless of how they appear and dress," Kulane said in an interview on MPR News. "Students are feeling that they do not belong to the school when they are bullied, and they were mocked and they were harassed on social media."
St. Cloud schools came under federal scrutiny several years ago over treatment of Somali students.
St. Cloud State University professor Luke Tripp said he sees more conflict as the predominantly white city sees a growing population of people of color.
"That's why there's such a clash, when you're dealing with 1950s kind of mentality here," Tripp said.
But school officials said the mentality is changing. Long time school board member and former chairman Jerry Von Korff said St. Cloud schools are listening to students and families. Von Korff said pushing back against racism is "one of our four primary strategic goals. That includes Somali students. That includes white students."
The district also put St. Cloud's Apollo High School in "containment" Thursday, in response to the incident at Tech High. Both schools have about 1,400 students. The district has about a 40 percent minority student population.
"It is important to remember that as a school community, our central role is to serve as educators," St. Cloud Area School District superintendent Willie Jett said in a news release Thursday. "In that role, we work every day to assist our students in navigating the complex issues of race and culture in a manner that increases awareness, understanding, equity and a sense of community for all students and families. It is also our responsibility to make sure that all students feel safe at school."
The Minnesota Department of Education said it was reaching out to the St. Cloud district "to see what resources we can offer to ensure this is properly addressed," said department spokesperson Josh Collins.
In an incident that St. Cloud police said was not connected to the protest, Tech student Redwan Mahamed Shire, 19, was arrested at the school Wednesday afternoon. Shire "pushed and threatened to assault a school security employee," St. Cloud Police Lt. Jeffrey Oxton said. The incident, he said, happened inside the school. Shire was later released.