Somali group meets with St. Cloud school leaders over racial tensions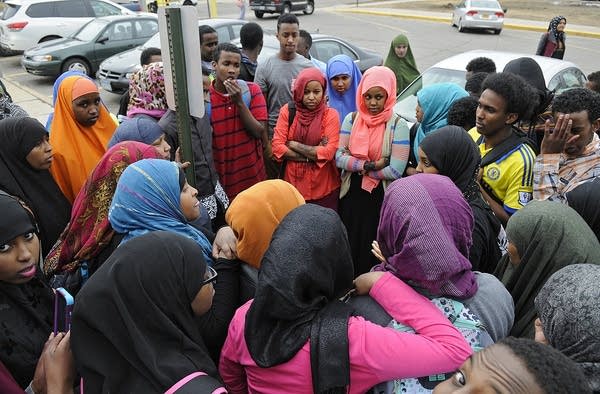 One week after students, many of them Somali, walked out of St. Cloud's Tech High School to protest alleged racial discrimination, a task force met with district officials to address the tension.
Members of the St. Cloud Somali community sought to address allegations reported more widely after a social media post implied a Tech High School Somali student was a member of ISIS.
Hassan Yussuf, a member of the community since 2001, chairs the group comprised of about 15 Somali community elders, parents and students. Yussuf said they met with Superintendent Willie Jett and board chairman Dennis Whipple Wednesday in what he said was a productive meeting.
"We just want the employees of the district to look diversified," Yussuf said of the group's requests. "We're talking about the district recruiting qualified people of color."
The St. Cloud Area School District was under federal scrutiny five years ago when the Council on American-Islamic Relations filed a civil rights complaint to address a hostile environment at both Tech and Apollo high schools.
White students and teachers continuously made "offensive and derogatory" comments toward Somali students between 2008 and 2011, according to the complaint filed with the U.S. Department of Education Office for Civil Rights.
"Somali students at both high schools were subjected to negative comments and physical intimidation, based on their race and national origin, in school classrooms, hallways and cafeterias," the complaint said.
The Office of Civil Rights laid out a number of policy changes for the school district to enforce by 2012. They included harassment and disciplinary policy changes, ongoing meetings with Somali high school students to discuss concerns and a district-wide orientation program for all students to address harassment.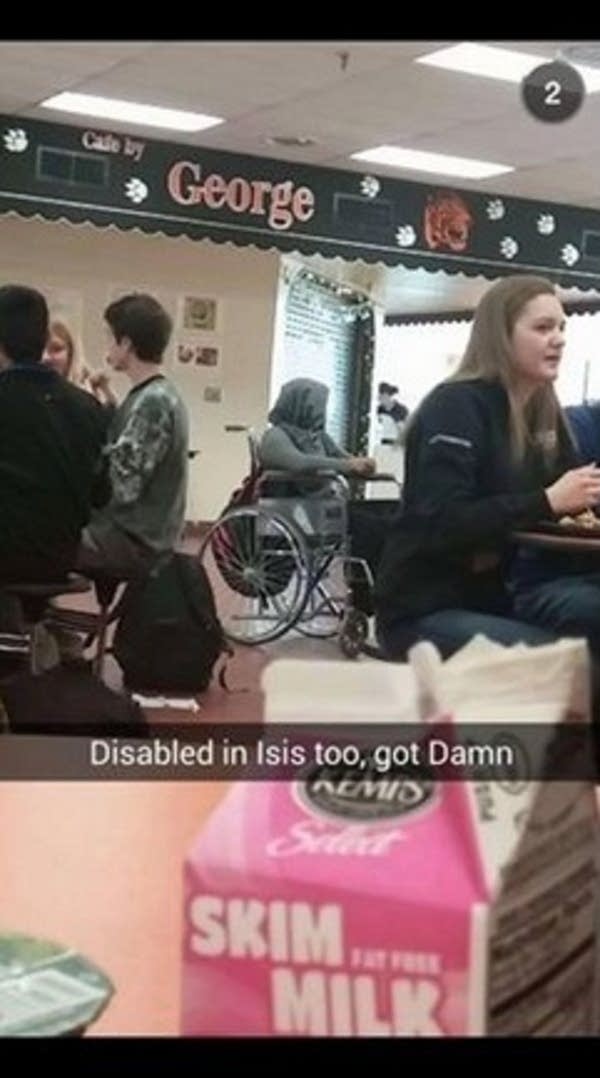 Despite those efforts over the past three years, students say a pattern of harassment still exists. Senior Nasteho Dini said she organized the protest because the district didn't immediately respond to a Snapchat photo that showed a Somali student in a wheelchair with the words "disabled in ISIS."
"We already talked to them. We don't see no point of going to the administration," she said Wednesday, and accused school officials of "making false statements and false promises."
But district spokeswoman Tami DeLand said the district is working hard to solve "very complex" issues. Superintendent Jett is expected to make a public statement about last week's events and the plan going forward at Thursday's school board meeting.
"Race and issues of this nature are simply not simple things," DeLand said. "They're complex and they don't get solved with one or two meetings. It has to be an ongoing effort."
DeLand says last week's incident resulted in quieter than usual hallways at Tech and Apollo high schools. All students have to be escorted everywhere they go.
But Dini says stricter hallways just added to the hostile environment.
"We're being watched 24/7," she said. "We can't leave without somebody taking us to the bathroom, the library, the cafeteria. It's just been really hard."
Rikki Klontz acknowledged that her son's Snapchat photo that eventually circulated on Facebook and led to the protest, was "a horrible thing."
But the Tech High School senior has not been given the chance to apologize for what he did, his mother said.
Administrators originally suspended him for five days following the protest last Wednesday, she added. They returned to school to find out he was suspended for five more.
Klontz said her son's hasty action was the straw that broke the camel's back. But the school has been experiencing racial tension for a number of years.
"I feel like a bigger picture needs to be looked at than this one incident," she said. "It's not all about this one post. Those feelings are there and we as a community need to work on it."
St. Cloud is a city of about 65,000 with 85 percent of the population identified as white, according to Census Bureau data.
Apollo and Tech high schools each have about 1,400 students; 20 percent are Somali-American. The district has an estimated 40 percent minority student population.
Your support matters.
You make MPR News possible. Individual donations are behind the clarity in coverage from our reporters across the state, stories that connect us, and conversations that provide perspectives. Help ensure MPR remains a resource that brings Minnesotans together.