Minnesota Orchestra takes the stage in Havana, Cuba
One of the emotional highlights of the Minnesota Orchestra's trip to Cuba came last night as it played the first of two concerts from Havana.
The orchestra spent the day preparing in a special joint rehearsal with the Cuban National Youth Orchestra, an experience that packed its own emotional punch.
For a few hours, the image at the Teatro Nacional was a symphony orchestra — times two. The stage was packed for what they call a "side by side" rehearsal. The orchestra's Music Director Osmo Vanska joked it was the largest orchestra he had ever conducted.
There were two musicians at each music stand, one a professional, the other a member of the youth orchestra. During the rehearsal, they took turns playing the lead.
The professionals passed along tricks of the trade while the young players soaked it all in. There were some furrowed brows and even occasional shock when Vanska would select a student for special instruction. In the end, all seemed pleased with this opportunity to learn.
During a break in rehearsals, string bass player Kate Nettleman posed for pictures with a half-dozen bass students. She listened from the audience for a while and could hardly believe the experience.
"The energy that the students bring, their enthusiasm. We're all so happy, the Minnesota Orchestra, we are so happy to be here and so excited to share this with the kids. And of course Osmo, he's jumping up and down. We are all just having such a good time playing together," said Nettleman.
The symbolism of these visiting musicians teaching the young Cubans was powerful enough to move some in the audience to tears.
The excitement continued later when crowds formed outside the Teatro Nacional for the evening concert. A woman who gave her name as Emelia said the event was significant.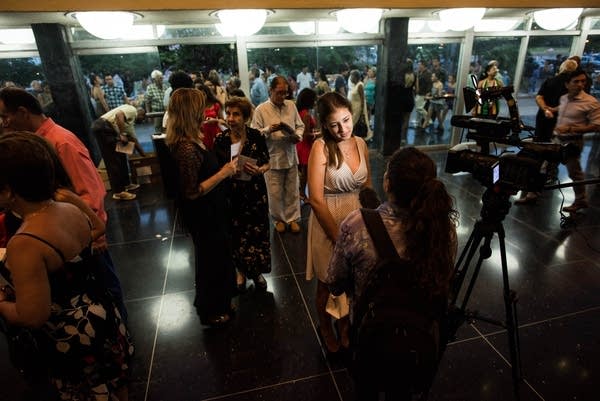 "It's the first time that an orchestra from Minnesota play here since the Revolution. And they played here 85 years ago," she said. That 1929 concert was the first international tour for what was then the Minneapolis Symphony Orchestra. In tribute, last night's concert was the same all-Beethoven program.
The audience packed into the hall which soon became warm, despite the air conditioning. Many people waved paper fans.
News cameras swarmed the concert, capturing the event for local outlets and international audiences. The musicians took it all in stride, receiving several standing ovations.
Out in the lobby, Emelia said the program lived up to her expectations. "I really enjoyed that. Thank you very much to Minnesota. Come back again!"
The orchestra will be back — tonight — for the final concert of their tour before returning to Minnesota on Sunday.
Listen live: Minnesota Orchestra in Cuba
Classical Minnesota Public Radio is planning a live broadcasts of the second Minnesota Orchestra concert from Havana on Saturday, May 16, at 7 p.m. | Listen live