Session: Ag and enviro bill still a question mark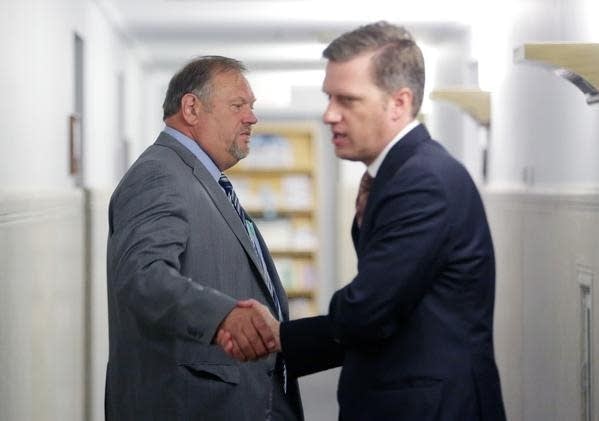 Minnesota legislators were debating budget bills Friday that would prevent a state government shutdown and end a budget standoff between Gov. Mark Dayton and House Republicans.
Both chambers of the Legislature started work Friday morning at 10 after Dayton called them back into a special session.
In a bit of history the session was being held in hearing rooms in the State Office Building, across the street from the Capitol, which is undergoing renovation. Daudt noted it was the first time in 110 years the House has met outside the Capitol.
Dayton wanted assurances that all of the bills would pass, but there was no guarantee that the Senate would pass a controversial agriculture and environment budget bill
The Senate debated, but did not take an immediate vote on the bill, which funds a variety of programs and agencies, including the DNR and Pollution Control Agency. Many metro area Democrats oppose it, because they say it weakens environmental standards.
DFL Senate leaders delayed a vote to give Senate Republicans time to talk about the bill in private. Democrats who control the Senate will need Republicans to help them pass the bill because so many metro Democrats oppose it.
The bill's sponsor, Sen. David Tomassoni, DFL-Chisholm, called it a good bill and urged his colleagues to pass it.
"I feel that if we don't pass this today we are in an imminent position of laying off state workers in all of these departments and a partial government shutdown which I don't think is a good thing for the state of Minnesota, and I don't think it's a good thing for the people of Minnesota," he said.
Sen. John Marty, DFL-Roseville, urged his colleagues to reject the bill.
"Sit down with the governor and the House and tell them these things are not acceptable to the Senate, we want them taken out. We don't want to negotiate. Just get out a red pen and strike through those provisions," he said.
The bill contains language requiring buffer strips between cropland and bodies of water that the governor wanted. It also abolishes the Minnesota Pollution Control Agency's citizen's board and exempts copper nickel mining waste from solid waste rules.
In other action, the Senate overwhelmingly passed a bill that spends money collected from the dedicated sales tax for the state's environment, parks and cultural programs.
The House quickly passed a jobs and energy budget bill that spends money on workforce training, gives a $4 million loan to Duluth-based Cirrus Aircraft and helps northern Minnesota paper and steel companies with energy costs.
Rep. Pat Garofalo, R-Farmington, said that provision makes a shift in the amount those companies subsidize other ratepayers.
"I do want to give credit to the DFLers from the Iron Range for stepping up to the plate and recognizing the fact that the other alternative, that these businesses close and 100 percent of that is shifted onto other ratepayers, would be cataclysmic for rates in northern Minnesota," he said.
Rep. Tim Mahoney, DFL- St. Paul, described the legislation as the "job-less jobs bill," because it made reductions to some economic development programs. The House passed the bill 78 to 47. The Senate also passed it 50-14.
Lawmakers
also have to pass
 also passed a bill that increases funding for early education and K-12 schools by $525 million. UPDATE: The House passed the education bill 115-10.
And they are set to debate a public works construction bill that authorizes $373 million in bonding.
Tim Pugmire, Tim Nelson and Mike Mulcahy contributed to this report.