Photos: Remembering Rondo, while letting go of the pain
City and state leaders apologized Friday for the bulldozing of a predominantly African-American neighborhood to make way for Interstate 94 in the 1960s.
Minnesota Department of Transportation Commissioner Charles Zelle was one who took the podium to say "I apologize."
"You know I stand before you on behalf of the state and the many people of the Department of Transportation to actually commit to a new era where we do put people ahead highways, and community ahead of cars," Zelle said.
Marvin Roger Anderson grew up in the western end of Rondo Avenue in St. Paul. He says his organization, Rondo Ave. Inc., along with other people who grew up in the neighborhood, decided they wanted to move forward as they celebrate Rondo Days, so they organized a ceremony designed to help do that.
The 32nd annual Rondo Days kicks off Saturday, July 18 in St. Paul.
Gallery
10 of 10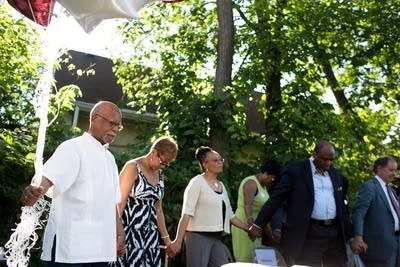 1 of 10
2 of 10
Gain a Better Understanding of Today
MPR News is not just a listener supported source of information, it's a resource where listeners are supported. We take you beyond the headlines to the world we share in Minnesota. Become a sustainer today to fuel MPR News all year long.