Feds concerned, protesters angry over MN dentist killing Cecil the lion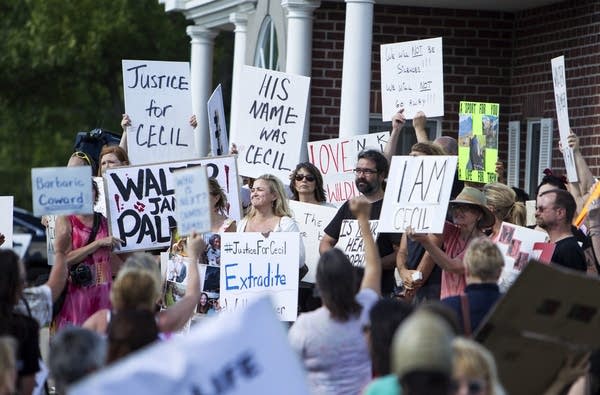 Updated 5:20 p.m. | Posted 1:19 p.m.
Some 150 protesters gathered Wednesday at the Bloomington dental practice of a man who hunted and killed a beloved lion in Zimbabwe, with some calling for him to face justice.
Federal officials in the United States were also expressing outrage over the lion's killing by Dr. Walter James Palmer. The U.S. Fish and Wildlife Service said it was gathering facts and was ready to aid Zimbabwe conservation officials in their investigation.
Grow the Future of Public Media
MPR News is supported by Members. Gifts from individuals power everything you find here. Make a gift of any amount today to become a Member!
Palmer, 55, of Eden Prairie was identified on Tuesday as the hunter who killed Cecil the lion, a popular attraction and research subject at Zimbabwe's Hwange National Park.
Zimbabwean authorities said the lion was lured out of the park's protection and shot with a bow and arrow around July 1. The hunters found the wounded animal 40 hours later, killed him using a firearm. They then skinned, beheaded the lion and took off his GPS tracking collar.
The killing sparked outrage online, locally and across the ocean, with Zimbabwean authorities charging the hunting guide and owner of the land where the lion was killed with poaching. A Zimbabwean police spokesperson has said that Palmer may face charges.
Palmer said in a statement that he would cooperate with Zimbabwean and U.S. authorities in any inquiries. He said he did not realize that Cecil was a popular animal and believes the hunting guides he hired had obtained all necessary legal permits.
People have been leaving notes and stuffed animals at the Bloomington site of Palmer's dental practice since news of his involvement emerged. The practice has been closed since Tuesday.
While some 1,700 people had said on Facebook they planned to attend, the numbers weren't close to that. There were, however, throngs of media.
A few protesters held signs, including one that said, "Let the hunter be hunted!" and another that said, "Extradite Walter Palmer."
Sarah Madison brought her two children, including her 3-year-old son dressed in a lion costume and carrying a sign that said, "Protect me. Don't hunt me." Madison says the hunt, even if legal, was "immoral" and "disgraceful."
Local artist Mark Balma also was outside the office, painting a large picture of an African lion he intends to donate to an organization that protects animals.
"We wanted to go to his dental practice because he's ostensibly a member of the community," said Dallas Rising of the Animal Rights Coalition, who is sponsoring the protest. "We wanted people to know that this is where he is and this is what he's done so they can make informed decisions about whether they want to support his practice."
Animal rights advocates hope that the attention to the Cecil's killing will lead to concrete political actions and more awareness about poaching.
"Of course our organization is concerned about the well-being of all animals, part of what made this particular case so personal for people is the fact that Cecil had a name, and he had an identity and that he was viewed as an individual," Rising said. "It's important for us to remind people that all of the animals in our world are individuals and they all deserve to live free of violence from human beings."
Edward Chidothe is a native of Zimbabwe now living in the Twin Cities. He said to many people from Zimbabwe, the lion is a symbol of southern Africa.
"It was beloved both as a mascot, it was a symbol people knew of, and it was a symbol of when you think about your home," Chidothe said. "It's both losing something you identify with your home, but also the way it was lost."
Others from Zimbabwe, Chidothe said, have questioned whether the locals who are currently facing charges will carry the full punishment for the killing of the lion while Palmer won't be held accountable.
"Some folks use analogies of colonialism," he said. "You have foreigners coming in and exploiting the resources and creating upheaval, and taking in a very violent manner and then disappearing with no accountability for the chaos it created."
Some online petitions have circulated calling for Palmer to be extradited to Zimbabwe to face poaching charges. Minneapolis Attorney Joe Tamburino said the United States and Zimbabwe have had an extradition treaty for felony-level crimes since the late 1990s.
"Zimbabwe would on their end, issue some sort of charge or warrant, and then ask the federal government here, I imagine through the State Department," Tamburino said. "Then they'd effect an arrest here in the United States and then get the individual to court here and then extradited to Zimbabwe."
Extradition is not an automatic process, Tamburino said. In a situation where the accused has the resources to hire attorneys, the extradition process can be especially long and complex.
"The individual would be able to say to our government, 'Look I'm an American citizen, I don't think I should be extradited for whatever the legal argument they're going to make,'" Tamburino said. "Then they'd get a fair hearing in court on that."
The federal government could reject extradition for a number of reasons including humanitarian or legal objections, but American citizenship or wealth don't automatically mean someone can avoid extradition.
"When you travel to another country, you should be absolutely sure you're obeying those country's rules and laws, because if you're not, and they have an extradition treaty with us, you could be in trouble," Tamburino said.
There are other possible legal repercussions facing Palmer, who did not respond to further requests for comment from MPR News.
Gov. Mark Dayton Wednesday weighed in on the killing of the lion calling it "horrible."
"I'm just so disgusted with that man. To shoot any lion but to lure a lion like that out of the preserve and shoot him, how could anybody think that's sport? It's just appalling."
Palmer is a member of the Pope & Young Club, which focuses on big game bow hunting in North America. The organization said in a statement posted to their website on Wednesday that they maintain high ethical and legal standards for members and are investigating the situation involving Palmer.
"Fair Chase is the ethical, sportsmanlike, and lawful pursuit of free-ranging wild game animals in a manner which does not give the hunter an improper or unfair advantage over the animal," according to the organization's statement. "As such, the Pope and Young Club does not condone any actions in violation of Fair Chase."
Rep. Betty McCollum has said she is urging the U.S. Fish and Wildlife Service and the Department of Justice to investigate whether Palmer violated any laws governing endangered species.
The U.S. wildlife agency said in a statement that it was "deeply concerned," gathering facts and would "assist Zimbabwe officials in whatever manner requested."
McCollum also told MPR News host Kerri Miller on Wednesday that she was working on legislation to tighten anti-poaching laws in the United States.
The Associated Press contributed to this report.