How 'person of interest' could be tied to Wetterling case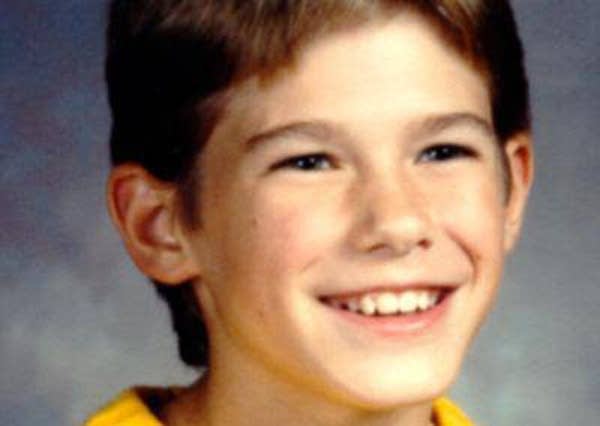 Updated: 9:34 a.m. | Posted 5:01 a.m.
A man described by the FBI as a "person of interest" in the 1989 abduction of Jacob Wetterling will appear in federal court Wednesday on five criminal counts of possessing and receiving child pornography.
Daniel Heinrich, of Annandale, Minn., was charged last week. At a news conference announcing the charges, the FBI's special agent for Minneapolis called Heinrich a "person of interest" in the Wetterling abduction, renewing speculation that one of Minnesota's most notorious crimes might finally be solved.
Grow the Future of Public Media
MPR News is Member supported public media. Show your support today, donate, and ensure access to local news and in-depth conversations for everyone.
Here's what we know about Heinrich and his potential ties to the disappearance of Jacob Wetterling.
What is expected to happen at Wednesday's hearing?
It will likely be a short hearing.
Heinrich's attorney will have an opportunity to challenge whether authorities have probable cause for the criminal complaint, according to a spokesperson for the U.S. Attorney's Office.
Heinrich hasn't been charged in the Wetterling case, and the hearing Wednesday is related only to the child pornography charges, which prompted his arrest.
Why wasn't Heinrich charged in the Wetterling case?
It could be because Heinrich didn't abduct Wetterling, or because authorities do not have enough evidence linking him to the crime. At the news conference last week, authorities provided no direct evidence that Heinrich had any involvement in the Wetterling abduction.
Investigators recently tested a sample of clothing worn by a boy assaulted in Cold Spring several months before Wetterling was abducted and found a DNA match with Heinrich, according to court documents released last week.
That gave police probable cause to obtain a search warrant for Heinrich's Annandale home in July. During the search, officials said they found hours of video of boys in the neighborhood, some of which they believe was recorded with a hidden camera. They said they also found computer files and 19 binders containing pornographic images of children.
However, no direct evidence was found that would show Heinrich had abducted Wetterling, according to court documents. Authorities have not said that Heinrich is a suspect, only that he is a "person of interest." At the news conference last week, U.S. Attorney Andrew Luger emphasized that point.
"I want to remind everyone that Mr. Heinrich is not charged in the disappearance of Jacob Wetterling," he said. "The charges against this defendant involve serious federal violations of the child pornography statute. And he faces significant prison time if convicted on those charges."
What would it take to charge Heinrich with the abduction of Jacob Wetterling after 26 years?
Investigators would need probable cause - and to secure a conviction, they would need evidence they think would convince a jury beyond a reasonable doubt that Heinrich committed the crime.
So far, there is no direct evidence known to the public that would prove Heinrich had any involvement in Jacob's disappearance. It's only through an uncharged child sexual assault case that authorities are even suggesting a possible link to the Wetterling abduction.
Luger, the federal prosecutor, said last week that Heinrich cannot be charged for that earlier crime because the statute of limitations has run out. Authorities have suggested the two cases are similar, but there's at least one big difference: The victim of the first kidnapping was released. Jacob Wetterling has never been found.
But wasn't there evidence to tie Heinrich to the Wetterling case way back then?
In 1990, law enforcement officers investigated Heinrich in connection with the Wetterling case, according to court documents released last week.
Heinrich gave investigators his shoes — and the rear tires of his car The FBI compared those items in 1990 to the tire tread marks and a shoe print found at the site of the kidnapping of Jacob Wetterling and found they were consistent, according to the court documents.
Al Garber, the FBI supervisor in charge of the Wetterling investigation in 1989, emphasized that authorities have not said the tire or shoe marks are an exact match.
"They said it was of common origin," said Garber, who's now retired. "So that means a lot of tires were made like that. A lot of shoes were made like that. It's not enough."
Given last week's news, does Garber think he might have missed something in 1989?
Not necessarily.
Garber and another investigator said Heinrich was just one of thousands of leads that came in at the time. Investigators talked to people who had abused children, people who had threatened to kill others and people who just seemed strange.
In the end, they said, none of that mattered unless it connected those people to the crime. Garber, who no longer has any involvement in the case, said that from what he's seen so far, investigators still haven't made that connection.
"I listen to the information that I hear, and I only know what's public. And I'm waiting for the evidence that Heinrich kidnapped Jacob," Garber said. "So far, I haven't heard it, but I'm waiting for it, and I'm hopeful, but I haven't heard it."
Garber praised law enforcement authorities for staying on the case for so many years.
Authorities said last week that the case remains active. They said they hope the child pornography charges against Heinrich will lead people with information to come forward.