By the numbers: Minnesota's veterans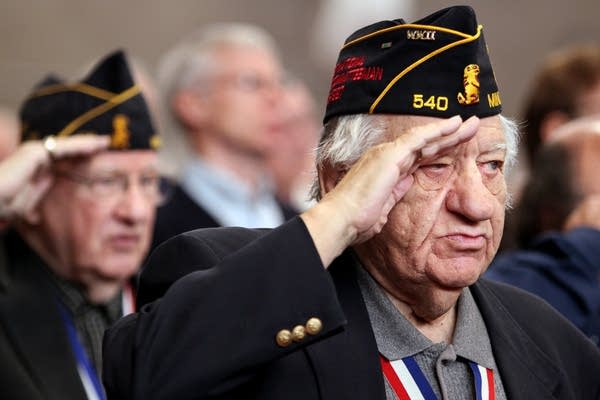 Wednesday, Nov. 11, is Veterans Day, the federal holiday that honors everyone who has served in the military.
Nationally, there are about 22 million veterans.
Here's a snapshot of veterans in Minnesota.
361,129
Number of veterans in Minnesota (as of Sept. 30)
Veterans make up about 7 percent of the state's population.
Most are Vietnam War-era veterans, according to data from the U.S. Census Bureau's 2014 American Community Survey.
66,000
Number of recent veterans in Minnesota
Since Sept. 11, 2001, more than 66,000 Minnesotans have been discharged from active duty, with 43,000 having served in a combat zone, according to the 2014 Minnesota Department of Veterans Affairs' annual report.
26,000
In January, female veterans were able to start ordering a special license plate honoring their service. Bearing the inscription "Woman Veteran," they are the first veteran plates in Minnesota that specifically refer to women who have served in the military.
297
Number of veterans identified as homeless in a January 2015 Point-in-Time count from the Department of Housing and Urban Development
That's according to Eric Grumdahl, special adviser on ending veteran homelessness for the MDVA, because the 2015 numbers haven't yet been published. That figure is down slightly from the 2014 count, which was 317.
State and city leaders are working to end veteran homelessness in Minnesota by the end of the year.
"This is something that we not only think is the right thing to do, but that we should be able to do," Grumdahl says. "It is achievable. We can get there all across the state."
In early 2015, the MDVA and community partners launched a statewide Homeless Veterans Registry.
Since then, more than 200 veterans on the registry have been housed. However, about 150 veterans in the Twin Cities remain on the list.
On Wednesday, St. Paul Mayor Chris Coleman and Minneapolis Mayor Betsy Hodges are hosting a "Keys for Heroes" reception at the Wilder Center in St. Paul, where landlords and property owners can learn more about renting to veterans on the registry. Landlords who rent to vets on the registry could be eligible for a $1,000 incentive.
The MDVA says that although veterans on the registry have the income or assistance to pay for housing and maintain stability, one of the struggles has been identifying landlords and available housing units.
23.8 percent
About 18 percent of veterans nationally receive disability compensation.
4.8 percent
The unemployment rate among Minnesota veterans
That's according to the 2014 American Community Survey.
The number compares with 4.6 percent for the general population in Minnesota.
3
Number of national and state cemeteries in Minnesota
Fort Snelling National Cemetery is located in Minneapolis. Some of the notable people buried at Fort Snelling include the parents of former Gov. Jesse Ventura, University of Minnesota hockey coach John Mariucci and several Medal of Honor recipients. Learn more about who is eligible for burial in a national cemetery here.
Meanwhile, the Minnesota State Veterans Cemetery is located in Little Falls. It opened in June 1994.
A second State Veterans Cemetery is opening in Preston. Two former mayors of Preston — both Korean War veterans — will be the first interred there.
Details on who is eligible to be buried at a state cemetery can be found here.