Paez out in Minneapolis; school board delays vote on runner-up
Updated Jan. 13, 4:25 a.m. | Posted Jan. 12, 8:05 p.m.
The search for a new Minneapolis Public Schools superintendent is in limbo.
The school board voted unanimously to terminate contract negotiations with its top choice for the job, Sergio Paez, Tuesday night.
The decision marked a major turnaround for the Minneapolis school board. On a 6-3 vote a little more than a month ago, the members chose Paez over two other finalists.
Paez most recently led the troubled public school system in Holyoke, Mass. But two days after he got the nod in Minneapolis, the Disability Law Center of Boston released a report that alleged repeated abuse of special-needs students at Holyoke's Peck School. The advocacy group based its report largely on testimony from a former employee, who said students were thrown into walls and onto floors, locked in dark closets, and illegally restrained.
The Minneapolis school board suspended contract negotiations with Paez. He returned to town last week to meet with parents and community leaders in a last-ditch attempt to keep the job. And Paez was back again Tuesday night to hear his fate.
After the vote, Paez told reporters he's disappointed, but respects the board's decision.
"I will continue my life as an educator, and I'm ready to continue my journey in urban education helping more kids, and I'm wishing them well," he said.
As Paez walked out of school district headquarters, the board debated what to do next. They rejected a motion to restart the search, and then discussed hiring interim superintendent Michael Goar — the runner-up for the job. Board member Said Ali, who voted for Goar in December, said he deserves a second look.
"We have to be fair and we have to be genuine. We have to look to the person who was next to Dr. Paez, and that's Michael Goar," Ali said.
But that was unpopular with many in the audience. Just as the board was about to vote on starting contract negotiations with Goar, about two dozen protesters walked in front of the dais and demanded a do-over of the hiring process. Minneapolis NAACP President Nekima Levy-Pounds led the protest. She said the public was not offered enough of a chance to comment on Goar's potential hiring. Protesters also took issue with a vote to forgo a review of Goar's job performance.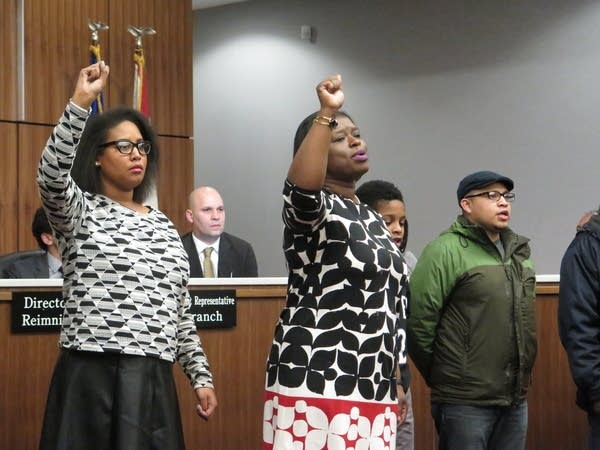 After the board went into recess, Levy-Pounds said Goar has been lax in his response to concerns from the black community.
"It's time for new leadership within the district. I'm concerned that Michael Goar represents a continuation of the status quo," she said. "And what we're ready for within the Minneapolis Public Schools is a paradigm shift. There's absolutely no reason why children of color should be falling through the cracks within this district."
Levy-Pounds also pointed out that it was under Goar's watch that the district bought reading books found to include racial stereotypes.
Those books were pulled before they made into classrooms, but not before early literacy teachers saw them.
Last summer Goar apologized for lack of vetting and promised to do better.
Goar, who's African-American, couldn't be reached for comment.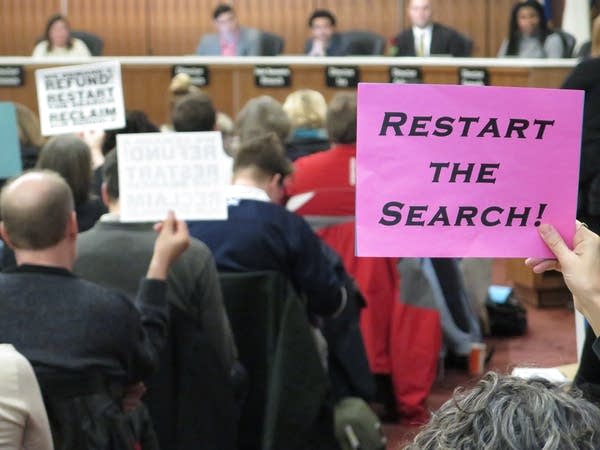 Levy-Pounds and the other protesters demanded the board delay their motion to start contract talks with Goar. After the recess, board member Tracine Asberry said hiring a superintendent is too important of a decision to rush.
"I do not think we've had sufficient time as a full board to really wrestle with this decision, this long-term decision," Asberry said.
In the end, the protesters got their wish. The school board voted 5-4 to table the motion to hire Goar. And it's not certain when they might revisit it. So for the immediate future, Goar will remain in charge of the district as interim superintendent.
Your support matters.
You make MPR News possible. Individual donations are behind the clarity in coverage from our reporters across the state, stories that connect us, and conversations that provide perspectives. Help ensure MPR remains a resource that brings Minnesotans together.