Weather melts business hopes for Mille Lacs winter walleye season
There should be hundreds of fish houses on Lake Mille Lacs by now. But it's mid-January and only a few are scattered across the ice.
The cold weather is perfect now for ice fishing. But local business owners, desperate for a great winter walleye season, say the right weather has come three weeks too late.
A warm, early winter kept ice dangerously thin much later than normal, keeping anglers away from the big lake and delivering yet another economic blow to resorts around Mille Lacs still reeling from August when state officials abruptly closed the open water walleye season.
Resort owners and others with fortunes tied to Mille Lacs still hope to see some traffic soon. But after years of struggling with losses tied to Mille Lacs' declining walleye population, some business owners say they're on the brink.
Rocky Reef resort owner John Odle said he's burned through 10 years of savings since the Minnesota Department of Natural Resources closed the walleye season in early August. When that happened, he said all of his out of state clients canceled. He doubts they will ever return.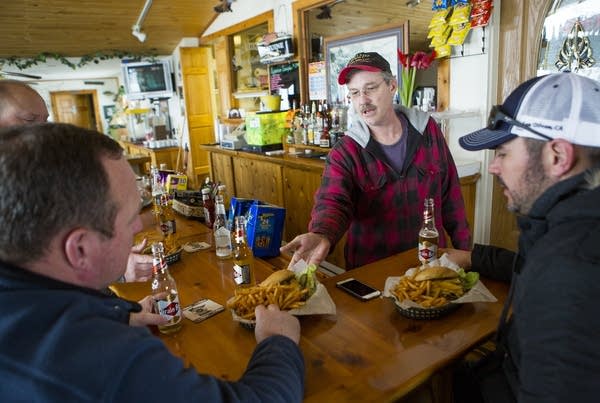 "Everything that we've built here for 25 years was taken in an instant when they shut us down," he said. "We've had people call and cry. I mean, people that we've grown up with, I mean we've grown old with these people. They're sad as we are. But they just, they don't want the controversy."
Thirteen miles up the road, Bill Eno sits in the empty dining room of Twin Pines resort. It's his 22nd winter here, and so far, the worst for business. Winter reservations are about one-fifth of normal.
"Winter season is very, very important to us," he said. "We are in survival mode. We have been in survival mode since August 3rd, because bills still have to be paid."
Like many resort owners around Mille Lacs, Eno struggles with what to say about business conditions. He says the reality is things are tough but he doesn't want to create more negativity about Mille Lacs.
"The fishing has been great," he said. "People have been getting a lot of walleyes and northerns. And we're hoping that once that word starts to get out that it's still fun fishing and there's some activity up here I'm hoping there's going to be a lot of pent up demand that we haven't seen yet."
The six weeks of winter fishing left before the walleye and northern pike season ends Feb. 28 will be critical for many resorts here who are struggling to stay afloat.
Odle says he usually puts fish houses on the lake around Christmas, but this year the ice wasn't thick enough to drive on. Even now, he said the lake's 12 to 13 inches of ice is right on the edge of safety.
"This is the latest I've ever been," he said as he readied a handful of his dozen fish houses.
Like Eno at Twin Pines, Odle estimates his winter reservations are about 20 percent of normal.
He's trying to stay positive and has been plowing snow off the ice roads around a handful of fish houses he just pulled onto the lake this week.
"You still open the bar and grill," he said. "You have one or three people come through in a day. You spend $300 to fire it up and you made $24."
Odle admits it's hard to see a light at the end of the tunnel, but he's not giving up. He says he's been approached by officials from the Mille Lacs Band of Ojibwe, but that he will never sell them his resort.
"We've put 25 years of really truly blood equity," Odle said. "We've put down roots here. And what's really depressing for me is I've got a 28-year-old son who has grown up with this in his life. And he can no longer even make this a viable option to take over from us."
Gallery
4 of 4
1 of 4
2 of 4