How the Walker's Sculpture Garden will grow
The "Spoonbridge and Cherry" is about to get a bunch of new neighbors. The Walker Art Center is announcing that it has acquired 16 new artworks for the Minneapolis Sculpture Garden, including a gigantic blue rooster.
Work has already begun on a renovation and expansion of the garden, adding five acres to create a 19-acre campus. The new pieces will take the total number of artworks to 56.
The Minneapolis Sculpture Garden opened in 1988 and was expanded in the early 1990s. It came about through a partnership between the Walker and the Minneapolis Park Board, which owns the land. Walker Executive Director Olga Viso says it set the standard as an urban sculpture park.
"It inspired Millennium Park in Chicago, Olympic Sculpture Park in Seattle," she said. "Many cities have come and studied what we did here, about incorporating contemporary art into the landscape, but also the model of public-private partnership."
Grow the Future of Public Media
MPR News is supported by Members. Gifts from individuals power everything you find here. Make a gift of any amount today to become a Member!
But after almost three decades of big crowds and Minnesota weather, the garden was in need of some TLC to fix drainage issues, among other things. And the Walker is seizing the opportunity to mix things up a bit, adding a major dose of new work.
To make way for new works, some Sculpture Garden favorites are relocating to new, temporary homes across the Twin Cities.
"Time Zones (Red Owl)"
Frank Big Bear
Shown here is a detail from Duluth artist Frank Big Bear's "Time Zones (Red Owl)" from 2012, which includes an image of the artist. Big Bear will create a work for the new entrance to the Walker building, the first in a series of commissions of new work specifically for that space.
Big Bear, who is originally from White Earth, works with collage on found paper, often cutting images from art books and mixing them with pictures from history and space exploration.
"Scaffold"
Sam Durant
Sam Durant's "Scaffold" is designed to represent both 1970s-style playground equipment and a public gallows. The Walker purchased the piece years ago with the idea that it would become part of the Sculpture Garden upgrade. It has been in storage ever since. The piece, made from wood and metal, is large, almost 50 feet square and nearly 34 feet tall at its highest point.
New work
Theaster Gates
Chicago-based artist Theaster Gates will create a new piece for the north end of the Sculpture Garden using debris produced during the renovation of the garden.
 
 
 
 
 
 
"Empire"
Eva Rothschild
"Empire" was the first U.S.-commissioned work by London-based artist Eva Rothschild. Originally displayed in New York's Central Park, the piece touches ground at 10 points but is designed to capture space, to be seen in different ways depending on where the viewer is standing.
"Hahn/Cock"
Katharina Fritsch
German artist Katharina Fritsch's sculpture "Hahn/Cock" was originally displayed in London's Trafalgar Square. Placing a bird closely associated with French culture, painted in one of the French national colors, in a spot commemorating a British victory over the French, was seen as good-natured satire. Fritsch has also described the piece as feminist for its portrayal of strutting masculinity.
It will be Fritsch's largest public art piece in a U.S. museum, and will be sited near the iconic "Spoonbridge and Cherry."
"X"
Liz Larner
Based in Los Angeles, artist Liz Larner combines digital animation and computer modeling to create sculpture. Her piece "X" is described as "symbolizing the intersection of art and technology in a simple, elegant form."
New work
Mark Manders
The Walker commissioned Dutch artist Mark Manders to create a piece that will anchor one of the garden's "quadrants," just across the street from the Walker building. The pieces shown here in clay and wood will be cast in bronze and then painted to look indistinguishable from the original materials. This is the artist's first major commission in the United States.
"Hephaestus"
Matthew Monahan
California-based Matthew Monahan mixes sculptural approaches and traditions from history with modern materials. "Hephaestus" represents the Greek god of metallurgy, using patinated bronze, stainless steel and patinated rebar.
"Untitled (gate)"
Monika Sosnowska
Warsaw-based artist Monika Sosnowska works with twisted architectural forms often inspired by residential and commercial buildings. The work is a reference to Poland's rebuilding in the post-Communist era, as well as to international modernism. "Untitled (gate)" is drawn from a gate Sosnowska saw in Lodz, Poland.
"Love"
Robert Indiana
Robert Indiana's iconic "Love" has been presented in multiple forms, and even multiple languages, since he first created it in the 1960s. This version is fashioned from Cor-Ten steel. The piece appeared in the Walker's recent show featuring 75 gifts made in honor of the Walker's 75th anniversary. Patrons were encouraged to take selfies with their loved one and post them online.
"Arcs..."
Sol Lewitt
Officially known as "Arcs from four corners, with alternating bands of white and brown stone. The floor is bordered and divided horizontally and vertically by a black stone band," this piece was originally commissioned for the opening of the Sculpture Garden in 1988.
A simpler piece was installed as a crosswalk on Vineland Place to connect the Sculpture Garden with the Walker building. But after seven years, or perhaps more specifically seven winters and all the traffic and snowplows that crossed the piece, it was so badly damaged that it had to be removed in 1995. The new piece will now be installed on the Walker's rooftop terrace.
"Level Head"
Tony Cragg
British artist Tony Cragg combines an interest in forms found in nature, from rock striations and molecular structure to the human body, to explore the space between abstraction and figuration. "Level Head" is composed of sequential human facial profiles, offering multiple perspectives from various vantage points.
New work
Nairy Baghramian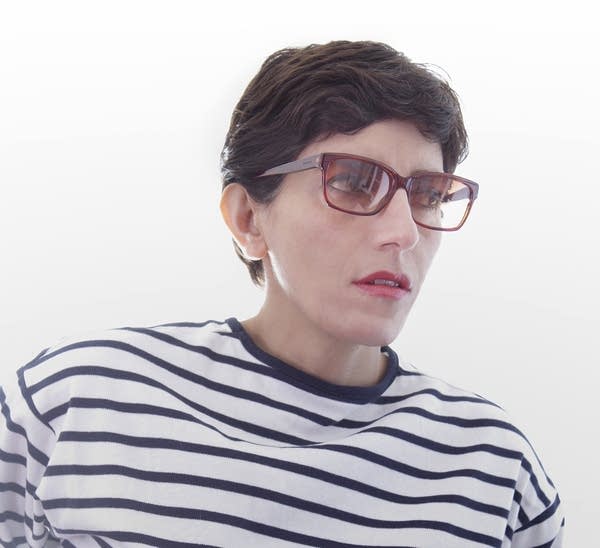 Berlin-based artist Nairy Baghramian uses huge representations of overlooked items and things employed as extensions of the body — such as dental retainers, shoulder pads and walking canes — to engage in social and political issues. The Walker is commissioning a new work from her as part of the Sculpture Garden expansion.
"La Soledad"
Kcho
Cuban artist Kcho (Alexis Leiva Machado) often fuses found objects to create pieces that represent his own experience growing up on an island off Cuba. "La Soledad" (Loneliness) comprises a chair raised up on stilt-like oars. It is the first outdoor work by the artist in a U.S. public collection.
New work
Philippe Parreno
French artist Philippe Parreno creates works in light. His Walker commission will result in his first permanent site-specific installation in the United States.
The piece is still under development.
New work
Aaron Spangler
Based in Park Rapids, Minn., sculptor and printmaker Aaron Spangler carves his intricate works in basswood. For this, his first major outdoor commission, he will then cast his work in bronze.
Spangler says he's honored and excited by the commission.
Correction (Jan. 22, 2016): The story has been updated to clarify the nature of the Sol Lewitt installation on the crosswalk outside the Walker.
 
 
Some favorites relocated from the Sculpture Garden
Gallery
5 of 5
1 of 5
2 of 5