Being Muslim in Minnesota: Events stoke tension, fear among the faithful
One Friday evening last May, Adly Ohalley and his wife, Worood Abumayaleh, went to pick up their teenage son at a friend's house in Brooklyn Park, north of downtown Minneapolis. He drove; she sat in the passenger seat, wearing a cream-colored headscarf.
As they had done many nights before, they parked in front of the house and waited for their boy to come out.
"And suddenly a lady came with a rifle," Abumayaleh said. "Knocking very very hard. And she said, 'Open the window or I'll kill you. Open the window.' And I was scared, I couldn't even call 911 or do anything. I just froze, my brain froze ... [I] just said, 'Maybe she's going to kill us now.'"
Ohalley said he opened his wife's window.
Grow the Future of Public Media
MPR News is supported by Members. Gifts from individuals power everything you find here. Make a gift of any amount today to become a Member!
"She asked us, 'What are you doing here?' I told her that we are picking up our son from this house. She said, 'What house?' I said, 'This house,'" Ohalley told her.
But the woman didn't believe them. "So she came around with her rifle, point[ed] it at me, and said, 'Get out of the car, and move in front of me to the house to prove that your son's in there,'" Ohalley said. "So she put the gun on my back."
Ohalley paused and choked up, remembering the terror he felt at the time.
"By the time we got halfway to the garage, my son came out, so I told my son not to do any acts, because she has a rifle," said Ohalley.
Hennepin County court documents state that Nancy Kay Knoble put the weapon behind her back when the son came out. She asked the boy if he knew the adults. When he identified them as his parents, the 48-year-old woman apologized, according to the court documents, and told the family she was only carrying a pellet gun.
Knoble declined to be interviewed. She pleaded guilty to terroristic threats, a felony, and is expected to be sentenced this month.
Adly Ohalley is Palestinian. He was born in Jerusalem and came to Minnesota for college 40 years ago. A decade later, he married Abumayaleh.
"I've been here almost 30 years now," said Abumayaleh, "and life is good here in Minnesota. Nothing happened to us. This is the first bad memory we had — I don't know, because of the news, the wars, the media makes people hate Muslims around here ... maybe that's why something is different now."
Terrorism fears and presidential politics have fueled a climate of uncertainty for many Muslims in communities around the United States. The tension is felt in Minnesota, where members of the world's fastest-growing religion are a small, but growing segment of the population.
Reports of the terrorist group ISIS and Syrian refugees often lead the news. In a presidential election year, candidates have outlined how they'll tackle extremist groups. Republican front-runner Donald Trump called for shutting down U.S. borders to all Muslims. Democratic candidate Hillary Clinton chose to present her counter-terrorism strategy in Minnesota.
And when Republican candidate Ben Carson said he wouldn't support a Muslim as president, 12-year-old Yusuf Dayur of Eden Prairie took to Facebook to respond.
"When I become president, I will respect people of all faiths, all colors and all religions," he said in a video. His video, originally posted on his mom's Facebook page, got more than 250,000 views.
Dayur is one of more than 46,000 Somalis who call Minnesota home, according to data from the state demographer. The Association of Religion Data Archives says Minnesota had at least 45 mosques as of 2010, four times more than a decade earlier.
"Islamophobia is on the rise"
As the number of refugees and immigrants from the Middle East and Africa grows, so, it seems, does the fear of Muslims.
"Islamophobia is on the rise," said Jaylani Hussein, executive director of the Council on American-Islamic Relations - Minnesota, a nonprofit civil rights group. "There is a great deal of hysteria against Muslims."
"In the past few months, we've just been getting calls for new cases, almost on a weekly basis, that range from job employment, to school issues, to bullying, to all types of discriminatory civil-rights-based cases," Hussein said.
He now sees grassroots-level organizing against Muslims in places such as Bagley, Bemidji and St. Cloud, he said.
Last week in St. Cloud, about 100 people gathered at a restaurant to learn about Islamic law from a Christian who previously lived in Saudi Arabia for two decades.
"We are not the KKK," said Kathleen Virnig, who organized the event under the title "Shariah 101." "No one in my group would support anything hate-filled by any means."
Virnig, 71, said the people who attended the event wish to understand Muslims and their way of life.
"And one of the biggest concerns we have is the way they treat women," she said. "In their own religion, they are not considered a full person, they are considered a half-person. To me and to my way of life as an American citizen, that's an outrage."
Virnig, a retired emergency room nurse, was born in New York City and has lived in St. Cloud for more than 40 years. Her cousin, Peter Owens, was killed in the Sept. 11, 2001, terrorist attacks. She said she's not prejudiced against Muslims.
"We would welcome them with open arms if they would assimilate and appreciate America like we appreciate America," she said. "We know that there is a concerted effort by people from the Muslim Brotherhood, and their ancillary groups, to conquer the world. I mean, they're proud to say it. ISIS are the voice of what the Muslims are doing around the world."
Not so, says Mohayadin Mohamed, president of the Islamic Center of St. Cloud.
"Islam is the most misunderstood religion," he said. "Some people are misusing Islam as a tool to spread hate, misrepresenting Islam."
Students walk out as tensions boil over
That kind of misunderstanding came to a head last year at St. Cloud Technical High School, when a white student photographed a Muslim student sitting in a wheelchair and labeled her "Disabled in Isis too." In a video later posted to YouTube, Hodo Nour described the incident.
"Nobody asked to take a picture of me. It's very rude, and when the guy was confronted about it, he played it off like he didn't do anything at all," she said.
Nour said school officials did nothing about the incident. Dozens of students walked out of school in protest, including Hafsa Abdi.
"That picture was put on Snapchat, and that was spread within 15 minutes online," Abdi said. "When I saw it, I was really angry ... and some of us felt really hurt because something like that is really offensive, especially if she's just in line, waiting to get lunch."
The student walkout got people's attention, including that of Les Green, chair of the St. Cloud School Board.
"I don't think it's been easy for anybody here," Green said. "I think what we've found is that this is the first group of people that were actually culturally different, both in religion and in general kinds of everyday kind of activities."
He's African-American, and a longtime educator in St. Cloud, where blacks, including Somalis, make up about a fifth of the district's estimated 10,000 students. It's been a fast rise in only a few years, says Green.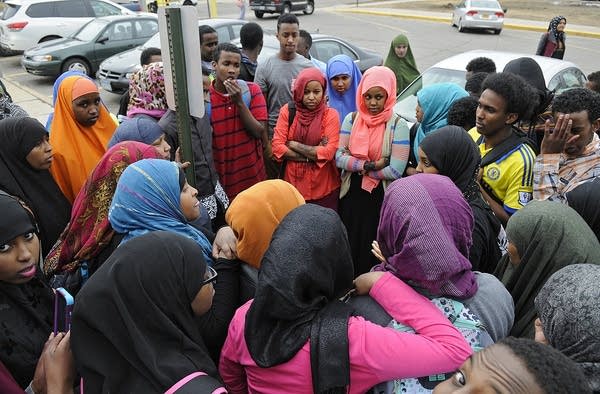 "In a Christian community, the religious difference was so, I think, very drastic ... and created a lot of concern and anger and wondering from people," he said.
"We're going to have jerks, though. We have kids who just simply will not stay out of other people's business. You know, they see somebody praying, they go, 'What is all that about?' They've got to make some comment or whatever, so that's going to occur. That's where we need to respond."
Sebastian Witherspoon did respond. His job is to focus on equity services for the district. A few weeks after the students walked out, he worked with the girl and boy directly involved in the school incident to hold what's called a restorative circle, a kind of open dialogue.
"To have a restorative circle, people have to agree to it, No. 1," he said. "And she agreed to it. And she came in, her and her parents came in, and automatically said to the gentleman, 'I forgive you.' The premise of it is to repair the harm that was caused."
Witherspoon said that for him as a black man, having more authentic relationships with Somalis has involved a learning curve.
"Somewhere along the line, with all the things that may be happening wrong, we're doing a lot of things that are right," he said.
Time for prayer at school
At Apple Valley High School, south of St. Paul, Principal Stephen Degenaar said that his school's Muslim population has gone from five to about 100 since he arrived at the district in 1994. "We may be the only school out here right now that's doing prayer time during the day," he said.
As word of this spread in the community, Degenaar said he got phone calls from people who asked about the practice but concluded, "Well, since our Christian kids have had the FCA club for over 25 years here, and we have an active Bible study club going on, why should we not allow the Muslim kids to have the same opportunity?"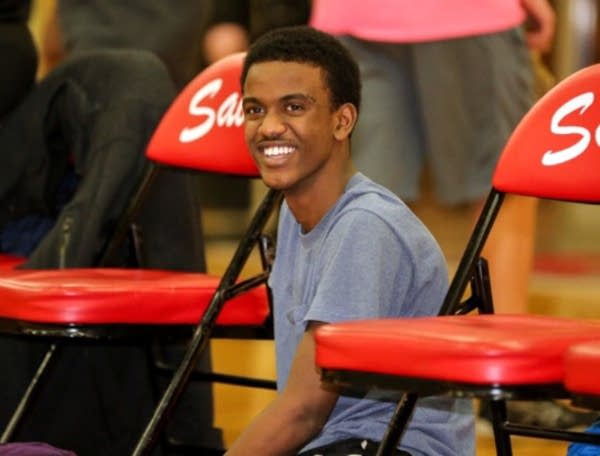 The FCA, or Fellowship of Christian Athletes, meets before school or after school. Muslim students pray during school in an old choir room. Ayanle Issak, a wrestler at Apple Valley High, said he prays five times a day without fail.
"I feel like me missing my prayers is something that I'll feel down about," he said. "Five times, just to remember your Lord, the God that created you ... almost an hour a day is not a lot."
But Degenaar recently suspended prayer time for Muslim students at Apple Valley, except for Friday prayers, because some students were violating the rules. He said they were wandering the hallways and playing on their phones instead of praying.
The move upset more religious students, who said they shouldn't be punished for the acts of a few. The principal said prayer may be brought back by the spring.
"I will dispel all your stereotypes in half a second"
The change of seasons may also make it more likely that visitors to the campus of St. Catherine University will see Muna Scekomar riding her skateboard in her long blue hijab.
"I have a longboard that I usually carry around and it causes people, you know, to take a step back, whenever they see me, in my long dress, on a skateboard," she said.
"They go like, 'What?' Seriously, I will dispel all your stereotypes in half a second."
On this day, Scekomar had just finished exams and was relaxing on campus.
"I'm just a 20-year-old dope girl at St. Catherine, who just likes to chill, hang out, eat good food, have fun sometimes, and then I've also got my religious practices, and go to the mosque and pray," she said.
Smiling proudly, Scekomar called her headscarf her superpower cape. She said she's not an oppressed Muslim woman. Far from it.
"There's the TV and then there's real life," she said. "So I just tell people, come meet the real people, the real Muslims."
MPR News reporter Mukhtar Ibrahim contributed to this story.