Trial draws 'Average Mohamed,' others to courthouse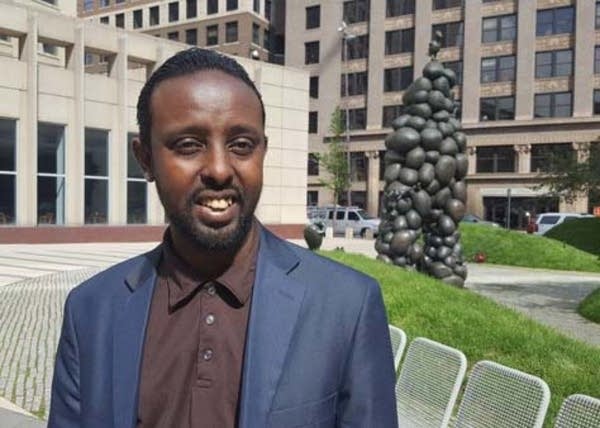 The trial of three men on ISIS-related charges is generating interest from around the world, and around the corner.
There's a Minnesota man, Mohamed Amin Ahmed, who calls himself "Average Mohamed." He's on YouTube and Twitter and lectures around the Twin Cities talking about Muslims, their faith and how to defeat extremist ideology.
On Wednesday, he listened to government witness Abdirizak Warsame talk about how the young man believed he could get into heaven and even get his family into heaven, if he died a martyr in Syria.
"What is it that makes a young kid give up the privileges and rights of being an American, with all the good things that come with it, to want to leave our country to join others who want to kill us?" he asked. "That always shocks me."
Grow the Future of Public Media
MPR News is supported by Members. Gifts from individuals power everything you find here. Make a gift of any amount today to become a Member!
Warsame testified that he watched a video in which an American-born imam, Anwar al-Awlaki, spoke of a final end-of-times battle where a group would emerge from Syria with a black flag.
Ahmed said he made a video called "Flames of Hell" as a counterpoint to the ISIS recruiting video, "Flames of War."
"We in the civil society must do our part" to keep young men from being lured by ISIS, he said.
MJ LaVigne, an artist with a studio in the Minneapolis Cedar-Riverside neighborhood, has also been at the courthouse. She's worked with many young Somali-Americans and wanted to hear the evidence in the case herself.
She said she was concerned how normal teenage behavior — driving around, watching videos, going to the mall and playing paintball — are "being shaded in a way that look unwholesome ... Frankly, it's not very clear that they had any intentions of creating any mischief abroad. I think they were very misled. I think that there is a tragedy here."
Joseph Weber, an associate professor of journalism at the University of Nebraska Lincoln, has also watched the trial. He's writing a book about what motivates American youth to join foreign terrorist groups and said he's surprised the New York Times and other national news media don't have reporters in the courtroom.
"They ought to be covering this case on a daily basis, frankly," he said. "I think it's vital for Americans to understand, as I'm attempting to understand in my research, what it is that is motivating people to join these terrorist groups."