Success, concerns mark first year of Minnesota medical cannabis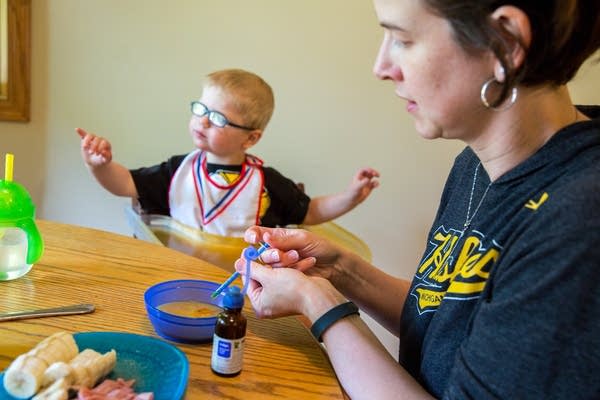 Four-year-old Wyatt Hauser sits down for lunch with some ham, bananas, blueberries — and a little something that's not so tasty. His mother mixes a small dose of cannabis medicine into his applesauce.
Wyatt doesn't notice, but Jessica Hauser knows just how crucial that bit of cannabis is to her son's health. In fact, she can count it: The treatments have cut Wyatt's epileptic seizures from 200 a day down to 80.
"His side effects were so severe, he had serious behavioral changes where he was just really angry all the time," Hauser said of Wyatt, the first patient to register for Minnesota's medical cannabis program. "Right now, he's a pretty happy kid, usually."
Friday marks a year since medical marijuana became available to Wyatt and other Minnesotans. Hauser and others who pushed state lawmakers to allow it say the drug has changed many lives for the better.
Grow the Future of Public Media
MPR News is supported by Members. Gifts from individuals power everything you find here. Make a gift of any amount today to become a Member!
Challenges and worries remain, though, as the program takes its next big step: allowing cannabis treatments for intractable pain. Doctors on Friday began certifying those patients for treatments starting in August.
Overall, while most patients report seeing benefits from the drug the past year, others are still having a hard time finding doctors who would certify them. Many say it's too expensive, so they end up getting marijuana off the black market.
Jennessa Lea qualified for the state program a year ago to ease the pain from Ehlers-Danlos Syndrome, a collagen disorder that affects her joints, skin and blood vessel walls. But she doesn't plan to renew her enrollment. She can't afford to pay $1,000 a month for the legal treatments.
It's more affordable for her buy marijuana on the street and smoke it illegally. She keeps a tent in her back yard to smoke it outside the house.
"I can't be with my family, I have to separate myself to have this medicine and to also not feel like I'm a criminal all the time," she conceded. Still, it helps the pain that comes with a joint condition that causes her shoulders pop in and out all the time and her ankles to roll.
The 29-year-old single mom used to be on 30 medications. Empty bottles of narcotics still sit in a box at her North St. Paul house. She keeps them around as a reminder.
"I wasn't able to function as a mother. I didn't have any drive to even take care of myself," she said. "I was in so much pain and the narcotics stopped working."
For those who've able to stay in the program, early state surveys show some medical marijuana patients reduced their pain meds or quit taking them all together. The Minnesota Department of Health surveyed health care practitioners three months after the program started last year and published the survey in May of this year.
This most recent available data found 7 percent of the health care practitioners reported patients reduced their pain medication due to cannabis. About 4 percent specifically referred to opioids. The state plans to conduct a similar survey specific to intractable pain later this year after patients begin receiving cannabis for it.
Adding intractable pain to the list of qualifying conditions will force doctors to think more about cannabis as a treatment option, said Dr. Charles Reznikoff, an internal and addiction medicine specialist at Hennepin County Medical Center who serves on the state's medical cannabis research task force. But he cautioned against making judgements about whether cannabis could replace opioids.
"Within the group of people suffering from pain on opioids, is there a subset that may benefit from medical cannabis, almost definitely," he said. "Who exactly that is, we don't know. Is there a subset of people that would be harmed by medical cannabis? Almost definitely. Exactly who those people are? We don't know. And there are a big group of people that medical cannabis will neither help nor hurt."
Over the past year, 1,548 patients signed up for the state's medical cannabis program. Nearly 600 health care practitioners have been authorized by the state to certify patients. Two manufacturers, Minnesota Medical Solutions and LeafLine Labs, plan to open all eight distribution sites this month in Eagan, St. Cloud, St. Paul, Hibbing, Bloomington, Minneapolis, Moorhead and Rochester.
Experts say there still isn't enough scientific data about marijuana's effect on pain, so research continues. A clinical trial in San Francisco with collaboration from the University of Minnesota is under way. The Mayo Clinic and Gillette Children's Specialty Healthcare are also working on separate clinical trials in Minnesota for cannabis treatment of seizures. Those results are expected next year.
While it's helped, Jessica Hauser says medical marijuana hasn't completely eliminated 4-year-old Wyatt's seizures.
"That was a seizure. Did you see how he kinda rolled his eyes?" she said during her son's lunch. He still wears a helmet to protect his head from what's called drop seizures, doesn't speak and has cognitive delays.
But he's eating, sleeping and working on his physical therapy. The medical cannabis has helped deliver those good things, Hauser said.
"We've just been able to enjoy him and enjoy him being part of our family and get to know him," she said. "Right? Get to know you without all the mask of those side effects?" she cooed to Wyatt. "Get to know you, sweet boy?"