Rare February thunder, more records, Friday snow chance
Minnesota's bizarre February weather smorgasbord is about to get even more interesting.
After our record-smashing weekend, how about a little February rain and thunder? Throw in some more record temperatures this week. Oh, and how about a snowstorm to track Friday across southern Minnesota and possibly the Twin Cities?
Don't like the weather out side your window? Just wait 15 minutes.
Here's more on the swarm of weekend temperatures records from Dr. Mark Seeley.
What a record-breaking spell of weather we had over Friday through Sunday.

New all-time state high temperature record was set at Redwood Falls on Friday, Feb 17 with a reading of 67°F, breaking the old record of 66°F at Luverne in 1981. Then o Saturday, Feb 18, Redwood Falls hit 66°F tying the all time state record from Pipestone on the 18th back in 1981.

International Falls reported back to back new record maximum temperatures: 58°F on Feb 17 and 51°F on Feb 18th. Their 58°F reading on Friday, Feb 17 tied with Feb 22, 2000 for the highest temperature ever measured in February at the Nation's Ice Box.

MSP set back to back to back max temperature records over Feb 17-19 and also new new high dew point record of 41°F on the 19th.

Overall, among our state's climate station network of observers:

66 new high temperature records were set on Friday, Feb 17

92 new high temperature records were set on Saturday, Feb 18

39 new high temperature records were set on Sunday, Feb 19
MPR News is Reader Funded
Before you keep reading, take a moment to donate to MPR News. Your financial support ensures that factual and trusted news and context remain accessible to all.
Rare February rain and thunder
The radar looks more like April or May than February today. Clusters of showers and thunderstorms sweep north and east through today.
Many of us will pick up .50"+ rainfall, on February 20th.
I'm not used to looking at convective outlooks for Minnesota in February. NOAA's Storm Prediction Center paints general thunderstorms over Minnesota today, but no severe weather risk. Thank goodness for small favors. If and when we start getting 'risk areas' here in February, things will be even more upside down.
Lightning detection is pinging away with strikes today. Lightning north of Bemidji in February? Just. Plain.Weird. Don't be surprised to hear a thunder clap or two in your neighborhood today.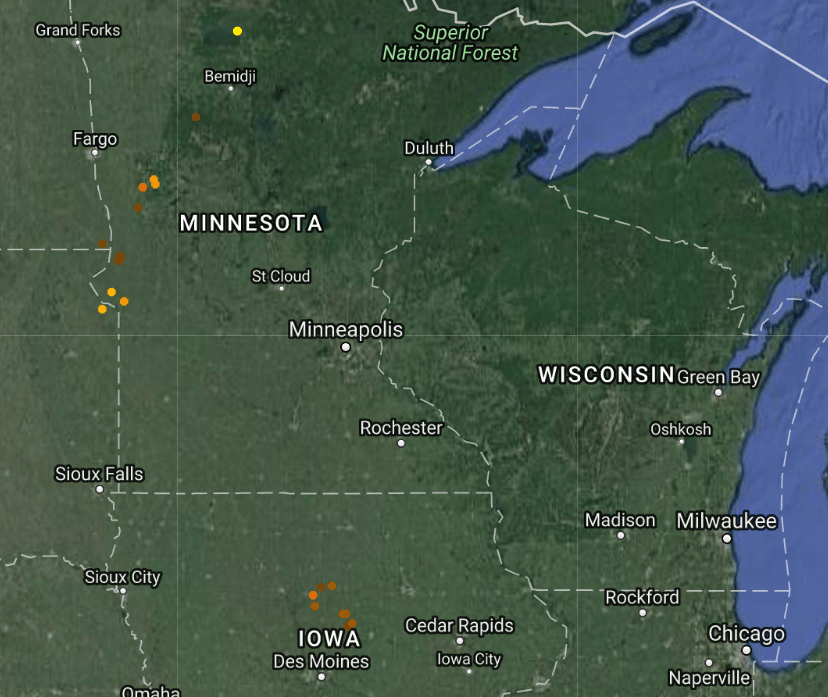 More records ahead
The sun returns tomorrow after today's April showers. That means more highs in the 50 and 60s across southern Minnesota, and more temperature records that will fall through Wednesday. The average high temperature at MSP these days? 31 degrees.
We should have little trouble setting more record sin the Twin Cities this week.
Back to winter Friday?
Forecast models are finally cranking up a more typical winter storm scenario for southern Minnesota by Friday. There's still wild variability in storm track and snowfall output, but the chances for a plowable snow somewhere close to the Twin Cities are growing by the hour.
NOAA's GFS model has favored a southerly track, with heavy snow across southern Minnesota and northern Iowa grazing the Twin Cities on the northern edge.
The GFS solution would favor heavy snow across southern Minnesota, with a sharp cutoff over the Twin Cities..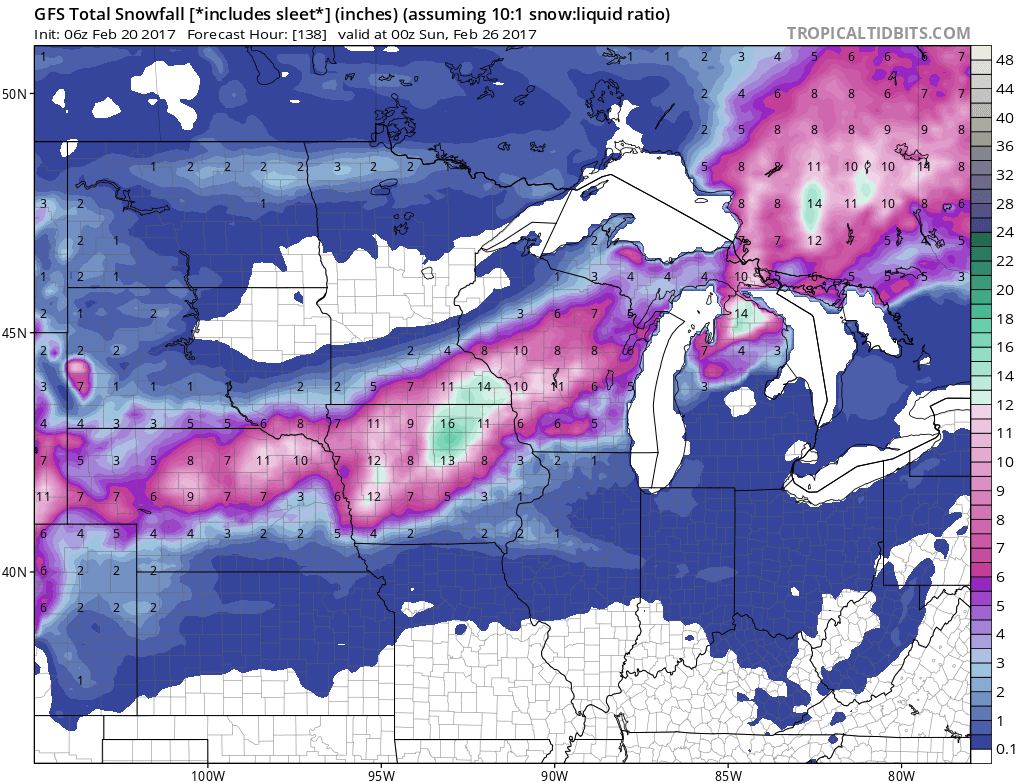 The Canadian GEM model and the Euro lean further north, bringing heavier snows into the core of Twin Cities metro.
Don't take these numbers or track scenarios to the bank yet, it's only Monday folks. Either way, it appears we return you to your regularly scheduled winter programming Friday.
Stay tuned.