Metal shredding operation to pay pollution fine, leave Minneapolis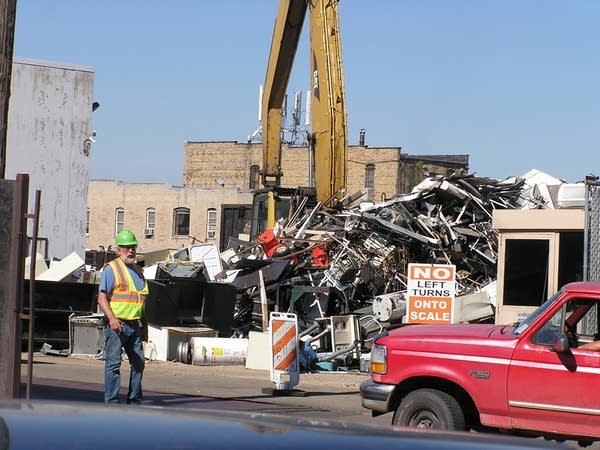 Northern Metal Recycling, a firm whose operations have long angered many of its north Minneapolis neighbors, has agreed to pay $2.5 million to settle pollution allegations and leave town in 2019, the Minnesota Pollution Control Agency said Friday.
The settlement caps efforts by the MPCA to shut down the facility and revoke its permit.
The agency last year said Northern Metal had misled the agency and was sending "high levels" of metals into the north Minneapolis air. The firm's metal shredder at 2800 Pacific St. was believed to be the main source of "particulate emissions that have repeatedly violated state air quality standards near the site since 2014," the MPCA said last May.
The department last year also said its air monitoring equipment had detected high levels of lead particles in the air near the recycling plant.
An analysis of a year's worth of data in the spring of 2016 showed air around the facility also had elevated levels of lead, chromium, cobalt and nickel, the department added Friday.
Under terms of the settlement MPCA announced Friday, the company has agreed to:
MPR News is Reader Funded
Before you keep reading, take a moment to donate to MPR News. Your financial support ensures that factual and trusted news and context remain accessible to all.
• Pay a $1 million civil penalty and $600,000 to the city of Minneapolis for community heath projects to benefit nearby communities
• Pay for three years of continued air monitoring near its facility
• Reimburse the state for past monitoring costs, court costs, and legal fees
The settlement is a "welcome start" to aiding north Minneapolis residents "already overburdened with health and pollution issues," MPCA Commissioner John Linc Stine said in a statement.
Stine acknowledged residents remain concerned about allowing the shredder to continue operating in north Minneapolis for up to two-and-a-half years, but said the company has made changes, passed emissions testing and is complying with its permit. Pollutant levels are still higher than the agency would like, he noted.
Separately, Xcel Energy announced Friday it reached a deal with Northern Metal to build its new facility on an industrial site in Becker, Minn., near Xcel Energy's Sherburne County generating station. It's expected to open in August 2019 and bring at least 85 jobs to the area.
Northern Metal officials said they welcomed the opportunity to build a "state-of-the-art metals recycling facility in Becker." In a statement released by Xcel, Becker's city manager also applauded the move.
Minneapolis Mayor Betsy Hodges said in a statement the city will use the settlement money it receives to "address and mitigate asthma and lead poisoning in the neighborhoods" around the facility, which have "some of the highest child lead-poisoning rates in our city and the highest asthma hospitalization rate in our state."