How the iconic Homer Hanky almost wasn't even a thing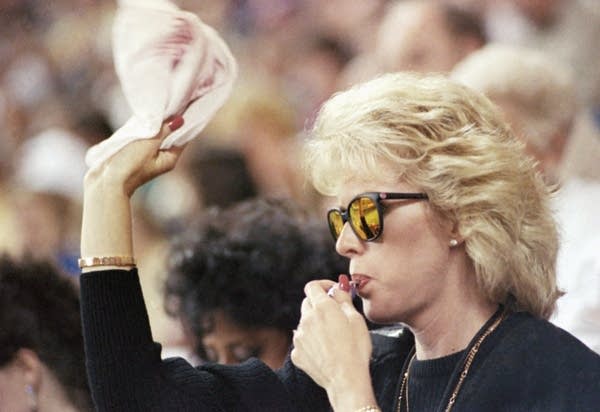 Throughout 2017, Minnesota Public Radio will celebrate 50 years on the air by sharing highlights from our archives, connecting Minnesota's past to its present. | These two radio stories originally aired in October 1987.
Thirty years ago this October, the hottest accessory in Minnesota was a white hanky.
MPR marks 50 years
• More stories from the archives
• Join the celebration, tell us your story
Before you keep reading ...
MPR News is made by Members. Gifts from individuals fuel the programs that you and your neighbors rely on. Donate today to power news, analysis, and community conversations for all.
It was such an impressive item that it propelled the Twins to their first World Series title.
OK, that part is an exaggeration, but Homer Hankies played their own role in the Twins finishing on top of the baseball world in 1987.
The brainchild of the Star Tribune's Terrie Robbins, the hankies were snatched up by enthusiastic Twins fans and waved frenetically during the playoffs and World Series. Thousands of people lined up outside the newspaper's headquarters to buy them when they went on sale.
The hankies themselves weren't grandiose — just an 18-inch square piece of thin cotton printed with the words "Twins 1987 Championship Drive" in red.
But when fans waved them en masse during home games, it was quite the sight.
But according to former Star Tribune editor Tim McGuire (as relayed to him by Robbins), the Homer Hanky was almost killed before it became a thing.
After getting the go-ahead from the Star Tribune, Robbins had also received permission from the Twins. But shortly before the playoffs, she met with the Twins again and "the fellow she had talked to 'got really white,' " McGuire wrote in a post that appeared on MinnPost in 2010.
"Twins officials were convinced they were going to be the 'laughing stock of baseball.' They even threatened that the white hankies were going to distract hitters and force the umpires to cancel the games and the playoff series. She says they angrily charged such a cancellation would be Terrie's fault.

When Terrie's volunteer army of employees started to hand out the hankies before the first game Twins officials tried to stop her. Terrie credits (Star Tribune publisher Roger) Parkinson with being 'fearless' by ordering her to go ahead. Terrie's crew handed out the 60,000 hankies and that was that — until an early Gary Gaetti home run."
That's when they saw a sea of white as fans shook and waved their Homer Hankies proudly.
The rest, as they say, is history.
After the 1987 World Series, the Star Tribune announced that they had sold or given away 2.3 million Homer Hankies.
They have been offered on several other occasions since then, most recently in 2014 during All-Star Week at Target Field.