The 1997 Red River Flood: What happened?
It was 20 years ago this month that record flooding of the Red River devastated Grand Forks and other cities along the Minnesota-North Dakota border. The flood damage was unprecedented.
Why was it so bad?
Could we see a repeat in the future?
We put those questions and more to several scientists who have studied climate and hydrology in the Red River basin.
Grow the Future of Public Media
MPR News is supported by Members. Gifts from individuals power everything you find here. Make a gift of any amount today to become a Member!
What factors led up to the 1997 flood?
Many different factors came together to make this flood particularly devastating. It started with a wetter-than-normal fall in the Red River basin. Then the ground froze pretty early, locking out additional moisture. Fall moisture typically gets stored like money in a savings account, said North Dakota state climatologist Adnan Akyüz.
"You put your money in there, and don't touch it until you need it. And when you need it, that would be the springtime during planting when the precipitation is not there," he said.
Except there was precipitation. Lots of it — all through the winter and in the spring, too, capped by an April blizzard.
In addition, the Red River Valley is, in reality, as flat as a table, Akyüz said. And it flows the opposite direction you'd expect — north to Canada.
"These static conditions make the Red River Valley very prone to spring flooding," Akyüz said.
Doesn't spring flooding give communities a chance to prepare, unlike a summer flash flood that results from heavy rain?
Normally, yes. But the 1997 flood was so much bigger than any other Red River flood dating back to the 1880s, and that resulted in the National Weather Service underestimating how high the water would go.
Steve Buan, a hydrologist for the National Weather Service's Twin Cities office, says calculating how high the river would reach in Grand Forks involves a few different steps.
First, hydrologists calculate the volume of water flowing past points along the Red River, using a system of river gauges. Then they used a mathematical technique based on past flood measurements to predict just how high the river would get.
"That's the part that broke down," Buan said. He remembers the stressful moment in the weather office operations area when it was clear the numbers weren't matching up with on-the-ground observations upstream from Grand Forks.
"The realization hit that the amount of water that we were predicting was going to translate into a much higher stage than what our tools were indicating even just a few days earlier than that," he said.
The river's level at East Grand Forks surpassed the previous record by a whopping four feet.
Buan said the extensive review after the '97 flood and other floods that followed has led to a much better forecasting system.
Today, better river gauges and satellite data, plus new soil temperature data, will help the region know what kind of Red River to expect each spring.
Has flooding on the Red River along the North Dakota-Minnesota border become more frequent?
Yes. Data from the National Weather Service go back to the 1880s, and more than half of top 10 floods recorded in Fargo and Grand Forks have happened in the past 20 years.
The region is wetter overall, and fall precipitation — the moisture that gets locked into the soil until spring thaw — has increased more than in any other season, said Akyüz, the North Dakota state climatologist.
Are these recent Red River floods related to climate change?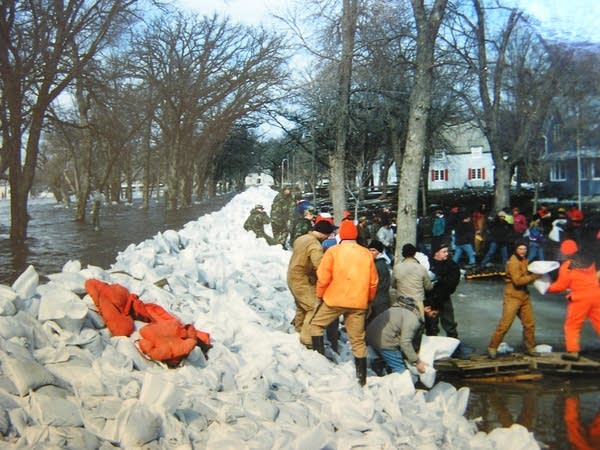 Scientists don't know for sure.
"Particular events, like high flows in 2009, you cannot attribute to climate change," said Karen Ryberg, a research statistician with the U.S. Geological Survey in Bismarck.
To determine whether the Red River saw these kinds of major floods prior to the start of record-keeping, Ryberg studied tree rings. The size of the rings can show whether it was a wet or dry year.
With data going back to 1700, Ryberg said there were some impressive events in the past, showing there's a lot of natural variability.
"There have been periods where it was drier than the 1930s Dust Bowl, and the last couple of decades in the Red River basin have been quite wet, but there have been some periods like that in the past as well," she said.
The analysis supports the scenes described in historical diaries, like a time 150 years ago when military campaigns traveled through miles of standing water on horseback, Ryberg said.
That's not to say, though, that scientists are completely discounting a possible link between this latest wet period and human-induced climate change.
All the carbon dioxide in the atmosphere has caused a greenhouse effect on the planet, and there is a direct relationship between rising temperatures and wetter conditions — the atmosphere holds more water vapor when it's warm. But predicting where and when that rain or snow will fall decades into the future?
"That's not necessarily a trivial undertaking," said Kenny Blumenfeld, a climatologist for the Minnesota Department of Natural Resources.
Here in the middle of the continent, "we're very sensitive to subtle shifts in the wind," he said.
Air from the Gulf of Mexico tends to result in wet conditions, and air from the southwest tends to result in dry ones.
"No matter how the climate changes, we're always going to have that relationship with the Gulf of Mexico. We're going to have these boom years where it's really wet, too wet. And then we're going to have bust years where we can't buy rainfall," Blumenfeld said.
He said all that uncertainty presents a challenge to farmers, engineers, architects and city planners. "People want specifics," Blumenfeld said. "If I'm building something for what's right now the 100-year, 24-hour rainfall return, am I going to be off when I get to the middle of the century? Is it going to fail, and by how much? That's not information that really anyone knows right now."
Could we see another flood like 1997?
There's consensus among the scientists that the conditions that led to the 1997 flood could happen again.
But remember: A lot has changed on the landscape since then, including more than $1 billion in flood control projects along the Red River. That means the actual on-the-ground losses aren't likely to ever match 1997's losses.