Nolan taking more time to decide next campaign move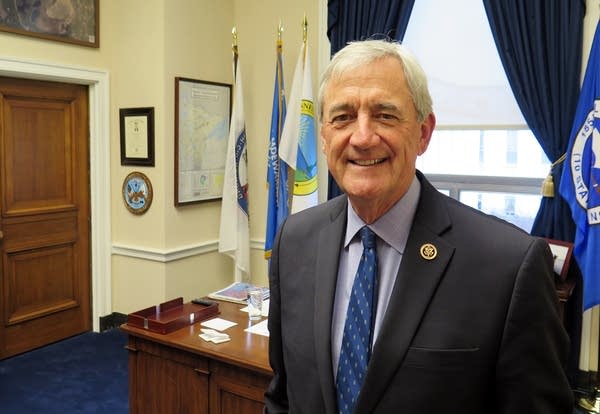 It's May, which means that U.S. Rep. Rick Nolan's original timeline for deciding on a 2018 campaign for Minnesota governor has already come and gone.
So where does that possibility stand?
Tom Scheck of APM Reports, formerly of this blog and the MPR News Capitol team, caught up with Nolan on Friday and found him to be conflicted over the decision. The 8th District DFL congressman said he's now aiming to announce his intentions sometime around July. He's likely to run for something next year -- either governor or another term in Congress.
"I'm going to do wherever I think I can do the most good. If I had a crystal ball, the answer would be easy," Nolan said. "But I don't have a crystal ball, so I'm going to take the time I need."
Nolan said he spoke with House Minority Leader Nancy Pelosi last week. He said they discussed the importance of the once-a-decade redistricting on the power balance in the U.S. House. The next Minnesota governor will play a critical role in that process, especially if both state legislative chambers remain in Republican hands.
"One of the other narratives is that I can win the 8th District again, and I believe I can. But I also believe there are a lot of other people that can. We've got a very strong bench up in northeastern Minnesota," Nolan said. "I'm confident we can keep that seat, and I may, I may, have one of the easier races I've had in a long time. In recent years they've been among the most expensive and contentious in the country."
Before you keep reading ...
MPR News is made by Members. Gifts from individuals fuel the programs that you and your neighbors rely on. Donate today to power news, analysis, and community conversations for all.
He added, "But if we save the 8th District for one more term and then because we lost the governorship -- we lose the governorship and the Legislature -- and lose the district for the next decade, I'd never forgive myself."
While the 73-year-old lawmaker said he's up to the job of being governor, he's not completely sold on a campaign yet. "I've said jokingly that the one thing that's holding me back is the prospect that I might win. You know that's a big commitment -- two years of campaigning, four years of serving. If I did, I'm confident I could do a good job, which might mean another four years. So you're looking at a 10-year commitment."
His decision has a big bearing on the competitiveness of two races.
Democratic heavyweights, including fellow U.S. Rep. Tim Walz, have lined up to run for governor and some prominent Republicans have begun to declare their candidacies.
But 2018 could be a year like no other in terms of competitive Minnesota congressional races, with as many as five of the eight seats in serious contention.