Minnesota firms think they're doing OK on diversity; the data say no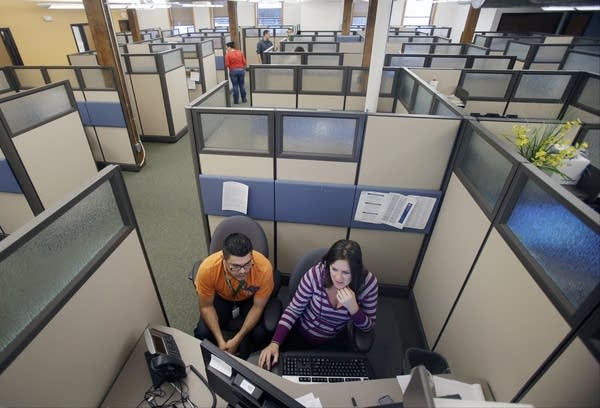 A recent state survey found most Minnesota employers believe they have workforces that reflect the diversity of their customers and communities. But employment data show they're often fooling themselves.
Racial and ethnic minorities are a growing portion of Minnesota's workforce, according to statistics from the Equal Opportunity Employment Commission and U.S. Census. Yet they are significantly underrepresented in many kinds of jobs and industries.
For example, among management, business financial and health professionals, racial and ethnic minority workers represent only 8 percent. That's half their share of the total workforce.
"We are doing very poorly," said Dianne Binns, president of the St. Paul NAACP. "We need to look at what is causing us not to hire as many people of color as are in the workforce."
Grow the Future of Public Media
MPR's budget year comes to a close on June 30. Help us close the gap by becoming a Sustainer today. When you make a recurring monthly gift, your gift will be matched by the MPR Member Fund for a whole year!
The disparities in hiring contribute to disparities in home ownership, wealth and other socioeconomic measures, said Minnesota labor market economist Steve Hine.
"If we were truly successful in achieving diversity in our workforce, we would not see the kinds of disparities that we currently see," he said.
The state's workforce diversity survey found a large divide in the practices of large and small companies. About three quarters of large employers said they are trying increase racial diversity. Only about a quarter of firms with 50 or fewer workers reported making such efforts.
"Most of the time what we find that happens with small employers, they hire their family or their friends or acquaintances that they know," Binns said. "So that means that people such as myself and other people of color who may not be in that arena are not included in that hiring."
Louis King sees it as a matter of capacity. King runs Summit Academy OIC, which trains low-income people for jobs in construction and health care.
"Small companies don't have the resources that large companies have to really invest in diversity and hiring," he said.
Big companies are more in the public eye and are subject to more scrutiny, he added.
Business research has been silent on the benefits to small employers from hiring a diverse workforce; it focuses instead on rising share prices, problem-solving in small groups and other benefits to large employers said Ellen Bendewald, a researcher with the Minnesota Department of Employment and Economic Development.
"So large employers definitely think about this more," she said. "They have more resources to put toward managing diversity, and probably can think about it more strategically."
And so, companies like Best Buy and Medtronic have workforces where about one third of employees are racial or ethnic minorities.
At Medtronic, the company even considers diversity of thought.
"That really has led to innovation for the organization," said Sophia Khan, senior director for global inclusion, diversity and engagement. "We look at diversity as valuing all the ways we are unique. The diversity and the range of human differences. Whether it's how you think, how you were raised, the skills that you have. How we look at diversity is much broader than a lot of organizations define diversity."
Medtronic also tracks the diversity of its spending with minority and women and veteran-owned firms, as small businesses. Those groups accounted for about 40 percent of the company's U.S. spending.
Diversity is just smart business, said Laura Bishop, chief corporate responsibility and sustainability officer at Best Buy.
"We need to recruit with the objective of building and nurturing a highly diverse workforce that reflects the population at large and the communities where we operate and the customers we serve," she said.
Nancy Lyons thinks firms of any size can improve their diversity. Lyons, CEO of Clockwork, a 63-employee Minneapolis design and technology agency, said she's been pushing tech firms to take a pledge to hire more diverse workforces. So far, about 100 organizations are on board.
Lyons, who also serves on the MPR board of trustees, says that diversity requires the fostering of an inclusive work culture, not just getting the right body count.
"I think when we start treating people like numbers we're not doing the work," she said.
The state of Minnesota has been trying to transform its 35,000-employee workforce. Racial and ethnic minorities account for nearly 12 percent of state employees, up from about 9 percent a year ago. The goal is to hit 20 percent.
"We need a diverse workforce that reflects the people of Minnesota," said Edwin Hudson, deputy commissioner of the Office of Minnesota Management and Budget.
Each state agency has an affirmative action plan. And Hudson says the state has been implementing unconscious bias and other programs and ramping up efforts to attract a broader array of job seekers.
"We're very mindful of where our shortfalls are," he said. "If you have an applicant pool that's diverse, chances are you're going to be more apt to meet your targets."
Since January of 2105, Hudson said the state has hired 170 executives. About half were women and a quarter racial or ethnic minorities. Eight percent had some disability.
Despite steady growth in recent years, Minnesota's minority population of about 19 percent is about half that of the nation. So, not surprisingly, minorities account for a substantially smaller share of the state's workforce than the nation's. For now.
In Minnesota a rising minority population and steady drop in the white working age residents means Minnesota employers will be forced to find workers among people of color and ethnic minorities.
"Diversity, it's a function of our demographics," said Bill Blazar, a senior vice president at the Minnesota Chamber of Commerce. "It's a function of a growing economy and it's a function of Minnesota being more and more engaged in a world economy."
Demographics and economics will eventually do more to promote diversity than government and other efforts have, but there's still a lot of work to be done, said Summit Academy's King.
"We're still not where we need to be in terms of a sense of urgency," he warned.
Minnesota needs greater urgency about educating disadvantaged students to be workers, he added, because Minnesota is going to need to put them to work.