DNR mulls fate of celebrated author's Minnesota prairie home
Novelist Frederick Manfred was riding a wave of success in 1959 when he began building an unconventional house in southwestern Minnesota within the boundaries of what's now Blue Mounds State Park.
A few years earlier, he'd penned "Lord Grizzly," a tale of Hugh Glass, a real-life frontiersman whose saga also inspired the 2015 Leonardo DiCaprio movie, "The Revenant." Manfred would go on to write other popular novels inside the elegant, prairie-style home with deep overhangs and floor-to-ceiling windows looking out on the prairie that inspired him.
Manfred's writing withstood the test of time. The same, however, can't be said for his house.
Owned now by the Minnesota Department of Natural Resources, the building that once served as the Blue Mounds interpretive center is crumbling and may need to be demolished.
Park manager Chris Ingebretsen won't let anyone inside because it's unsafe. He demonstrated that on a recent day as he poked his finger into the soft rot on a wood beam as he stood outside the building. Saving the building is not a priority for a park that's struggling on other fronts.
The DNR is weighing whether to tear it down. Despite its one-story design that appears to borrow from the prairie style popularized by Frank Lloyd Wright and its bold construction built against a rock face, few are clamoring to rescue it.
Before you keep reading ...
MPR News is made by Members. Gifts from individuals fuel the programs that you and your neighbors rely on. Donate today to power news, analysis, and community conversations for all.
For Manfred's daughter Freya, who now lives near Stillwater, it was a magical place.
"Visually, it's astonishing to be up there," said Manfred. "You're at one with the rocks, at one with the trees, and also the grasses and the flowers. That kind of nature experience is I think close to irreplaceable."
Her father — who gave the eulogy at the funeral of another famous Minnesota writer, Sinclair Lewis, and served as assistant campaign manager for Minneapolis mayoral candidate Hubert Humphrey — wrote books that celebrated southwestern Minnesota.
One hundred fifty years ago, the area was lush prairie unexpectedly interrupted by 100-foot high cliffs of Sioux quartzite, which appeared blue to settlers heading west. That led to the name Blue Mounds, although the rock glows in soft shades of pink and red.
A cupola atop the structure served as Manfred's writing studio, where he could see miles of prairie. The author's attachment to the place was almost spiritual, combining landscape, history, family and art in one structure. He wrote 10 novels there.
Manfred build his home right up against the cliff in what was then Mound Springs Recreation Area. In fact, the cliff is the building's back wall.
"To my father, it was his dream house," said Freya Manfred, who recalled "putting candles in all the little rock crannies" in the home's cliff wall. "People loved coming up there from high school."
It turns out that the back wall Freya Manfred lit with candles may have doomed the building.
Making the cliff part of the house was her father's way to tie the house to the surrounding landscape that he wrote about and called "Siouxland." In a part of the state where water can be scarce, the Sioux quartzite rock leaks water that's devastating the building's wood frame.
"Those beams actually tie back into the cliff face, and they're somewhat anchored into that rock," said Ingebretsen. "And, over time, cracks have allowed water to seep right onto those beams."
The DNR's rough estimate to fix the structure is about $400,000, he added. That's a lot, although it might cost twice that to build a new interpretive center.
Some temporary fixes are planned for this summer, enough to reopen the building for special events.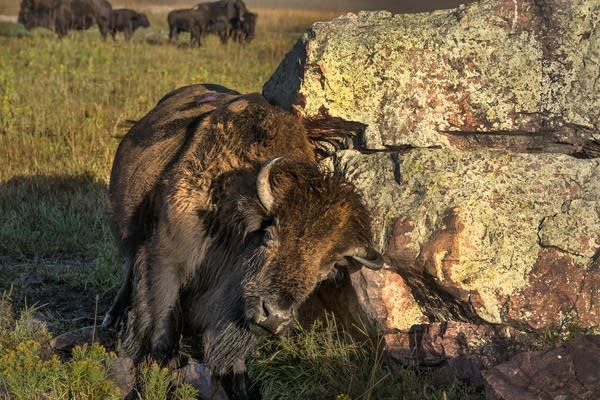 But permanent repairs may have to wait. That's because Blue Mounds State Park has other, more pressing, problems, water being key among them.
Right now, most of the park has no drinking water because the park's wells have a mysterious E. coli contamination. Showers and sinks will be off this year. That's reduced the number of people coming through the gate each year and buying an entry permit.
"At our highest visitor use we were right around 90,000," said Ingebretsen. "And last year we were around 64,000."
State lawmakers will likely provide funding for state park improvements, but there's no guarantee of money for a new Blue Mounds water source, let alone the interpretive center. Water repairs must come first, according to Jane Lanphere, executive director of the Luverne Chamber of Commerce.
"For the state park to go on its third year, and probably four years, before they have potable water; it's just absurd," said Lanphere.
The Manfreds left the house in the 1970s after financial difficulties forced a sale to the state. Despite her family connection to Blue Mounds, even Freya Manfred agrees that water probably is the top priority. But she still hopes her old family home can be saved before it literally becomes one with the prairie.
MPR News reporter Mark Zdechlik contributed to this report.