A year after Castile's death, a changing Minnesota
A year ago today, the world watched Philando Castile's final moments, live on Facebook.
He was shot and killed by a police officer during a traffic stop on a warm July night along Larpenteur Avenue in Falcon Heights, Minn.
The shooting, the trial and beyond
Grow the Future of Public Media
MPR News is supported by Members. Gifts from individuals power everything you find here. Make a gift of any amount today to become a Member!
The St. Anthony officer who shot Castile, Jeronimo Yanez, faced second-degree manslaughter and felony firearms charges. It was the first time an officer in modern Minnesota history had been charged for shooting and killing someone while on duty.
And in June, after five days of deliberation and deadlock, a jury found Yanez not guilty on all counts.
The shooting, the verdict and the protests that followed both have left their mark on Minnesota this past year. They've touched police officers, and the way they do their jobs. They've touched activists — and the people who have found themselves thrust into activism. And their impact has been felt throughout the state and all the way to the Capitol.
A year after that fatal shooting in Falcon Heights, we look back to what's happened and ahead to what's next.
— Jon Collins | MPR News
Policing after Yanez
Philando Castile's death last year came a day after another black man, Alton Sterling, was shot and killed by police in Baton Rouge, La. Before Sterling, there was Samuel DuBose. Walter Scott. Michael Brown. All African-American men, all shot by police.
Amid these high-profile shootings, there's been increasing scrutiny of officers, how they were trained and the powers the law gives them. And that scrutiny, some officers say, has made it all the more difficult to do an already difficult job.
MPR News reached out to over two dozen officers and law enforcement leaders to ask them if the death of Castile and the acquittal of officer Yanez has affected how they do their jobs — or if they've felt negative feedback from the public.
Burnsville police chief Eric Gieseke said his officers have received nothing but support from members of the community.
But Lt. Bob Kroll, president of the Minneapolis police union, said he fears that a growing "anti-police" atmosphere is emboldening people to openly disrespect officers. A week after the shooting, he said, there were three incidents in which officers or police squad cars were hit by fireworks.
No patrol officer agreed to talk on the record.
An officer who works for a department outside the Twin Cities metro area, who asked not to be named or directly quoted, said he has not changed how he does his job. And the officer said it's unfair to judge officer Yanez's actions just by the squad car video which captured the shooting.
— Brandt Williams | MPR News
Moved to greater action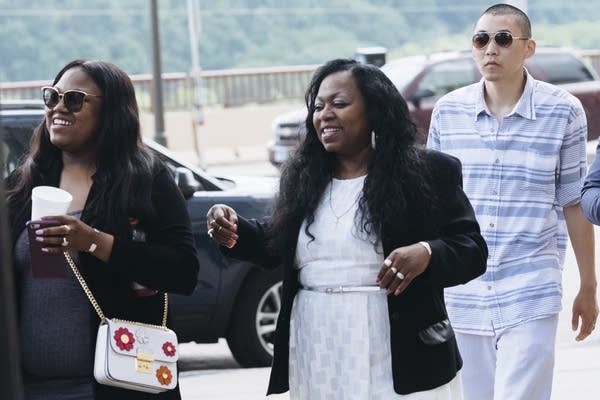 By this July 2016, police shootings of African-Americans had brought already simmering tensions over race, equity and policing to the forefront of the national conversation.
The Twin Cities' Black Lives Matter movement had been going for more than two years, and found its footing among more-established activist organizations. There had been marches, sit-ins, highway shut-downs and an occupation of a police precinct, especially in response to the shooting of Jamar Clark in Minneapolis.
But after Philando Castile's death, people began to participate in the protests with a new sense of urgency. They held a children's march. They rallied at St. Anthony city council meetings, they camped outside the governor's residence. They made signs, painted murals, wrote songs.
Corydon Nilsson is one of those people. He's 31, father of a little girl, and he works full-time for a medical instrument company.
"I'm a South Korean adoptee with Norwegian and Swedish parents," he said, "so I've always felt like my role is sort of an ambassador between the majority and the minorities."
For the three decades he's called Minnesota home, he says he's witnessed how differently police treat him, his parents, and his friends — many of whom are people of color.
"It's a night and day difference, and I know the average person doesn't see that," he said. "So, of course, when we're out here criticizing police, they don't see what we see because they've never been exposed to it."
For the last two years, in between his job and his child, he's volunteered to help Black Lives Matter. After Philando Castile was killed, just blocks from where Nilsson grew up and where his parents still live, he felt he had to do more.
So he started a new police watchdog group called The New North, which he said will specialize in helping police victims who suffer from mental illnesses, and also push for de-escalation training for all police officers.
Shvonne Johnson, a North Minneapolis artist, has long been active in the Twin Cities community, but she's become much more visible in the aftermath of Philando Castile's death. She has been helping to facilitate listening sessions since the not-guilty verdict.
"The pain of the people was almost unbearable," she said. "The fear of the people was almost unbearable. You can do everything right, and still die. That sends a level of hopelessness to the psyche of a people, and to the emotion of people. It does not give great incentive to be a model citizen."
Through her poetry, her performances and her volunteer work, Johnson hopes to help young people transcend what she calls "foolishness all around us."
"What this is about is grabbing our future," she said, "tapping our babies on the shoulder, and pushing them forward, and then giving them the mentorship and tools that it takes to get through some of the obstacles that they're going to face."
— Doualy Xaykaothao | MPR News
Movement at the Capitol
In the year since that fatal traffic stop, many have looked to the law. Some have called for a change in the rules that govern police training. Others have pushed to apply harsher penalties to protest tactics.
Today, Gov. Mark Dayton spoke solemnly about the impact as he appeared with relatives of Philando Castile.
Dayton marked the day by recommending the state's Peace Officer Standards and Training Board name a new $12 million training fund after Castile.
The fund is aimed at helping provide training opportunities for law enforcement officials working with diverse communities. The money was approved by the Legislature earlier this year.
Dayton has also said he may examine the state's use-of-force law, the details of which were central to the jury's decision — but he didn't commit to making or putting his weight behind any particular proposal.
Republicans who control the Minnesota Legislature have been largely quiet about the verdict; they've given no indication they'd entertain a change to existing law and tend to be deferential to law enforcement on such matters.
Even Clarence Castile, Philando's uncle, who Dayton named to the 15-member Peace Officers Standards and Training Board Thursday, treaded carefully around the issue.
"We can look at them, but I don't think we need to go rewrite the whole book off of this particular incident," he said.
— Brian Bakst | MPR News
Correction (July 7, 2017): An earlier version of this story incorrectly said that Corydon Nilsson had not considered himself an activist before Philando Castile's death. In fact, he had been active in civil rights causes for years.