As Mille Lacs closes for walleye, anglers report 'phenomenal' fishing
Tony Roach and Brian Hammarsten were enjoying some fishing on Lake Mille Lacs earlier this week before the ban on walleye fishing kicked in.
They didn't have to wait long before they pulled in a pair of medium-sized walleyes. Roach, a professional guide, and Hammarsten, an angler from Minnetrista, let them go back into the water.
"The fishing's been absolutely phenomenal," said Roach, who serves as co-chair of the Mille Lacs Fisheries Advisory Committee. "It's amazing to see a bounce back, or I don't know however you put it. But the fishing just is out of this world right now."
Walleye fishing on Mille Lacs is catch and release only this year, and it's off limits entirely until July 27. The three-week closure was imposed by the Department of Natural Resources out of concern for the lake's struggling walleye population.
Grow the Future of Public Media
MPR's budget year comes to a close on June 30. Help us close the gap by becoming a Sustainer today. When you make a recurring monthly gift, your gift will be matched by the MPR Member Fund for a whole year!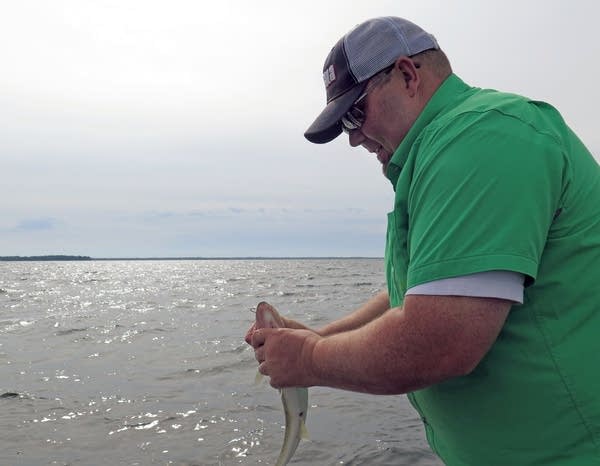 But some anglers and business owners say the fishing has been outstanding this year, making the restrictions harder to swallow.
The DNR announced the walleye closure back in March with the hope of extending the fishing season through Labor Day. The agency says the closure will help prevent fish from dying after they're caught and released. Fish are most vulnerable to hooking mortality when water temperatures rise and fishing pressure is the highest.
During the closure, anglers can fish for other species in the lake, including bass, muskellunge and northern pike. Only artificial baits and lures are allowed, except anglers targeting northern pike or muskie may fish with sucker minnows longer than 8 inches.
The Mille Lacs regulations have been controversial among resorts and other businesses around the lake that depend on anglers.
Walleye fishing is "the life blood of the resort industry up in this area," said Dean Hanson, who owns Agate Bay Resort.
"Bass fishing is an up-and-coming thing, and I do have a lot more bass reservations in July and August than I've had in past years," said Hanson, who co-chairs the fisheries advisory committee. "But the closure's going to have a significant impact on us."
Hanson and other business owners are skeptical of the DNR's estimates of walleye in the lake.
"They maintain there's 50 percent less fish in the lake than there was five to 10 years ago, and we're seeing people going out and get 50, 60, 70 walleyes on a fishing trip," Hanson said. "We just can't rationalize that."
There are many reasons why walleye could be biting, including how much food or forage they have to eat, said Brad Parsons, central region fisheries manager for the DNR.
Parsons also says the restrictions mean more fish are being released to be caught again. And they might be keeping some anglers away.
"Fishing pressure is lower on Mille Lacs than it has been in the past," Parsons said. "So you have fewer people going for the same number of fish that are willing to bite at any given time."
Later this year, outside experts will review the DNR's science and management of Mille Lacs. DNR officials hope using peer review will help increase transparency and rebuild trust with the Mille Lacs business owners.
"There have been questions over time about whether the committee feels that our surveys and monitoring of the lake is answering all the questions that we need," Parsons said. "There's obviously a good walleye bite going on right now, and a lot of folks feel that that's due to the fact that there's more fish in the lake than our estimates are showing."
Members of the advisory committee will be able to pose their questions about how the lake's fish are sampled and counted directly to the experts, Parsons said.
Chris Vandergoot, a fisheries research biologist at the U.S. Geological Survey's Lake Erie station, will lead the research.
"I'm basically being asked to come in with a fresh set of eyes and an open mind and assess what's going on and help provide assistance however I can," Vandergoot said.
Both Erie and Mille Lacs are premier walleye lakes with a lot in common, Vandergoot said. Both have seen the walleye population fluctuate over time, and those changes often lead to criticism of how the lake is managed.
"Over my career on Lake Erie, we've run the gamut from times of want and times of plenty," Vandergoot said. "So this is pretty standard for any fisheries biologist who's managing one of these populations."
Vandergoot plans to meet with the advisory committee early next month and expects it will take six to nine months to come up with findings. He said he knows the debate over Mille Lacs' fishing regulations has been heated at times.
"Working on Lake Erie, I've learned in my career it's always good to get in a room and talk with people," he said. "I've been at many meetings when people are not very happy with you. That's just part of the business."
Roach said he commends the DNR for bringing in outside experts to review their work.
"I think this will really help as far as overall transparency," he said. "I think it's something that this lake needs and the people around this region needs."
Roach hopes the review will bring some consistency to the lake's fishing regulations.
"Stability to this area is huge, because these shutdowns are what takes a toll on the businesses," he said.
Some businesses that cater to walleye angers are getting creative to give guests another reason to come to Mille Lacs.
Nitti's Hunters Point Resort will offer bass fishing, a craft fair, four-wheeler rides and a bean bag tournament, said Justin Baldwin, whose family has owned the business for 21 years.
"It's just trying to take our business in a few different directions," Baldwin said.
Gov. Mark Dayton plans to be on Mille Lacs on Saturday to promote the lake's smallmouth bass fishery. Mille Lacs' reputation received a boost recently when Bassmaster magazine named it the top bass lake in the country.
Correction (July 7, 2017): Nitti's Hunters Point Resort was misspelled in an earlier version of this story.