The fight for Native fishing rights in Minn., Wis.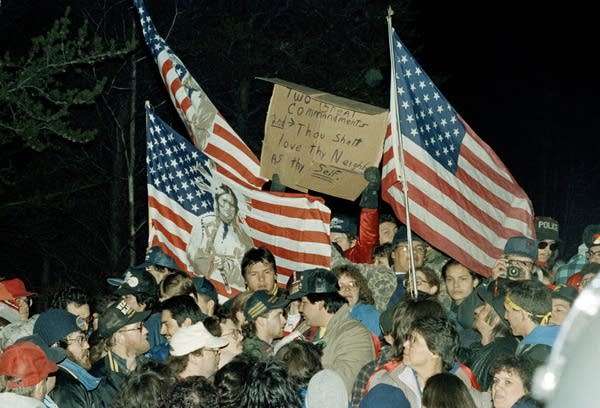 Throughout 2017, Minnesota Public Radio will celebrate 50 years on the air by sharing highlights from our archives, connecting Minnesota's past to its present. | These three stories originally aired in 1990, 1992 and 1997.
MPR marks 50 years
• More stories from the archives
• Join the celebration, tell us your story
In 1983, the U.S. Supreme Court ruled that Native Americans in Wisconsin had the right to spearfish in lakes they had otherwise relinquished to the U.S. government through a 1837 treaty.
MPR News is Reader Funded
Before you keep reading, take a moment to donate to MPR News. Your financial support ensures that factual and trusted news and context remain accessible to all.
In 1997, MPR News reporter Elizabeth Stawicki checked in with members of the Lac du Flambeau Band about modern spearfishing.
"Remember that we have ancestors that payed with their lives, for what we have today," said Ojibwe language teacher Nick Hawkins. "Somehow they had the wisdom to retain these treaty rights. So the best thing that we can do is remember our ancestors when we're out on the lakes when we're fishing."
The locations and times of each spearing excursion were kept secret — many white anglers strongly opposed the off-reservation spearing because they felt it would deplete fisheries.
Tribal members could harvest hundreds of fish in just a few hours, however their harvest was limited to what tribal and DNR officials deemed safe for each lake, Stawicki reported.
Every fish caught was carefully recorded by size, sex and whether it had been previously marked by the DNR.
Anti-spearing anglers staged numerous protests over the years — with a 1990 protest at Nokomis Lake drawing over 300 people, many of them members of a group called Stop Treaty Abuse.
Dozens of law enforcement officers set up barricades by the boat landing where protesters gathered that night. Several previous demonstrations had culminated in violence, with protesters throwing rocks and shouting racist slurs at the spearfishers.
By 1992 the battle had moved to Minnesota. Native Americans were in court arguing that a 1837 treaty gave them the right to use spears and gill nets to catch walleye on Lake Mille Lacs. An opposition group called the Minnesota Hunting and Angling Club staged a protest on the steps of the state capitol.
The group came to St. Paul to "oppose secret negotiations" between state officials and the Mille Lacs Band, MPR's John Biewen reported in 1992.
Leaders of the club, like the groups in Wisconsin before them, claimed that the practice of spearfishing threatened walleye numbers, and so also threatened the prosperity of fishing guides and resorts in the area.
Ojibwe leaders argued back that sport fishing does much greater damage.
"Indian people are not depleting the resource, they're not going to deplete the resource. We have never done that in our history here which goes back thousands and thousands of years," said Clyde Bellecourt director of the Minneapolis-based American Indian Movement.
In 1999, the U.S. Supreme Court ruled that the 1837 treaty rights were still valid. Now the DNR and Native biologists determine a sustainable harvest level on Mille Lacs each year. The Indians get 30 percent of that harvest.