Reporting, memories from the I-35W bridge collapse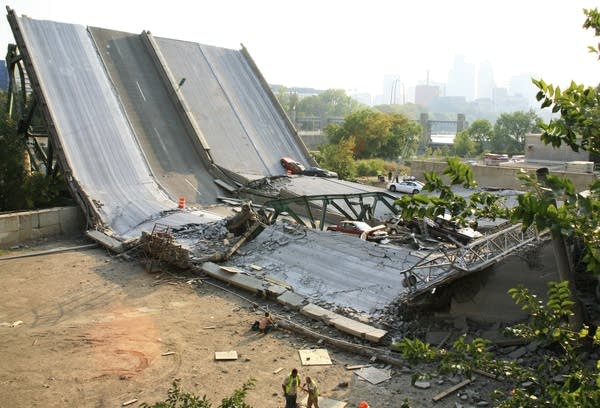 Throughout 2017, Minnesota Public Radio will celebrate 50 years on the air by sharing highlights from our archives, connecting Minnesota's past to its present. | These reports aired August 1, 2007, the day the I-35W bridge collapsed.
MPR marks 50 years
• More stories from the archives
• Join the celebration, tell us your story
Ten years ago, the Interstate 35W bridge collapsed, dropping concrete, construction equipment and motorists into the Mississippi River, resulting in 13 deaths and more than 100 injuries.
Before you keep reading ...
MPR News is made by Members. Gifts from individuals fuel the programs that you and your neighbors rely on. Donate today to power news, analysis, and community conversations for all.
Reporters from MPR News responded immediately with newscaster Tom Crann giving the initial report.
"We're talking about the entire span of the 35W bridge," he announced shortly after the collapse, later turning over to MPR News host Cathy Wurzer who was about two blocks from the scene.
"I'm surrounded by news crews and a number of emergency vehicles from Roseville, Lake Johanna, New Brighton," Wurzer reported. "People are running back and forth, crying. One woman said that she saw at least 20 cars in the river."
A few minutes later, Crann spoke with Adam Noey, who was a passenger in a Jeep Cherokee that was on the bridge when it collapsed.
Noey was heading south on I-35W, sitting on the bridge in rush hour traffic. "I heard this loud bang, loudest sound I'd ever heard, and then we just looked ahead and the bridge started to collapse," he said.
The Jeep was stopped on a level section of the bridge, Noey said, and when the front and back of the section fell, the vehicle slid backward to the ground in what Noey estimated was a 60-yard fall.
"It seemed like slow motion and I just thought I was in dream mode as soon as that happened," he said.
MPR News had live coverage throughout the evening, with reporter Dan Olson later describing what he saw from the west bank of the Mississippi as rescue operations continued.
"Tom, I think you can only describe it as a huge Lego set that simply collapsed," Olson said.
A flotilla of rescue crafts were floating on the river near the debris and now-empty vehicles as a military helicopter hovered over the site.
"It's an eerie scene, Tom, on the span itself that has collapsed because, of course, there's nobody there. Then down below it's just a mass of people, several thousands of us here," Olson reported.
Many Minnesotans can still remember where they were and what they were doing at the time of the collapse. Below are some of those memories, shared with MPR News via the Public Insight Network, from people who lived and worked in the area surrounding the bridge.
What do you remember about that day? How has it affected the way you live now? Share your thoughts here, or comment below.