'A deep, deep loss': School community mourns receptionist, custodian killed in explosion
Updated: 10 a.m. | Posted: 4 a.m.
A south Minneapolis prep school is trying to make sense of the deaths of two longtime employees after an explosion and fire tore apart one of its main buildings.
Minnehaha Academy identified both employees on Wednesday. Ruth Berg, 47, worked as a receptionist. John Carlson, 82, was a custodian. Their bodies were located at different times, and in different levels of the debris left behind.
Grow the Future of Public Media
MPR News is supported by Members. Gifts from individuals power everything you find here. Make a gift of any amount today to become a Member!
Berg was supposed to have been fitted for her wedding dress today.
Mark Burrington, her fiance, said their September wedding invitations arrived just a day before the blast. Burrington said he talked to her on the phone about having lunch, then heard the blast at the school just down the street from his home.
He ran into the damaged building to search for her.
"The first hallway I hit, there was a lot of like debris and stuff, and it literally looked like a bomb went off," he recalled. "You turn the corner to go down to the office where she sits ... As soon as I turned the corner, you could see the daylight, and I knew, you know, there's something wrong."
The pair had known each other since childhood. Said Burrington: "We knew we were going to be married in third grade."
Fire officials say it's not clear exactly where they were when the explosion happened Wednesday morning.
Contractors were doing work on the building at the time of the explosion, which investigators determined was caused by a gas explosion, according to Assistant Minneapolis Fire Chief Bryan Tyner.
A boiler room was the apparent epicenter of the explosion. "Gas is dangerous," chief John Fruetel said. "You can see the destructive force." Officials continue their investigation into what led to the Wednesday blast.
Chimali Day and her parents had been meeting with her counselor at Minnehaha Academy Wednesday morning to talk about colleges and ACT tests. In three weeks, she was to begin her senior year at the private school on Minneapolis' West River Parkway.
But a few minutes into the meeting, they were interrupted.
"Somebody told us there was a gas leak and to get out. And as we were getting out, it just happened," she said.
A blast knocked Day to the ground.
"As I got pushed down, I just put my hands over my head and then my mom jumped on top of me," she said.
Chimali's father, Phillip Espinoza Day, saw dust flying. "The windows blew out, and then we kind of gathered ourselves," he said. "I asked the counselor, 'What is that door behind your desk?' She said that's another hallway. And there were stairs directly out."
Kim Schneider's teenage son had been at a pick-up soccer practice outside the school's western wall when they heard a commotion.
"He said two men came running out of the back of the building yelling 'Gas! Gas!' and he said one of them turned around and ran back, and right as he ran back, it exploded," Schneider said.
Her son told her that "at the same time, all the windows started blowing out of the back of the school. I think they were all kind of in shock," she said.
The blast demolished a large part of the building's western wall, causing floors to pancake on top of one another.
Though the building, located on Minnehaha Academy's Upper Campus was occupied, it was not full of students, as it could have been had the explosion happened just a few weeks later.
"We were very lucky in terms of that. It would've made this dramatically worse if school were in session," Fruetel said.
In all, nine people were taken to the Hennepin County Medical Center. Five were discharged Wednesday night. Early Thursday, HCMC said three remained hospitalized, with two in satisfactory condition and one in critical.
Berg, the receptionist, had worked at Minnehaha Academy for 17 years.
"I know the students always enjoyed gathering at her desk at 1:30 every day to do the announcements, because she was so kind and pleasant," said Sara Jacobson, the school's executive director for institutional advancement. "This is a deep, deep loss for us. Our hearts are broken tonight."
Carlson, the school's custodian, was also one of its graduates — in the class of 1953. He went back to work there 14 years ago, his wife Barbara Carlson said.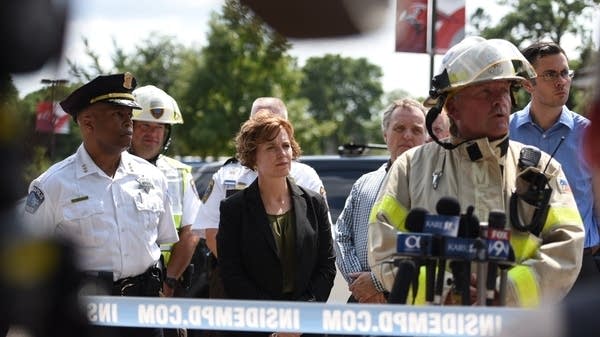 The school said Carlson was "Minnehaha's biggest cheerleader and a long-time presence in the school." He sent his own children there and returned to work on staff after retiring from his first career.
"He knew the students' names. He was like a grandfather figure to them," Jacobson said. "If we were bringing prospective students on a tour and he saw them he would always stop. He wanted to stop and tell them about his experience, about what a great school this is, about why they should come."
In the hours Wednesday when officials listed him as "unaccounted for," before his body was found, students and staff talked about Carlson's penchant for Dilly Bars, the chocolate-dipped ice cream treat on a stick. He'd hand them out — and he'd even handed one to her, Jacobson said, when she visited the school to interview for her job.
"He's really sweet," Chimali Day said, when Carlson was still missing. "He hands out Dilly Bars, and stuff like that, throughout the day, throughout the year, he just gives them to people he sees in the hallway, asks them how their day is going."
Barbara Carlson said her husband wasn't scheduled to be at work until 3 p.m. on Wednesday, but he clocked in early because she had a doctor's appointment later in the day.
MPR News reporters Riham Feshir and Matt Sepic contributed to this story.