Southwest light rail project moves closer to a big construction contract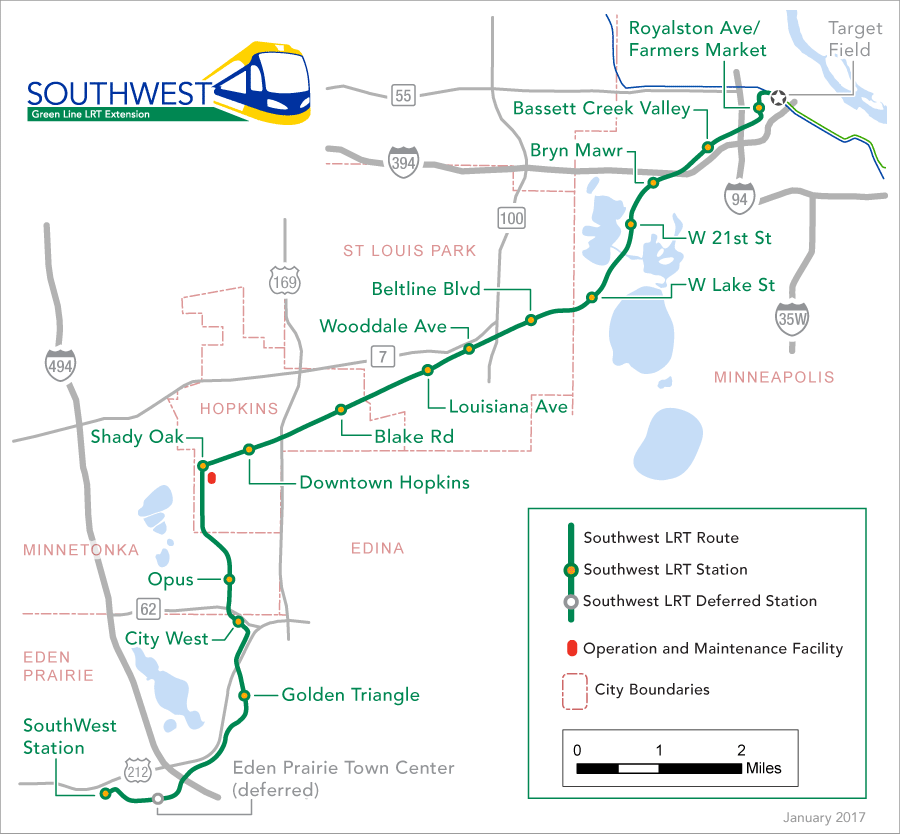 Transit planners unveiled bids Tuesday for the Southwest light rail line's first big construction contract, even though uncertainty remains about whether the region will get more than $900 million in federal funding to cover about half the project's cost.
Four companies submitted bids for major construction work on the 14-mile line. Two came in around $800 million. The others were just over $1 billion.
Metro Transit Deputy General Manager Mark Fuhrmann says the winning bidder will be responsible for key elements of the system.
"This is what we call our civil contract, which covers building the light rail, preparing the properties, building bridges, building 15 stations, retaining walls, rail crossings, and the like," Fuhrmann said.
A Met Council spokesperson said construction is scheduled to start in 2018.
Several of the bidders — which are all joint ventures — worked on the Green Line between Minneapolis and St. Paul that opened in 2014. The Ames construction company of Burnsville working together with Kraemer of Wisconsin made the lowest offer. But that doesn't mean they're a shoo-in.
MPR News is Member Supported
What does that mean? The news, analysis and community conversation found here is funded by donations from individuals. Make a gift of any amount during the Winter Member Drive to support this resource for everyone.
Fuhrmann says Met Council staff will spend the next three months picking through each of the bids to ensure the firms have what it takes to build the largest public works project in Minnesota history. The council is expected to pick a winner in November.
In the meantime, the Met Council's new Chair Alene Tchourumoff is trying to keep the project alive in an uncertain political environment. Snagging a $929 million federal grant is key.
While President Trump's proposed 2018 budget cuts funding for transit projects, Tchourumoff says there are signs of hope in Congress.
"There's some money in the Senate version. I think not as much money, maybe no money in the House version, and so we'll have to work with our members of Congress to try to reconcile that to make sure that there is funding available," Tchourumoff said.
Tchourumoff points out that the federal government has never denied funding to a project this far along in the process. In the last six years the Met Council has spent $185 million on planning what it calls the Green Line extension.
U.S. Sen. Amy Klobuchar said it's unlikely the president will get the steep budget reductions he wants.
"There's reason to believe that he will not be able to cut it that significantly because we were able to keep the last budget in in a strong way. And that was with the agreement of the two Republican leaders in the House and Senate and the two Democratic leaders with the support of many people in our delegation pushing for this," Klobuchar said.
But Republicans in the Minnesota Legislature want Congress and the president to zero out funding. Earlier this year most signed a letter to Transportation Secretary Elaine Chao urging the administration to pull the plug.
State Sen. David Osmek, R-Mound, is a leading critic of the project. He said roads, bridges and a more efficient bus system would be a better use of $1.9 billion than light rail. Osmek says the Met Council is jumping the gun with its bid process.
"I think it would be much wiser for the Met Council to wait until they actually have some level of assurance that there's going to be money before they continue to blow more money on a system that people don't want or need," Osmek said.
The Met Council will soon request bids for two more big Southwest LRT contracts — for a maintenance and operations center in Hopkins, plus electrical and signaling work.