So long, Sparky: Como Zoo sea lion show heads for hiatus
For generations of Minnesotans, the Como Park Zoo's sea lion show, perched on a bench in a small amphitheater between the zebras and gorillas, has been a rite of childhood.    
  But the beloved show is about to go dark. It's shutting down for two years on Monday, ahead of a makeover for the zoo's pinniped exhibit and amphitheater. Zoo officials say Sparky the sea lion will be back and better than ever in 2019.
  "Sparky is one of those names that (is) very iconic to St. Paul and to Como," says Michelle Furrer, the zoo director. "It's great that we'll be able to do this new habitat so that future generations will be able to have that same experience."  
  The exhibition that runs every summer day at Como features some basic facts about pinnipeds — mammals with fins for feet — as well as animal care and some splashy sight gags. It's about 10 minutes long, the perfect length and pace for the elementary school attention span.
For Taynia VonKreuzhof of Maplewood, who's a regular and had her 7-year-old daughter Luxi and her friend Samantha along, the sea lion is a must-see.
    "They enjoy every second of Sparky, and she always asks before we go, 'Can we make Sparky?'" VonKreuzhof said.    
      Luxi, who's already planning to be a marine biologist so she can train sea animals, said the sea lion show is the best part of the zoo.  
  The zoo estimates that more than 500,000 people see the free show annually. That's just a little less than the number of people who show up for Vikings home games in a season.  
    The zoo's outdoor amphitheater is ringed with strollers, parents and grandparents and occasionally some teenagers for Sparky shows, a nod to the sometimes-campy feel of the sea lion's antics.    
  Seven sea lions have starred in the show over the decades. The current sea lion, Sparky 7, is a California native and was attacked and injured by a shark off the Pacific coast.
She was rescued and taken to a marine rehabilitation center, but had suffered permanent damage to her rear flippers and couldn't be returned to the wild, so she was sent to live out her days in St. Paul.    
  Sparky is getting a new $18.5 million home, financed with $15 million in state borrowing approved in the last legislative session, as well as private contributions. When complete, it'll have a more natural Northwest Pacific coast landscape, a bigger pool with a transparent wall facing the audience and more shade for the public and animals. There will also be a separate, lower level underwater viewing area.  
    "The footprint for the new project will take space where the amphitheater is, and what is currently Seal Island," says Furrer, the zoo director. "Seal Island was originally built as Monkey Island, it was a WPA period project and in the late '70s was converted to house these animals. And it really doesn't have the infrastructure needed to house these animals."  
    Federal regulations for keeping the animals are also changing, requiring more room and salt water pools.    
  Allison Jungheim is senior zookeeper at Como and former host of the Sparky shows. Her husband proposed to her on the show's stage more than a decade ago and she welcomes the change of venue for the seals and sea lions.    
  "This will be immersive for them, so they'll be able to interact with each other, which sometimes the harbor seals may not like, but you know, hopefully they'll get along with it OK," she said. "We'll actually have them outside year-round, bulk up their diet so they're nice and fat and they can survive the Minnesota winter as well."  
    The final Sparky shows in the current exhibit will be on Monday at 11:30 a.m. and 3 p.m. Training is part of the animal care program at Como, so Sparky will still be at the zoo and keeping her skills sharp. Construction on her new home is scheduled to start this winter and finish up in the summer of 2019. The Sparky shows are expected to resume shortly after that.
Sparky's new digs
Here's a look at what the new exhibit will look like when completed, via city of St. Paul.  
Gallery
1 of 2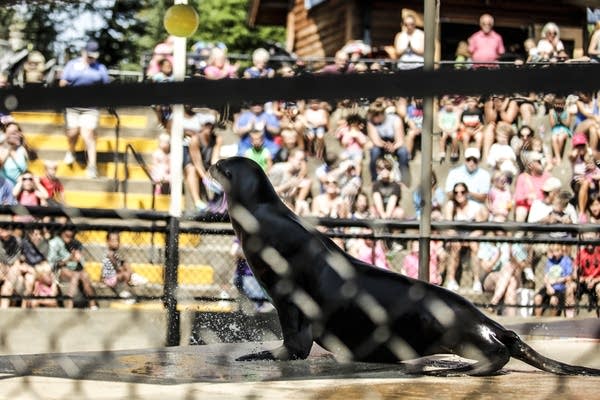 2 of 2