Exhibition asks, who's the 'we' in 'We the people'?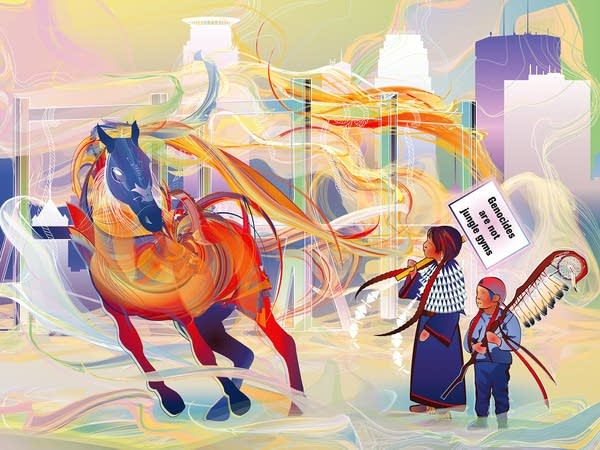 "We the People." The U.S. Constitution begins with those three words. But in a time of political fragmentation and social upheaval, what do they really mean?
The Minnesota Museum of American Art in downtown St. Paul asked four curators that question. Its new exhibition, "We the People," is their response.
One of the first things a visitor sees in the museum's exhibition space is a video called "Gun Drop Echo." It shows gun parts being dropped onto a floor, making a sound similar to that of a pistol firing. As time passes, the pieces pile up into a heap. The video makes reference to America's love of guns, the right to bear arms, and the persistence of gun violence in our culture.
Curator Christopher Atkins pointed out that the sound follows visitors as they walk through the gallery. "The task of the work is to get you to not let it become background noise, to always keep it front and center," he said. "Because then you're less likely to dismiss it or to get comfortable with what is a tragedy."
The video is just one of dozens of pieces that feel as fresh as the morning's headlines. There's a painting of a protest by the Black Lives Matter movement, a photograph of the Women's March, and an artistic response to the controversial "Scaffold" that was removed from the Minneapolis Sculpture Garden.
Atkins said "We the People" was inspired by mounting political and social antagonism surrounding the most recent presidential election. "In a time that's filled with divisive language, talk about more separation rather than coming together," he said, "now's the time to reconsider those three words."
Before you keep reading ...
MPR News is made by Members. Gifts from individuals fuel the programs that you and your neighbors rely on. Donate today to power news, analysis, and community conversations for all.
In order to get a broader response, Atkins invited a diverse group of curators to participate. Christopher E. Harrison chose to focus on the themes of home, migration and identity.
"For me, that's what America is," he said. "It's about people coming together, willing to live together, work together and love together, and I tried to get that feeling throughout the works that I picked."
One of those works was Nooshin Hakim Javadi's "11,000 KM of Hope" — a worn pair of child's shoes encrusted in blue crystals. The piece speaks to the physical and emotional burdens of refugees as they seek a new home.
Johnnay Leenay, another of the invited curators, chose to focus on works about queer and trans life.
"I think right now, especially in our political climate, a lot of my identities are looked down on and are being attacked," Leenay said. "Being a person of color, a woman and someone who identifies within the queer community, I felt like I really needed to uplift one of those voices."
Leenay's selections include a series of watercolors depicting trans and queer people in early American history, as well as video excerpts from the Transgender Oral History Project at the University of Minnesota.
Leenay said she was inspired by the phrase "We the People" to think about where her community — her people — fit in the "we" of America. She said it was powerful to see the works she selected alongside the others in the exhibition.
"I love the idea of how we all four come from different communities and have different perspectives of what this experience of America is, but when you see the show together, it all makes sense," she said.
For her, Leenay said, the exhibition underscores how the United States is still made up of people who aspire to be their authentic selves, without fear of persecution.
"We the People" runs through Oct. 29 at the Minnesota Museum of American Art.