'Not invisible anymore': Standing Rock a year after pipeline protests
A year ago, protest camps near North Dakota's Standing Rock Sioux Tribe reservation swelled with thousands of people intent on stopping the Dakota Access pipeline.
Today, the camps are gone and oil is flowing through the pipeline while court battles over pipeline permits continue. But the massive demonstrations that caught the world's attention last year have permanently changed people and politics here.
While problems on the reservation remain, tribal leaders say Standing Rock is stronger for what happened last year and that tribal members are engaged and focused on helping build the future.
"There's a sense of liberation, a sense of freedom, and a sense of worth. I can actually do something. I'm actually free?" said Standing Rock Chair Dave Archambault.
Grow the Future of Public Media
MPR News is supported by Members. Gifts from individuals power everything you find here. Make a gift of any amount today to become a Member!
Cows now graze on the site of the Oceti Sakowin camp where thousands pitched tents and built rudimentary wood structures. There are bits and pieces scattered about. Broken glass, weathered batteries, a bent fork and squash growing where a camp kitchen was set up.
People still return to the site to ponder what happened here.
A recent visit found a big bearded man leaning on a wooden walking stick surveying what was the Rosebud camp, next to the Cannon Ball River.
"Tent used to be right over here," said Dave Lillis, pointing to spot near a line of trees. Lillis, 39, is from Washington state and said he lived in the camp for five months, until the camps were shut down in February.
"It's bittersweet, " he said. "I came here last night for minute and was going to camp out. Ended up going up the road and sleeping in the car for a while, because it just didn't feel the same."
Lillis sat at his old campsite for a bit and thought about the experience. "The lessons I learned here: how to listen, how to stay humble, stay in prayer," he said.
"It's a very sacred space, always will be," Lillis added. "I'll always stop here when I get a chance, probably for the rest of my life"
He said he plans to spend time this winter at a Minnesota camp on the White Earth reservation set up to oppose the Enbridge Line 3 pipeline project.
The Standing Rock camps drew thousands of people, including tribal delegations from Africa and South America. It also drew unprecedented public attention to Standing Rock.
"A year and a half ago we were invisible, we were invisible people," said Linda Black Elk, a teacher at Sitting Bull College on the reservation who spent months helping coordinate medical care at the camp.
"We were invisible to people, they didn't want to see us and we're not invisible anymore," she said. "And I think that we have decided that visibility is a gift. And we are going to use it for the greater good."
One tangible change that has roots in the protest camp is a new free clinic that's currently being developed in Fort Yates, N.D., where the Standing Rock tribal government is headquartered.
The need for health care that integrates traditional treatments with western medicine became apparent while the camps were operating, Black Elk said.
"We actually had people who live in the local area who were not even in camp or weren't really even interested in what was going on at camp who would come to camp just to receive health care because, it was free first of all, but also I think it just really touched a part of them that traditional western health care doesn't," she said.
Land is set aside, money is being raised and an architect is working on the clinic design.
Black Elk has a list of medical practitioners, many who volunteered at the camp, who offered to return to staff the clinic for two week shifts.
It's a challenge to raise the money, said Black Elk, because everyone is exhausted. But donations for the clinic continue to come in.
The time she spent at the camp changed Black Elk in good and bad ways she says. The trauma of clashes with police left her distrustful and reliving painful experiences.
"One of the things I dream about a lot is this sort of slow motion of me standing there and all of a sudden this massive dog coming at me and coming right up to my face like it was going to bite my face," said Black Elk.
But the movement also made her more outspoken, unwilling to sit by and watch injustice. She now has a nationwide support system.
"I found family in camp and people who are still my family," she added. "People who I have absolutely no doubt that whenever I need them they will be there for me."
The Dakota Access protest has also had positive and negative financial impacts.
The Standing Rock tribe received $11 million in donations. Some went to reimburse communities that sheltered people from the camps during winter storms.
But there are complaints and rumors about the money.
Archambault says the tribe has been transparent about how it used the donations, but that dozens of outside groups and individuals used online fundraising sites to raise money. The tribe has documented at least $40 million, but that money that doesn't go to Standing Rock.
Edward Swifthorse, who lives in Cannon Ball, the reservation community nearest the camps, said he supported the effort to stop the pipeline. But he thinks people took advantage of this small community that opened its doors and helped thousands of people with shelter, showers and food.
"Cannon Ball should have been compensated from the GoFundMe groups to whoever used Cannon Ball's name for profit," said Swifthorse. "Because of the Dakota Access pipeline protest we that live here have to deal with racism or prejudice more now than before up in Bismarck," North Dakota's capital.
Anger from the tribe's neighbors is also putting the squeeze on the tribal economy, Archambault said.
"The casino is still impacted by this. And our casino is one of our primary economic drivers," said Archambault, who points to talk of a casino boycott by residents of Bismarck.
Business has been slow since the protest camps started, casino revenues are down two-thirds from two years ago. The tribe has used donations to keep some programs running while they wait for casino income to rebound.
"But it's going to take time and it's going to take healing and it's going to take relationship building again," said Archambault who knows rebuilding those relationships won't be easy.
North Dakota's governor has reached out to the tribe in an effort to repair relationships, and Archambault is appreciative. He thinks governments have more incentive to get along, but it will be much more difficult to overcome the anger and resentment among individual citizens on both sides.
"If I were to cuss you out and call you bad names and bad words, how easy is it for you to forgive and let that go?" Archambault said. "So, at the individual level, it's not very easy to overcome what has happened."
He's said he's also asked the federal government to turn the land back to the tribe so the protests can be memorialized. "It could be a monument, it could be a site where people can come and pray," said Archambault, who doubts his request will be approved anytime soon.
Archambault is quick to point out what happened a year ago at Standing Rock isn't over. The large camps might be gone but the legal battle over the Dakota Access Pipeline continues in a federal district court in Washington D.C.
For some, the battle continues on the ground.
About 100 miles south of Cannon Ball, a few refugees from the Standing Rock camps have set up about a dozen tents at the pow wow grounds in the town of Eagle Butte, S.D.
They are here with the blessing of the Cheyenne River Sioux tribe.
Sherman Alexander sits in a tipi he brought from the Oceti Sakowin camp. He calls it home. Alexander is from the Cheyenne River reservation. He first went to the Standing Rock camps for free food, but the atmosphere kept him there for months.
"The way people just got along, said 'hi' to each other, 'good morning,' helped each other out. Like when somebody was down, somebody would go over there and pick them up," explained Alexander, who credits living at Oceti Sakowin camp with easing his depression and anxiety.
"It gave me a purpose. I have a purpose in this world again. How often is this opportunity going to come along again where I can say I did something good with my life?"
While he still struggles with mental illness and alcohol abuse, Alexander says he now has people who support and encourage him.
The leader of this small camp is Hoka Luta Win, or Red Badger Woman. She was one of the first people to start questioning the Dakota Access pipeline route.
She admits she thought little about environmental issues before she became aware the pipeline would cross the Missouri river near the Standing Rock reservation. She dropped out of nursing school when the Standing Rock camps started and stayed until the camps were closed in February.
"Our sacrifices up on Standing Rock humbled me," said Hoka Luta Win who paints herself as a very angry person when the camps began, beaten down by reservation life.
"I learned how to control my anger. The unity, the love and the compassion. The pride of just uniting all of us. Different races, indigenous people from all over the world. It was beautiful," she said.
Hoka Luta Win hopes to return to college and become a registered nurse. But not just yet.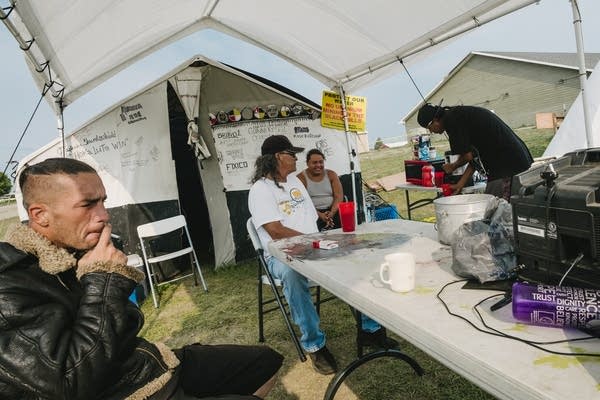 "This isn't going to go away. This is embedded in our hearts," she explained, "It's something we have to do. To save our planet. To save the human race."
This intense commitment to a cause is a common thread among those who lived at the Standing Rock camps.
Joye Braun has seen it over and over. She was one of the first to set up camp near Cannon Ball in the late spring snow. Braun lives in Eagle Butte. She's a community organizer for the Minnesota based Indigenous Environmental Network.
She's thought a lot about what created such a strong bond among so many who came to Standing Rock. She's concluded the experience filled a spiritual need.
"It's not this hippy dippy thing, and it's not this New Age thing. It's something completely new. It's really releasing that inner warrior, that spiritual warrior," said Braun.
"And it doesn't matter what background you come from or where you're from. We've united as people," she said. "We've recognized that human spirit within each other. Because that human spirit doesn't have a color."