Dayton uses own cancer recovery to tout screening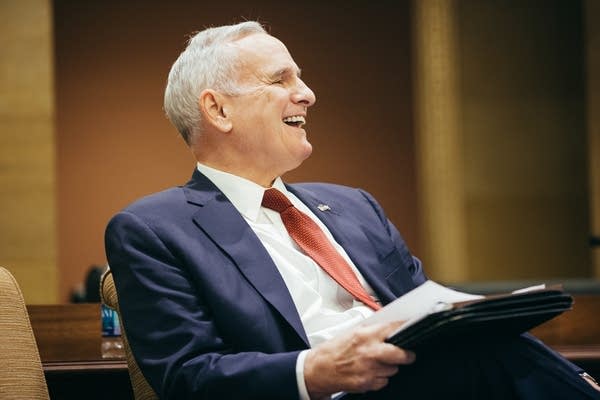 Gov. Mark Dayton declared himself cancer-free on Monday while urging Minnesotans to make time to get screened for cancer if they have risk factors or family history of the disease.
In proclaiming this "Cancer Screen Week" in Minnesota, Dayton credited his own early diagnosis with helping him beat cancer. Around this time last year, the 70-year-old Dayton was alerted through an annual physical exam to his likely prostate cancer. It was confirmed by a specialist and Dayton underwent surgery six weeks later.
"Fortunately, up until this point, I'm cancer free. And that early detection was just crucial," he said, adding that it was caught before it could spread to other organs.
"I'm a believer. I know from first-hand experience that early detection is absolutely crucial. It is the difference between life and death. It's the difference between something you can move on and resume a normal life and something you are going to have to go through a far greater ordeal to achieve that same outcome.
Dayton was surrounded by representatives of advocacy groups and survivors of breast, colon, prostate and other cancers in promoting the importance of screenings. They spoke of early detection improving outcomes and reducing suffering from advanced cancers.
Teacher Veronica Bong of Mora said she's two years removed from her colon cancer. It was caught during a colonoscopy. Two of Bong's adult children had pre-cancerous polyps removed after screenings of their own.
MPR News is Reader Funded
Before you keep reading, take a moment to donate to MPR News. Your financial support ensures that factual and trusted news and context remain accessible to all.
"Screenings save lives, including mine. One clear screening is not enough. Make sure you keep getting screening at the recommended times," Bong said. "Colonoscopies are easier than cancer. I should know. I've had both."
State Sen. Susan Kent, DFL-Woodbury, said a mammogram at age 52 caught her early-stage breast cancer in late 2015. Surgery, radiation and follow-up treatments have led to a promising prognosis.
A big fear at the time was losing her hair during an election year. "That didn't happen," she said.
"I keep catching myself thinking and saying, 'I'm so lucky that it was detected early and my treatments were easy and my prognosis is good. I'm so lucky.' But we all know that it is not luck. Luck is chance, an accident. This is no accident," Kent said. "Deliberate early detection is key."