Hennepin sheriff will continue to oversee crime lab, but proposal for change not dead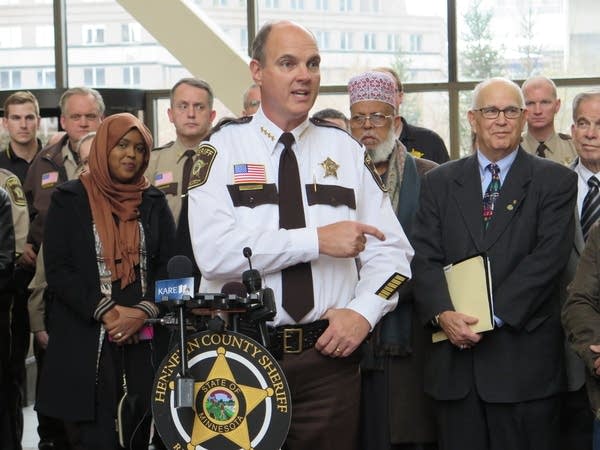 Hennepin County's crime lab remains part of the sheriff's office, after the sheriff made a stir over a proposal to make it an independent entity.
Hennepin County Commissioner Marion Greene, who introduced the proposal as a budget amendment, said it is important that the board looks at the crime lab and its governance, possibly early next year.
"I also want to thank my colleagues who clearly expressed last week that they are interested in exploring this idea if we have more time to process and engage with our communities and partners," Greene said.
The proposal would also explore a regional crime lab, possibly jointly run with the city of Minneapolis.
Uniformed police from suburbs around the county, as well as Hennepin County sheriff's deputies, packed the Hennepin county board meeting Tuesday.
At a press conference after Greene withdrew the proposal, Hennepin County Sheriff Rich Stanek said he wanted a candid discussion about control of the crime lab. But he didn't want change to happen right away with dozens of cities counting on crime lab services, saying, "it would've thrown things into chaos across the county."
Greene agreed to slow down the process, but said she still believes changes should be made. She doesn't want the office answerable to law enforcement, and for that matter, attorney's offices.
"It keeps the crime lab independent from all of those organizations, and essentially guarantees the truest science on behalf of justice," Greene said.
Greene said the crime lab should operate along the lines of the Hennepin County Medical Examiner's office.
Julie Jonas, legal director for the Innocence Project of Minnesota, said independent crime labs are recommended by the National Academy of Sciences to avoid potential for biased results.
"We've seen across the country that there have been problems when crime labs are under the control of law enforcement. We have not seen that specific problem here in Hennepin County, but I think it's just an act of good governance," Jonas said.
County Commissioner Jeff Johnson said withdrawing the amendment was the right call, but the issues are worth exploring.
"One being whether we should be working with Minneapolis to do something jointly and the other being who actually runs or manages the crime lab," he said.
"I think are both very reasonable, public policy issues for us to discuss, again over time with lots of public input, but they're both really legitimate questions," Johnson said.
Stanek says he'd be happy to sit down with commissioners to discuss the future of the lab, which he says his office has done before.