Mpls. soul food pop-up sets its sights on Super Bowl visitors
Soul food restaurants, renowned for inventive cuisine that evolved out of slavery, often bustle with tourists and locals alike. From Sylvia's in Harlem to Roscoe's Catfish and Barbecue in Anchorage, they seem ubiquitous, present even in cities with relatively small African-American populations.
So when swarms of Super Bowl visitors descend on the Twin Cities this week, some might look to satisfy cravings for oxtails or collard greens at an iconic local soul food joint.
But while there are a handful of soul food spots in the Twin Cities that offer counter service and catering, no single restaurant has transcended to the status of an institution.
"We don't have sit-down restaurants, but we have a lot of people in the cities who cook soul food and cook it well," said Lachelle Cunningham, executive chef at Breaking Bread Cafe and Catering in North Minneapolis.
Grow the Future of Public Media
MPR News is supported by Members. Gifts from individuals power everything you find here. Make a gift of any amount today to become a Member!
Cunningham and a group of other African-American chefs and food professionals are planning a temporary fix for that soul food void for the Super Bowl: They're hosting a three-day pop-up restaurant to showcase the Twin Cities' black culinary traditions. It's called #WhereTheSoulFoodatMPLS, and it's the debut event for their new group, the Onyx Culinary Collective.
The group's long-term goal is to create a more permanent solution — a full-service eatery in the Twin Cities.
The lack of a well-established soul food restaurant, Cunningham said, is symptomatic of a much larger and enduring problem that stymies entrepreneurs of color: economic disparities. Instead of running full-service restaurants, she said, many African-American chefs own catering operations.
"The thing that is really lacking in Minnesota are infrastructure and support for black-owned businesses," said Cunningham, president of the Onyx collective. "There's a lack of capacity, a lack of capital."
And because traditional avenues of support have been out of reach, she said, members instead are relying on each other, pooling and tapping into their own resources.
For this week's pop-up, members are chipping in to buy ingredients, cover costs and prepare the food.
"We've all made a commitment to invest at least $500 apiece in this operation," said Tene Wells, the collective's vice president. "Then we'll also make money from this event and other pop-up events. That way, we'll build our capital so that we can then invest our own resources in our business."
The Super Bowl offered the perfect opportunity to kick off the collective's pop-up ambitions.
"It's the Super Bowl," Cunningham said. "There are going to be people here from all over the country and even the world. It's a huge economic opportunity."
And, she added: It's customary for African-Americans, especially, to seek out the most-touted soul food joint when visiting a new city.
"They're going to expect a soul food restaurant when they get here," she said.
A rich tradition
For the most part, the Twin Cities' soul food offerings have been fly-by-night, pop-ups, takeout or food trucks, Cunningham said. In 2004, Minneapolis' popular soul food restaurant, Lucille's Kitchen, went out of business.
Cunningham said she thinks Rondo — St. Paul's thriving black community — could have produced a restaurant with longevity. But the community's two sit-down restaurants were destroyed, along with the rest of the neighborhood, when Interstate 94 was built in the 1950s and '60s.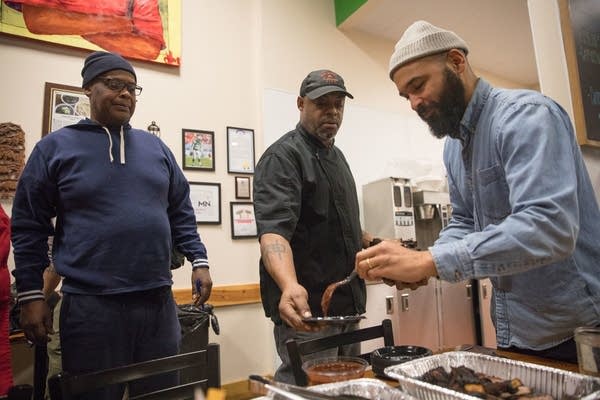 Despite all that, Cunningham said, the Twin Cities have a rich African-American culinary tradition.
The Onyx pop-up will showcase that tradition, she said, with a health-conscious menu of traditional fare, like country-fried chicken and mac and cheese and loads of vegan sides, like gumbo and collard greens.
The absence of a legendary soul food restaurant means the lost opportunity of a community anchor — and potential tourism dollars.
Adrian Miller, a culinary historian dubbed the "Soul Food Scholar," said it's odd that the Twin Cities — a major metropolitan area — isn't home to its own prominent soul food eatery.
"Usually if there's some kind of an African-American population that's been there a while, usually that comes with a soul food joint," said Miller, whose book "Soul Food: The Surprising Story of An American Cuisine, One Plate at a Time" was published in 2013. "To me, any city that wants to say it has a credible or exciting dining scene should have a soul food restaurant."
Soul food restaurants historically are pillars of the African-American community, Miller said. They were hubs of political activity during the Civil Rights movement — and continue to play that role today as community anchors, he said.
"Going to a restaurant, a barbershop or a beauty salon — those are the touchstones of social interaction in the black community, aside from church," he said.
History, baked into food
Soul food has its roots in the early American South.
Enslaved African-Americans were given cast-off scraps — like chitterlings and ham hocks — that whites refused to eat. But out of that, Miller said, they fashioned one of America's oldest cuisines.
"If you talk about soul food as throw-away food, undesirable food that's made delicious, that's actually an empowering narrative," he said. "Because it shows ingenuity, creativity — overcoming everything thrown at black people to still make something beautiful and delicious and desirable."
That rich history baked into food gives soul food restaurants major tourism appeal. In 2010, African-Americans spent $48 billion on travel, according to Mandala Research, a market research firm, based in Alexandria, Va.
And African-Americans are more likely to travel to cities that reflect their culture, said Laura Mandala, the firm's principal.
"Some of these restaurants that are touting the history and authenticity of the African-American experience, like a Sylvia's in Harlem does, it's only natural those would be a draw for African-American travelers," Mandala said.
The collective wants to tap into that market, starting with the Super Bowl.
#WhereTheSoulFoodatMPLS runs from 5 to 10 p.m. Wednesday through Friday this week at the Breaking Bread Cafe in Minneapolis.
If you go: #WhereTheSoulFoodatMPLS
• Where: Breaking Bread Cafe and Catering, 1210 W. Broadway Ave., Minneapolis | Directions

• When: Wednesday, Jan. 31 through Friday, Feb. 2

• Time: 5 p.m. to 10 p.m.

• More information: Onyx Culinary Collective's Facebook event
Gallery
6 of 6
1 of 6
2 of 6